When you are a sewer, it will come a time to look for a new sewing machine, when you look for a model that will help you to work on different projects with ease, the Brother CS6000i VS Brother XR9550PRW comes up on the table.
As you love to sew as a hobby, then you might want to find a sewing machine that is easy to work with and it will help you to work better on different projects, today you can find so many different models in the market and the Brother brand might stand out from the rest as a reliable name and easy of use machines.
When you're not anymore a beginner, and you know already a few tricks and hacks on sewing, you might want to upgrade the basic mechanical sewing machine in your sewing room for a computerized model, so let's talk about what makes these two models and compare them in this post.
Main Features: Brother Cs6000i VS Brother XR9550PRW
As you can see both sewing machine have many similarities with their features. The main difference between these two sewing machines I could point are: the built-in stitches, the number of button holes and one has the features of lettering fonts while the other model does not have that.

Button Styles: Advantage of the XR9550PRW as it comes with 8 styles of one-step buttonholes, while the CS6000i comes only with 7 one-step buttonholes.
Start/Stop Button And Speed Control Slider: Both models come with these two features that will help you to work with ease on your sewing projects.
Needle Position Key: Both models come with this feature, so it will be easy for you to set it up.
Quilting Table And Hard Cover: Once again, both models come with these two features, you won't have any problem when working on big projects or making quilts and you won't have a problem to cover your sewing machine when you're not working with it, protecting it this way from dust and lint with the hard cover.
Presser Feet: Brother CS6000i VS Brother XR9550PRW
You will notice the Brother CS6000i gives you one more presser foot than the Brother XR9550PRW, the walking foot.
If you're interested to work on making quilts, the walking foot will help you to work on the quilting, and it might be a highlight point for you, and you might be interested to pick the Brother CS6000i as a winner.
Accessories: Brother CS6000i VS Brother XR9550PRW
Accessories might not be a strong point for many sewers at the time to pick a winner, as if one model comes with more than the other, you won't have much problem to get the missing accessories, and also they might not be too pricey to get, but I will include the list of the accessories that each model comes with.
Hard case
Twin needle
Eyelet punch
Screwdriver
Cleaning brush
Spool spin
Bobbin
Accessories pouch with needle set
Ballpoint needle
Seam ripper
operation manual
Both models come with the same list of accessories but the XR9550PRW is the winner here with 4 bobbins while the CS6000i comes only with 3
As you can see the difference in the accessories is not a bit highlight point to make you pick one model instead the other.
Specification: Brother cs6000i VS Brother XR9559PRW
Warranty: Both models have the 25-year limited warranty.
Voltage: Both models work on 110 volts.
Measures: Both models are very similar in size, I could say there is no big difference between one or the other.
Weight: The XP9550PRW (9.92 pounds) is lighter that the CS6000i (13 pounds)
Price: Brother CS6000i VS XR9550PRW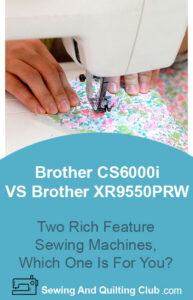 You can find the price of both sewing machines very reasonable, with a small difference from one to the other, being the CS6000i who beats the XR9550PRW in the price.
Which Sewing Machine Would You Choose?
When talking about buying a new sewing machine, I like to take a look to the features each model has and its price as well.
Both Brother model are computerized sewing machines, and both models offer similar features.
As I have used the Brother sewing machines for many years, I know the quality of these machines will help any sewing enthusiast to work making different sewing projects for many years.
My highlight point to pick one model instead of the other would be the purpose of the sewing projects you have in mind as the price difference is not a big difference from one to the other.
Brother CS6000i
This model has great features any sewing enthusiast will need in a model to work on many different projects, including making quilts.
You won't have to buy a walking foot as it already comes with it. It has many built-in stitches, so you won't have any problem at the time to add a decorative stitch on a project whether is for home decoration, garment construction or while you work on a new quilt.
This model is the favorite of many sewing enthusiast and it will easy for you to find good reviews on it, and it's price is lower than the other model.
You can read the Brother CS6000i sewing machine full review here.
Check today's price on Amazon.com

Brother XR9550PRW
This Brother sewing machine was designed to help any sewer who loves to make garment construction and it comes with a wide range of built-in stitches and it comes also with the features of making 8 one-step buttonhole.
Any dress maker or any sewing enthusiast that loves to work on garment construction will love to have this model in their sewing room.
This is also a well-designed sewing machine made by a quality brand and it will last in the sewing room for many years.
It's a little more expensive than the CS6000i, and if you love to make quilts, you will need to buy the walking foot, so you need to have this point in your mind.
This model has more built-in stitches, and if you want to make quilts, you'll need to put a little more money on this sewing machine to have everything you need to work on many projects for many years.
Check today's Price on Amazon.com