How To Teach Sewing To Children is one activity you can share with your child as soon as he/she starts to show some interest in learning about it, these 10 Easy Tips will help you to make it fun and simple.
Young children like to be creative and they love handmade projects they can wear or give away as a present to people they love.
It's natural for children to show interest to learn to sew to make different projects, as children grow, they will show interest for their own clothing and they will show interest to make their clothing unique and more personal.
Easy sewing techniques can be learned by them, they will show more interest or not as they learn the basic stitches and the basic steps to make the easiest projects.
As you teach your child to learn sewing, the most important thing to remember is, their first projects don't need to be perfect, they will be more focused to have fun and to learn, for your child it is important to feel proud of him/herself for making something by themselves.
Take your time to share some moments with your child to enjoy his/her first stitches, make it colorful and fun, and most of all, let him/her direct you on the project, children are so good at designing great projects, on the other hand, you'll be in charge to teach your child the basic techniques of sewing, so later in life, he/she will be a creative person who loves to sew.
10 Easy Tips To Teach Sewing To Children: Make It Fun And Simple
What Age Is The Best For A Child To Learn To Sew?
More than what age is the best to teach a child to sew, it's more about how mature they are and how interested they are to learn to sew.
Children, as they grow, will show an interest to do or to learn one activity or another, if your child asks you to teach him/her to sew, then it's the moment to teach them the basics of sewing with a fun and easy project.
From as early as they show interest to sew to 6 years of age, children can learn to thread a needle and to make some easy hand sewn projects.
From 8 years and up, children might be mature enough to start sewing with a sewing machine, always under the supervision of an adult.
As you see your child learning more about sewing and about how to work with a sewing machine by themselves, your child will be ready to get a basic sewing machine to sew his/her own projects.
Learning To Sew From The Basic
1 – Children today know what they want, your child might ask you to help her/him to make a dress for a doll, or a sleeping bag for a doll, or to make a patch for one of their clothes.
There are many easy basic sewing projects a child can do to learn sewing, as they start, they might make some mistakes, they will learn how to thread the needle by watching you do it not once but many times.
One of the most important thing to remember is to be patient with your child, and have fun. Many times while sewing, mistakes make unique and beautiful pieces.
Make A String Of Beads
2 – Most of the children will learn by making a string of beads, you can find some inexpensive plastic or wooden bead bags in the box stores, you can also buy some plastic strings as they are easy to handle and your child will learn the basic hand movements as he/she makes not one but a few strings of beads.
Learn How To Thread A Needle
3 – Learning to thread a needle can take some time even for some sewing enthusiast, be patient with your child, even when he/she might ask you to do it for them.
Every time you thread a needle for your child, you can explain again what are the steps to do it, your child will learn this step as he/her watches you do it many times. One day he/she will tell you that he/she can do it by itself.
Making the knot on the thread will be the next step, and your child will learn how to do it by watching you as you do it.
You always can buy some plastic canvas needles with round point, with a big eye, and you can use some yarn to teach your child how to thread a needle and how to make the knot.
Let your child chose the yarn color, it will be more fun for your child.
Running Stitch, My First Stitch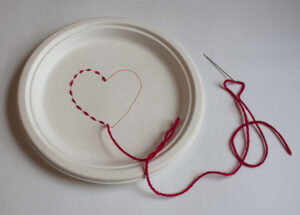 4 – Most of the sewing enthusiast have learned to sew with the basic running stitch, one stitch down and one stitch up.
An easy way to learn the running stitch for your child is by working on Styrofoam plates and colorful thread.
You can draw an easy design on the Styrofoam plate and show your child how to do the running stitch.
Your child can practice this hand sewing stitch on as many plates as your child wants to learn how to work with this stitch.
Your child will be ready then to start sewing on fabrics.
Learning To Hand Sew First
5 – If you're a sewer, let your child pick one piece of fabric from your stash, if you don't sew, you always can ask a friend or a family member who loves to sew to give your child some fabric pieces to practice hand sewing.
Teach your child to draw straight lines on the fabric with a pencil or a pen for fabrics, use a small hoop and teach your child to start working with the running stitch first by following the lines, use colorful thread and your child can use tapestry needles with a round point.
When your child is good at following straight lines on a fabric, then your child can draw curved lines or zigzag lines on the fabric.
Practice Different stitches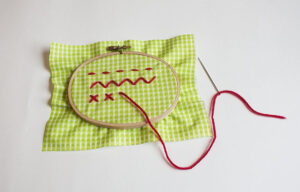 6 – After a while, your child will be ready to learn some basic hand sewing stitches, like back stitch, daisy, or chain stitches, and your child might also want to try to make some French knots.
Knowing More About The Sewing Machine
7 – When your child has been working to learn how to do hand sewing for a while, your child will be ready to be introduced to the sewing machine.
Learning To Control the Sewing Machine Speed
8 – One way to introduce a child to work on the sewing machine for the first time, could be taking off the needle, so your child can try first to see how the sewing machine works when they press on the foot pedal. Let your kid try the sewing machine for the first time without the needle and thread.
Give your child a piece of cotton fabric and let your child work on your sewing machine a few times until he/she can control the speed with the foot control.
When your child feels comfortable to work with the sewing machine, it will be time to give him/her a piece of fabric and teach your child how to thread the machine. Draw with a pencil or a pen a few lines on the fabric and let your child work with the sewing machine.
Let your child work with small pieces of fabric (8 x 8 inches or 10 x 10 inches) until he/she feels good enough to work on an easy project.
How Long Does It Take For Your Child To Learn To Work With A Sewing Machine?
9 – There're no rules here, and I can't give you an amount of time for a child to learn to work with a sewing machine, some children will be faster that others, and it will be fine, the most important thing here is to make your child comfortable to work with the machine.
Don't push your child and let him/her learn on their own pace, if your child really wants to learn to sew, they will get there.
Just be there and answer his/her questions, they might have a few questions about how the sewing machine works, and how to switch stitches, and your child might want to try all the features on your sewing machine.
As your child keeps working to make more samplers with your sewing machine, your child will get more skilled, before you notice your child will be ready to try its own first sewing projects.
What Is A Good Sewing Project For Children To Try?
10 – Any easy sewing project that has a few straight lines to sew, a small pillow, a small tote bag, an easy apron, a scarf or a small pincushion.
Let your child pick the fabric and help your child to work on its first project, your child will feel so proud of himself/herself as your child can see how far he/she gets and how many sewing skills he/she has learned.
Closing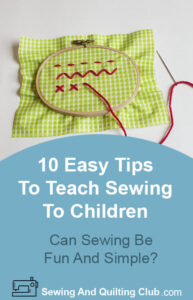 I've seen a few children asking their moms that they want to learn to sew when they come for a visit to my place and they see my quilts,
I've helped a few children to make their first stitches and I've helped a few of them to learn some basic sewing techniques during the years I've been sewing and quilting.
I've seen these kids as they grow, and I'm glad to say, some of them have continued their sewing adventures by themselves, from time to time I get a note or a message with a photo of their things they have made.
Sewing is an activity children love to do, if your child is already interested on sewing, help your child to learn the basics and they will learn some new skills that will help them to do better in life whether they keep sewing or not, but they will be good when the time comes for a need to put on a button or to make some home decor for their own home.
Take a look to the Best Sewing Machine For Children here!