The Singer 7469Q Confidence QuilterReview, this is a 98 stitch electronic sewing machine made for sewers and quilters of any level of sewing skills.
It can be used for both, sewing and quilting, but does have many stitches that work well for quilters. It's a well-designed sewing machine to last for years in the sewing room with an easy to read chart, helping you to read and set up all the options to use on your projects.
You can also use the machine to teach anyone starting out in the sewing profession
The Singer 7469Q Confidence Quilter Sewing Machine Review
Features
98 built-in decorative, utility and quilting stitches
Quilting accessories
Large extension table
7 automatic one-step buttonholes
Drop feed
Programmable up/down for the needle
Heavy duty metal frame
Drop and sew bobbin system
Automatic stitch length and width
2 LED lights
Stitches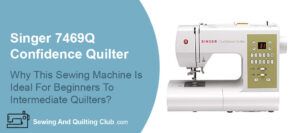 The machine has 8 essential stitches, used for mending and construction, 6 stretch stitches, and 77 decorative stitches to create designs on any of your sewing projects.
Plus it has 7 fully automatic 1-step buttonholes and has the ability to create buttonholes with endlessly long sides.
The stitches are displayed on a pull out chart at the base of the machine, just touch the button for the stitch you like, and it will be displayed on the LCD screen, and the stitches that can used the most are displayed on the front of the machine.
Stitch length and width are automatically selected, but you also have the option to chose length and width.
It has automatic reverse, and you can tie of stitches with the press of a button.
Automatic Needle Threader
The Singer 7469Q has the automatic needle threader eliminating eye strain.
The threader pulls a loop through the eye on the needle, then you just pull the loop and threading is done.
Top Dropping Bobbin
It has the drop and sew bobbin feature, just put the bobbin in the case then run the thread tail into the grove and you are ready to sew.
The cover for the bobbin case is clear, so you can see when the thread is getting low.
Programmable Needle
On this machine you can select to have the needle stop on the up or down with just the touch of a button.
This is handy for quilters and sewers as it makes it easy to pivot corners, sew appliques, and more when the needle is down.
You also have in this model 13 needle positions, and also you have the double needle option.
Presser Feet
The machine comes with 9 presser feet.
All purpose
Zipper foot
Even feed walking foot for quilting
Darning and embroidery foot for the free motion
Special purpose / Satin foot
Blind stitch foot
1/4 inch foot maker perfect 1/4 inch seams
The amount of pressure on the fabric you are sewing by the presser foot is automatic, no adjustments needed.
There is also an extra high presser foot lifter for when sewing thicker fabrics.
Feed Dogs
The feed dogs located under the presser foot move from front to back in a rotating motion ensuring your fabrics move through the machine as you are sewing.
At the rear of the machine is a lever that lowers the feed dogs giving you free motion sewing which is very handy for quilters and fashion sewing.
Needle Position
This sewing machine also has 13 needle positions, and the ability to use two needles at once, so that your designs are unlimited. The needles are number 2020 and 2045
Sewing Area
There is an extension table that comes with this machine, which makes sewing or quilting large projects so much easier.
Also, by removing the accessory tray, you can have the free arm for hard to sew places like sleeves, shirts or pants.
The machine itself is 17 inches long by 8 inches wide, and 12.5 inches high and weighs about 20 pounds so is easily portable with its built in carrying handle.
Also, has a metal frame making it sturdy.
2 LED Lights
Another good feature for this sewing machine is that it has 2 LED lights, that shine on both sides of the needle working area, for a clear view of your sewing, and the bulbs will last 100,000 hours of use.
Accessories
Pack of needles
Thread spool caps
Auxiliary spool pin
Spool pin felt
Power cord
Dust cover soft sided
Foot pedal
Has 9 presser feet
Bobbins – 15J class
Screwdriver
Seam ripper
Lint brush for cleaning
Instruction manual and an intro DVD
Bonus Quilting Accessories included – 1/4 inch foot, open-toe foot, even feed foot, quilters extension table
Fabrics
Natural fibers – Cotton, linen, wool
Fine fabrics – Silk, satin, taffeta, velvet
Knits
Synthetic fabrics – Blends of rayon, polyester
Upholstery
Thick fabrics or multiple layers of fabrics (quilts)
Power
The Singer 7469Q runs on 110 volts, so is basically to be used in Canada and the United States.
Warranty
It has the 25-year limited warranty, meaning the main parts are warranted for the 25 years, while the electronics are 2 years warranty, and for the first year after you buy it Singer will replace any broken parts.
Online support open anytime for sewers and quilters who need to get help and some answers related to Singer sewing machines.
Pros
Fairly quiet running – We all love to have quiet sewing machine that allows us to listen to some music or TV while sewing or having a chat with friends who love to sew together or when we attend to sewing classes or workshops.
Enough stitches – You won't have problem to find a stitch to work with on many different sewing projects with this model.
Secure quilting – This model comes with the feature of making a few first stitches and then goes back over them to secure the rest of the stitching.
Lightweight and sturdy – It's a great model to carry around the house or to take to your sewing classes and workshops
Affordable
Good for beginners also
Cons
Slower than some other machines in its class
Only good for Canada and the United States
No speed control
What Makes Of The Singer 7469Q A Good Model For Sewers And Quilters?
It's designed to be a quality sewing machine with all the features any sewer and quilter, beginner to intermediate would want to have in a model to work on many sewing projects, from garment construction, home decor, piecing quilt tops and free motion quilting, it has all and it's easy to set up and to work with.
Does The Singer 7469Q Have Enough Work space To Work On Big Quilts?
The work space between the needle and the throat of this model is much the same as other regular sewing machines, it's a little small work space to work on big quilts, but it can be done if the quilter has experience or if you work to roll the quilt sides while you work on it on the free motion quilting.
If you want to work on big quilts often and you require a sewing machine that is designed to work better on this feature, I would recommend reading about the Brother PQ1500SL Quilting Machine
Verdict
The Singer 7469Q is perfect for quilters and with enough stitches to do all your projects and the price is very reasonable.
The features and accessories found on this machine will improve your quilting and sewing experiences. So for a user-friendly sewing and quilting machine you might want to check this one out.
Check today's Price on Amazon.ca