When you want to start sewing, and you want to get a sewing machine for newbies, the Brother XM2701 Lightweight will be reliable from day 1! In this Brother XM2701 Lightweight Sewing Machine Review, I will explain everything you need to know about this machine and if it is any good. Read on!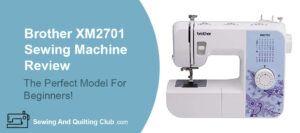 From mending different pieces of clothing to power blue jean seams, you can trust on it! As you work with it, you can turn the wheel a bit and you'll see it stitching smoothly even if the going could be tough.
This sturdy small machine will help you to work with it on many different projects, easy to set up to work and easy to storage, it will be the perfect sewing machine to work with for any beginner without the need to pay a high price for it!
In a hurry? You can check today's price on Amazon here!
Who Is The Brother MX2701 For?
Brother has designed the Brother MX2701 with two users in mind, as an easy model to use for the beginners and as model that has everything for the experienced sewer.
The Best Sewing Machine For Beginners
I've been using this model for the last years and it only takes a few minutes to set it up and start sewing, it's easy to switch from one feature to another to work on different projects.
The beginner will find very helpful to start sewing with this model on different projects as garment construction, home decor and even making some crafts.
It has enough stitching patterns to help you to work on different projects, and if you like to make quilts, this unit can help you to start working making your own quilts!
A Perfect Model For The Experienced Sewer
If you're an experienced sewer and you're shopping for a back up sewing machine or a unit to bring to sewing classes or retreats, the Brother XM2701 is the one you're looking for.
This model comes with enough features to help you to work on your projects, easy to set up and start sewing, it has a lightweight to help you to carry to your classes and workshops.
Brother XM2701 Lightweight Sewing Machine
Perfect for beginners
Affordable
Lightweight
27 Build-in stitches, including stretch, blind hem, zigzag and some decorative stitches
6 sewing feet: zigzag, zipper, buttonhole, narrow hemmer, button and blind stitch
Top drop-in bobbin that's jam-resistant
One-step buttonholer
Easy needle threader
Built-in free arm
LED-illuminated workspace
Instructional DVD included (English and Spanish, when you buy it in Canada it comes in English and French)
25 years warranty
The Top Features Of The Brother XM2701
Today you can find sewing machines are made with a few features that will help you to work on different sewing projects with ease. What I like of the Brother brand is they make the sewing machines to help people to work on different projects with no problems at all.
From making an easy and small project on it to a bigger and more detailed job, this small machine will be there anytime you need it.
Easy to storage and easy to set it up on your work table, you'll be ready to work with it in just a few minutes.
What Stitches You Can Do With The Brother XM2701?
When most of the sewing projects are made with the regular stitch, you might face the day when you want to add some decorative stitches to a project to make it better and prettier. The XM2701 comes with 27 built-in stitches.
You won't have any problem to change from one stitch to another with the Built-In system and go back to the regular stitch to continue to finish your project.
Zigzag stitch
Decorative stitches
Stretch
Blind Hem
And a few more different stitches.
What Presser Feet Come With The XM2701?
This machine comes with 6 quick change different sewing feet and are easy to change with no need of using screws and screwdriver.
Changing from one foot to the other won't take more than a few seconds and your machine will be ready to work!
With these 6 different feet you can work to make:
Buttonholes
Blind Stitch
Zigzag
Zipper foot
Narrow hem foot
Brother XM2701 Threader
Threading the needle never has been this easy, the machine comes with an automatic system and will help you to push a lever on the side of the machine and the thread will be pushed though the needle.
Easy Bobbin Winding
It has a drop-in bobbin system, which makes it easy to work with this machine, it also includes an automatic bobbin winding system.
The bobbin system uses Brother's Quick-Set technology, that help you to work with this machine with ease as this system ensures that the bobbin stays put when the machine is in use.
The bobbin control will automatically wind the bobbin for you in seconds.
Accessory Storage.
It comes with a small accessory storage that will help you to keep all the accessories in one place.
Don't lose any accessory by keeping everything in one place, every time you want to work on a new sewing project it will be easier to find the accessory to work with on the next step of your project.
LED Lit Work Area
This sewing machine comes with a designed LED lights to brighten your work area so you can work with ease with all kind of textiles even when you work with dark fabrics.
FREE Customer Tech Support
When you buy the Brother XM2701, it has free online and technical support for the life of your product
Pros:
A good affordable price
Small and portable
Easy to use and to storage
Strong for its size
Works quietly
Cons:
The foot pedal is always sliding around
It doesn't have a carry case
This sewing machine doesn't come with a carry case but you can purchase the Brother Universal Carry Case to protect your machine while you carry it to your class or to your sewing group.
Can I Sew Denim With The XM2701?
This is a good sewing machine to work on different projects, but it's not designed as a heavy duty sewing machine, you can work on some projects using denim but it won't be easy to work on it if you plan to work with several layers.
Can I make Quilts With The XM2701?
You won't have any problem to work on any size piecing a top for your next quilt with this model. At the time to think about working on the Free Motion Quilting with this sewing machine, I've done it and as a beginner, I could say it's easy to set up and start working on the free motion quilting, you will need time to get used to match the speed of the machine while you work with your hands to move around your quilt, but it can be done.
It's better to take your time to make a test run on a sampler quilt.
Conclusion.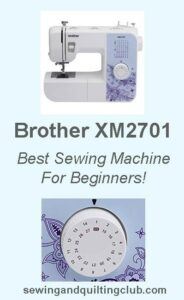 The Bother XM2701 Lightweight is the perfect sewing machine for beginners and for sewers on a budget!
You can use this mechanical sewing machine after you take it out of the box, it's a value-packed and it will work great as you make different sewing projects with it.
It will help you to work on many different sewing projects you want to work on, from easy and fast to make to projects that are for more advanced and skilled sewers.
This machine is designed and made to last for years, whether you're a beginner or a sewer on a budget I would recommend it for you.
As you work with it, it will require low maintenance to keep it in the best shape and ready to be used on your next project.
For any beginner sewer this is the sewing machine to start with, as you learn to work on more advanced sewing projects you might want to try another sewing machine or like me, keep it and use it every time you want to make something easy!
You can start working with your new sewing machine making a sewing tutorial for beginners
If you have any questions, leave it on a comment that I will reply to you!
Save this post so you can find it later!