The Janome 4300-QDC  is a fully computerized sewing and quilting machine that's very easy to operate, and is light enough to take to sewing classes.
It comes with 300 built-in stitches which is more than enough for any advanced sewer or someone just starting out.
Like most of the Janome sewing machines, this one is strongly constructed meaning its built to last, and comes with all the features that every sewer loves to have at their fingertips.
You will also find that it has plenty of power to sew though any thicker fabrics you might be working with.
Features Of The Janome 4300-QDC
How Many Built-In Stitches Does The Janome 4300-QDC Have?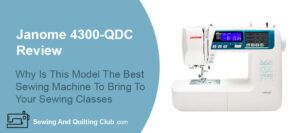 There are 300 built-in stitches, and that includes 12 buttonholes, and alphabet for creating any projects.
The machine is also able to do mirror stitching, and superior editing. There is the lock-stitch feature to finish off or reinforce the end of your stitch as well as the back stitch button.
The maximum stitch length is 5 mm and the maximum stitch width is 7 mm, and is easily adjustable on the LCD screen.
On the LCD screen you will find it has the ability to remember stitch patterns for you, and also can combine up to 50 stitches. It comes with a numbered stitch chart that can mount on top of the machine for an easy reference, and on the screen there are 5 different modes you can choose for the stitch pattern you want.
Bobbin And Threading
For threading the bobbin there is an imprinted diagram on top of the machine showing how the thread goes in 3 easy steps. Also, the machine is top loading full rotary hook system that is jam proof and easy to set up by following the diagram, and the machine will automatically bring up the bobbin thread.
To thread the machine just follow the numbered arrows imprinted onto the machine down to the automatic needle threader, and with the needle threader pulled down place the thread in the hook and pull back, and you are ready to sew. There is also a thread tension dial.
What Type Of Feed Dogs System Does This Sewing Machine Have?
To feed your fabric while sewing, there is the 6 piece system for a very even and smooth movement of your fabrics.
Lighting
There is a built in LED light that gives an excellent view of the sewing area, so will not be hard on the eyes.
10 Presser Feet
You have a good variety of presser feet to work with on the model
1/4 inch seam foot
Automatic buttonhole foot
Blind hem stitch foot
Darning/embroidery foot open toe
Even foot – open toe
Zigzag foot
Zipper foot
Overcast foot
Over edge foot
Satin stitch foot – F and F2
Specifications For The Janome 4300-QDC Sewing Machine
14 pounds – light enough to take with you
6.8 inches width by 4.5 inch height work area
15 inches long by 8.4 inches high by 6.9 inches wide for the machine size.
Voltage compatible worldwide.
820 stitches per minute maximum
Speed is adjustable
Does This Sewing Machine Come With Free Arm Sewing?
The accessory tray is easily removable giving access to the free arm for sewing jeans, sleeves, cuffs, or other hard to sew areas, and you can attach the extension table here as well.
What Are The Touch Buttons On This Sewing Machine?
Displayed on the front for easy access to above the working area you will find all the buttons you need to get the feature you want to use for each one of your projects. With the simple push of a button you can switch from one feature to the other.
Start/stop button – can be used with or without foot control
High rise lever for more room under the presser foot
Locking stitch – for reinforcing stitches
Speed control slider
Button for needle up/down
Scissors button – cuts the thread from the bobbin and needle– a very handy feature.
Button for sewing with twin needles
And easy to use buttons on the display screen for your stitches.
And a thread tension dial, handy for quilting.
What Accessories for the Janome 4300-QDC
This sewing machine comes with a good amount of accessories to make easier your sewing.
Presser feet
Cloth guide
Extension table 11 x 16 inches
Lint brush
Seam ripper
Winged screwdriver
Spool caps – 2 large and 2 small
Spool pin
4 bobbins
Needles including double needle
Chart for stitch reference
Foot control
Power cord
Cover – is hard with carrying handle piece
Instruction DVD
Instruction Manual with easy diagrams.
What Is The Janome Sewing Machine Warranty?
It has the 25-year warranty against defective materials and workmanship, and 5 years on the electrical parts, and 1 year on labor from date of purchase.
What Are The Pros And Cons For The Janome 4300-QDC?
Pros
Machine is light – easily portable
All the features are convenient to work with
Built to last – strong motor
Will sew thicker fabrics
Can be used by the beginner sewer as well as the more experienced.
Large variety of stitches
Cons
Can this Sewing Machine Sew Denim?
Yes, this model will sew on denim, just be sure to use the right needle to sew denim, it will help you to get a better job when you sew your projects with denim.
Can I Bring This Sewing Machine To My Sewing Classes and Retreats?
The Janome 4300-QDC is a light model that makes it easy to carry to your sewing and quilting classes, workshops and retreats, it is easy to set up and start sewing with it.
Why Should I Buy This Sewing Machine Over Other Models?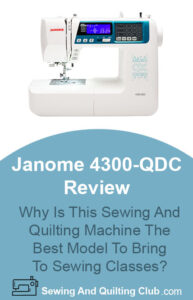 The Janome 4300-QDC is designed and built thinking on any sewers needs, the beginners and more experienced sewers will find this model easy to set up and as it comes with enough features that will help any sewer to work on many different projects. From hemming a new pair of pants to work on the free quilting on your new quilt!
Is This Sewing Machine Good For Quilting?
Yes, the Janome 4300-QDC is a sewing and quilting machine, it comes with all the presser feet that you will need to make any quilting project, from piecing a new top, to working on the free motion quilting, you have all the features and presser feet that you need.

Take a look to another great sewing machine for quilting.
Final Thoughts
This is one of the top of the line sewing machines, with a solid construction, 300 stitches, and a wide variety of features and accessories to give your creative sewing projects some very fancy sewing.
It has the five star ratings from anyone that uses it, so if you're looking for one of the best sewing machines, give this one a look at, or take it for a test run as it comes highly recommended.
Wishing you all the best on your sewing projects – Happy sewing!