Janome 2212 Sewing Machine Review, This is a mechanical sewing machine that's very well-built, and easy to learn to use, making it a good machine for any beginners or even more experienced sewers.
This is a well-designed mechanical Janome sewing machine, it will work great on many different projects that you have in mind to do such as garment construction, home decor, and many others.
This is a model that is designed for beginners and intermediate sewers who love to work with different materials, as it is a mechanical sewing machine, it will work great for many years, and it doesn't require much maintenance
Janome 2212 Sewing Machine Review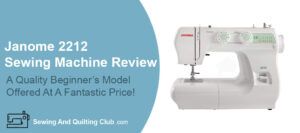 If you're looking for an inexpensive sewing machine to start sewing or if you want to get back to sewing without the need to put much money on a model to restart your sewing journey, you might want to give this model a try.
Well designed and built by the Janome Industries, which is known as one of the top quality brands in the sewing machine industry.
The Janome 2212 is a mechanical model that is well-designed and built to last, with just the right amount of features to work great in many different projects, without the need of many built-in stitches or some computerized features.
Features Of The Janome 2212
It has 12 built-in stitches controlled by a dial.
Foot controller – which controls the speed
Front loading bobbin
Will sew up to 860 stitches per minute
Has the free arm
Two needle positions
Built-in cutter for the thread
Lamp
Reverse lever on the front
Thread tension is by manual control
One four steps buttonlhole
Drop feed dog
3 piece feed dog
Push pull bobbin winder
Vinyl dust cover
Stitch length 4 mm
Stitch width 5 mm
Zigzag width adjustment to 5 mm
12 Built-In Stitches
It features 12 built-in stitches, and has a dial where you can customize the length and width of the stitch up to maximum of 5 mm in width and 4 mm in length.
The stitch selector dial is on the front of the machine, and is clearly labeled for you to select any stitches required from the stitch chart next to the dial.
The machine will sew up to 860 stitches per minute, and has a reverse lever to make locking stitches very easy, and has the 4 step buttonhole.
The Janome 2212 Size
This machine is 15.2 inches long, and 11.6 inches high, by 6 inches deep, and has a weight of only 13 pounds.
The working space is 6.5 inches wide by 4.7 inches high.
It's a high quality machine, and it has an aluminum frame and stainless steel driveshafts, it's designed to last 20 to 30 years.
Presser Feet
Included with this machine are the blind hem foot, zigzag foot, sliding buttonhole foot and zipper foot, and they are snap on fit for this machine.
Front Loading Bobbin
The bobbin is front loading so some might find this not as convenient as a top loading bobbin, and is a vertical oscillating hook system.
It's not as easy to use as the top loading bobbin system, but you won't have any problem to get used to it.
Free Arm
The machine has the free arm for doing cuffs or sewing pants, and can be used by removing the extension table in the front, which also contains a storage area for your accessories.
Easy Threading
This model does not have the automatic needle threader, but most owners say it is not too difficult to thread.
It has the extra high presser foot lift, and is very good at being able to sew thicker fabrics, but for sewing leather or jeans it is not recommended,
It also has the built in thread cutter.
As you keep sewing with this model, you won't have the need of a pair of scissors to trim the thread, there's a thread cutter on the side of the sewing machine that is easy to use.
Accessories
Additional parts are supplied with this sewing machine such as the presser feet, needles, seam ripper, screwdriver, bobbins and the instruction manual.
The foot control on this model can control the speed of your sewing and is plugged into the back where the power supply is connected next to the off/on switch.
Manual
The manual for this model gives detailed numbered diagrams of all the essential parts making it very easy to work with, and starting with a table of contents, from essential parts to getting ready to sew, to basic sewing, utility stitching, decorative stitching, and including the care of your machine, this manual covers everything needed to get you sewing and comes in English, Spanish and French.
Warranty
The Janome 2212 has the 25-year limited warranty which consist of 25 years on the mechanical parts, and 2 years on electrical, and one year on labor.
This machine has been given high praise by owners because of its simplicity and ease of use plus the reasonable price.
Positives
Great choice for beginners
Easy to set up and use
You can drop the feed dogs to work on free motion quilting on small quilting projects
25-year warranty and free phone support
Light to carry
Negatives
Warranty is only good in the US
No automatic needle threader
4 steps buttonhole
Limited number of stitches
No autothreader
Smaller stitch length than other models (5 mm to 7 mm)
Is The Janome 2212 Portable?
Yes, this model is light enough to carry it around the house or to carry it to your sewing classes and workshops with no problem at all.
Is This Sewing Machine Good For Beginners?
This sewing machine is one of the most easy to set up models, it has easy to follow threading guides that will help you to thread the needle in just a few seconds every time you change your thread without the need to look for the instructions on the manual.
Another good thing that makes this model a beginners favorite sewing machine is as you work with it, it feels strong enough that you will focus on your sewing and not on doing something wrong with the fear to break the sewing machine.
What Type Of Fabrics Can I use With the Janome 2212?
You'll be surprised on how well this model can sew different types of fabric giving you a perfect sewing every time you use it.
Natural fibers as cotton, linen and wool
Fine fabrics as velvet, satin, silky or taffeta
Synthetics like rayon, polyester, leather
Upholstery fabrics
Denim
Knits
Fabrics it can't sew!
This is a model that is considered as "medium duty" and it's not considered as "heavy-duty" sewing machine, so you can't sew with it materials as:
Leather
Canvas
Plastic
Extra thick materials or many layers of fabrics
Does It Comes With A Speed Control?
No, as many mechanical model, the Janome 2212 speed is controlled by the foot pedal, if you're a beginner take your time to try the machine first to get used to control the speed before you start any project.
Can I Make Quilts With The Janome 2212?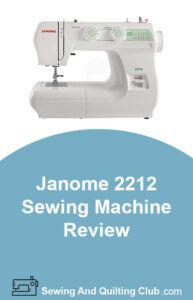 Yes, you won't have any problem to work on the piecing of any quilt size with this model, and it comes with the drop feed dogs features, so you can work on the free motion quilting.
However, this is a small and light sewing machine, and you might want to keep it simple at the time to work on the free motion quilting just on small quilts.
If you have in mind to work on big quilting projects, you might better take a look to the Best Sewing Machine For Quilting.
Closing
The Janome 2212 Sewing Machine Review lets you know better about this model, as a conclusion I can say, this is a well-designed and built model for beginners and intermediate sewers who love to keep sewing simple projects.
It will help you to work on many different projects with ease, as this is an easy to set up unit, and you won't have any problems to work on your projects.
Affordable and light sewing machine that will stay in the sewing room for many years.
If you like to have a simple to use sewing machine with the enough features to work on many projects, you better give it a try!
Check Today's Price on Amazon.com