Brother RXR3240 Computerized Sewing Machine Review, this computerized model comes with 140 built-in stitches, and an extra-large CD screen that's white on Black for easy viewing.
This is a very easy to use model, so that if you're just starting into sewing or a more seasoned sewer, you will be at ease working with this sewing machine
Brother RXR3240 Computerized Sewing Machine Review
The Brother RXR3240 Features
140 stitches
8 one-step buttonhole styles
Easy wind bobbin system
Automatic needle threader
7 point feed dogs for a smooth fabric feed
9 presser feet
Spring action quilting foot and 1/4 inch piecing foot
A hardy dust cover
Speed control lever
Start/stop button
Bright LED light
Has a wide table for your larger projects
Easy read LCD display – white on black
Top drop bobbin that's jam resistant
Accessory storage area
Needle up/down position stop
850 stitches per minute
Adjustable tension control dial
140 Built-In Stitches
The machine has 140 built-in stitches with 8 one-step automatic buttonhole styles, and 1 sewing lettering font with 55 alphanumeric characters.
Under the cover is a display of the satin and font stitches, and on the front of the machine is the 140 stitch chart.
You can add some very good quality custom detail to your projects with the satin stitches.
The stitch width for this model is 7 mm and the 5 mm for the length, and are adjustable.
It has the reverse stitch button for reinforcing stitches when needed.
There are push buttons to select your stitches on the LCD display, and it will show you what foot is recommended for that stitch.
For your buttonhole stitches place your button in the special foot and the machine automatically stitches to fit that specific button.
There is also a lever for setting the speed when stitching.
Threading
To thread your Brother RXR3240 just follow the numbered arrows imprinted on the machine and down to the needle threader.
Then put the thread onto the hook of the needle threader and push the lever down, and needle is threaded, and ready to sew.
Top Loading Bobbin
This machine comes with the top leading drop-in bobbin that keeps your bobbin in place giving quality even stitches.
There is a diagram where the bobbin goes, and how the thread is guided out, and with the clean plastic cover you can tell when the thread is getting low.
To wind the bobbin there is a guide imprinted on the top of the machine for the thread direction, and has its own separate motor for the winding, and will automatically stop when bobbin is full.
7 Points Feed Dogs System
The feed dogs on this model are of the 7 point system, and will give you an even feed of the material you are sewing, Just push a lever to lower the feed dogs for the free motion quilting.
The machine comes with 9 presser feet
Blind stitch foot for hems on pants legs, sleeves, and home decor projects.
Overcasting foot can be used to protect the edges of your fabric from fraying.
1/4 inch foot will give accurate 1/4 inch seams while quilt piecing.
Spring action quilting foot – keeps your stitches consistent while working on varying fabric layers
Buttonhole foot
Button sewing foot – makes quick work of sewing buttons on.
Spring action zigzag foot – very useful when sewing different thickness of fabric.
Zipper foot – attach zippers easily on the left or right sides.
Monogramming foot – is very useful for decorative heirloom, and alphanumeric sewing stitches.
The presser foot is raised by the handle to change them.
Accessories
4 bobbins
Seam ripper
Needle set
Twin needles
Cleaning brush
3 spool caps
Foot control pedal
Wide Table
Accessory pouch
Durable dust cover
Power cord
Extra spool pin
Instructional DVD
Operating Manual
LED Bright Lighting
There is a bright LED light that's aimed over the needle working area which is very handy when sewing darker fabrics or doing finer work.
The Wide Table
The Extension table for this sewing machine is 15 inches long by 9.75 inches wide, and has a ruler printed on its front for quick measurements.
By removing the accessory tray to connect the extension table will give you access to the free arm for sewing sleeves, cuffs, shirt or other more difficult sewing fabrics.
Dimensions Of The Brother RXR3240 Sewing Machine
This machine is 17.3 inches long by 12.5 inches high, and 8 inches deep.
It weights 11.02 pounds so will be easily portable.
Brother Sewing Machine Warranty
It has a 25-year limited warranty and free phone support in the US
Brother RXR3240 Pros And Cons
Pros
Automatic needle threading
Easy bobbin winding
Easily portable
Enough stitches and presser feet
Good for beginners and the more experienced sewers
Cons
No automatic thread cutter
No adjustable foot presser
Is The Brother RXR3240 Sewing Machine Good For Beginners?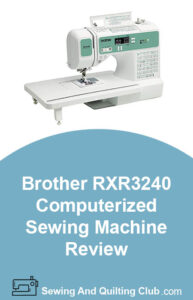 Brother Corporation is always in the aim to design easy to use sewing machines to help beginners to start sewing from day one! This model is not the exception, as a beginner you'll feel comfortable to start sewing with it.
Take your time to watch the instructional DVD and also take your time to try the machine working on some samples before you start working on a project.
Is The Brother RXR3240 Good For All Sewing Projects?
This sewing machine is designed to work great on many different projects, it will work great on cloth construction, home decor and making quilts, however, this is not a model to work as a heavy-duty sewing machine, in case you have on your project list to work with many layers of denim, canvas or upholstery, I will suggest taking a look to the Heavy Duty Sewing Machines.
Is The Brother RXR3240 Good For Making Quilts?
Yes, this is a model designed to help beginners and more advanced quilters to work with ease on their quilting projects.
You'll have no problem at all to work on the top piecing as this machine comes with the 1/4 inch foot, it also comes with the spring motion quilt foot that will work great on your free motion quilting.
Closing
The Brother RXR3240 Computerized Sewing And Quilting Machine is very user friendly
It would be an excellent machine for beginner sewers and quilters, as well as the experienced sewer.
As this machine is not too overly priced, you might want to check it out, and give it a test run on your sewing projects.
Check Today's Price on Amazon.com