You have been working hard on your project and the last thing to do are buttonholes, you might find it scary to make them wrong and ruin all the project, but fear no more today I will tell you How To Sew Buttonholes For Beginners with your domestic sewing machine and get the best results no matter if you're a beginner.
To make a perfect buttonhole, you need:
Marking pen for fabric
Button
Buttonhole presser feet
Thread
Stabilizer
Seam ripper or sharp point scissors
How To Sew Buttonholes For Beginners
Prepare The Fabric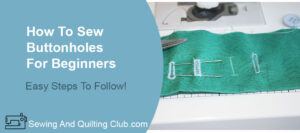 Sewing projects are made using different types of fabric, while working on a project with cotton fabric will be no problem to make the buttonholes with a professional finish, but you might get in some problems when using other type of fabric like stretchy or delicate fabrics.
To avoid any problem at the time to make buttonholes in a project, it's always recommended the use of a stabilizer to give the fabric more stiffness and this will help you to get even stitching.
It's worth the time to iron the stabilizer under the fabric where you're putting in the buttonholes.
Check Stitching Tension
It's always recommended to check stitching tension before working on a project, if you have a leftover piece from the fabric you're using on your project, take the time to make a test, make one buttonhole on that piece of fabric and check stitching tension.
To much tension will make stitches to get pucked and too little tension will make stitches to be loose.
How To Make A Buttonhole With A Straight Stitch Only Sewing Machine.
In case, you have at home a straight stitch only sewing machine and you need to make some buttonholes, there's a way you can do it. Buttonholes will not be perfect as the ones you can make with a zigzag stitching pattern sewing machine, but you can make them with you're sewing machine, and you don't need to get a new unit just for this task.
There are a few steps to follow:
1 – Mark on the fabric the length of the buttonhole – place the button you'll be using on your project and take the measure. With the help of a ruler, trace a line with the marker for fabrics, where the buttonhole should go. Mark the beginning and the end of the buttonhole with a short line. (You can see how I marked the line for the buttonhole on the photo below on the right)
2 – You will need to sew on one of the sides of the marked lined, this time I'm working on the left, sew down once, and then sew backward with reverse stitching or turn around your project. Stitch on the same side once again. You need to sew on the same side three times to be sure buttonhole will be well-made.
3 – Place needle down, and lift presser foot to turn your project 45 degrees and make two stitches, make two stitches backward with reverse lever, and stitch again those two stitches.
4 – It's time to stitch three times on the other side of the button hole, do the same three sewing you did on the other side, but this time do it on this side of the buttonhole.
5 – Finish the button hole by turning the project 45 degrees and sew three times the two stitches.
Buttonhole is finished, and you can open it with the help of the seam ripper or with a sharp point pair of scissors.
How To Make a Buttonhole Using Buttonhole Presser Feet
Most modern sewing machines come with a presser feet to make buttonholes, and with the features of zigzag stitching pattern.
To make professional looking buttonholes on your projects even if you're a beginner, you will need to follow the first two tips to get the best results: use a stabilizer and check the stitching tension on you're sewing machine.
Trace the buttonhole on your fabric with the help of a marker for fabrics.
As the photo below shows, place the button on the presser feet to have the right measure. Snap in place the buttonhole presser feet and select the stitch for buttonholes in you're sewing machine.
When you're sewing machine comes with a feature to make one step buttonholes, it won't take long to make a perfect buttonhole with professional finish, all you need to do is to place the project on you're sewing machine where you marked the button hole, lower the presser feet and start the machine, you'll be amazed how well this feature works.
How to Cut To Open A Buttonhole
To get better results at the time to open a button hole, pinch two pins on the fabric, one on the top of the buttonhole and the second pin on the bottom of the buttonhole. Doing this step will help you to cut to open the buttonhole without the risk to open bigger and ruin your project.
Once you have the two pins pinched in place, take your seam ripper and rip the center of the buttonhole, you can also use a sharp point pair of scissors for this.
To get better results, once you cut to open each button hole, you will notice you might get some loose threads from the fabric, push those threads to the back of the fabric or back of your project and then cut them off with sharp pointed scissors.
Now you have a perfect buttonhole!
On this picture above, you can see on the right the buttonhole I did with straight stitching, and it look good!
On the left you can take a look to two different styles made with a computerized sewing machine that comes with the feature of one step buttonhole and the buttonhole presser feet, it took me only 2 minutes to make each buttonhole!
It is worth taking time to practice and run some tests before you need to make some buttonholes on a project, you will see how easy it is to make them and get professional results!
How To Sew Buttonholes For Beginners Closing Thoughts.
Starting to sew will bring you some new task to learn how to do them, making perfect buttonholes might be one of them.
Making buttonholes on a project might be the final touch of it, be sure to get the best results on your work taking the time to make some test and getting to know how you're sewing machine works.
Most likely you can follow these instructions to make a buttonhole in you're sewing machine no matter what brand you have, I used a Brother computerized sewing machine.
Happy Sewing!
You can also read: