Easy DIY Face Mask With Filter Pocket, that beginners and more experienced sewers will make in 15 minutes or less, so comfortable to use that you will be making more than one.
When making a non-medical face mask at home, look for a good quality fabric you have at home, as this tutorial is to help you to make a fabric face mask at home, when you use a cotton fabric with at least thread count of 180 or higher, it will give you a better protection.
This is a very easy to make non-medical face mask tutorial that anyone can make, whether you use your sewing machine or sewing by hand, it will take only a few minutes to finish it and it's comfortable to use.
Easy DIY Face Mask
You can make this mask using two different colors and print fabrics to help you to see what side of the face mask will touch your face, this way you can protect yourself and you will to know what side of the mask will be used as in and out.
Use always use the same side for the outside of the mask to keep the other side safer and cleaner for you to use.
You will need:
Non-medical face mask pattern
1 piece of cotton fabric color A of 14 x 7 inches
1 piece of cotton fabric color B of 14 x 7 inches
1/6″ round elastic
Pins, scissors.
Sewing Machine
I have at home a Brother sewing machine, as it is easy to set up and start sewing and it helps me to do all my sewing projects.
This post has affiliate links to Amazon.
Step by Step Easy Face Mask Tutorial
1 – How To Make The Face Mask Pattern
You can follow this photo below to draw your own face mask pattern on a piece of paper at home, you need to draw a 5 x 7 inches rectagle first and from it you can make the marks following all the measures I share on the photo to draw your own pattern.
As a tip, I would suggest to make a test face mask first with a piece of fabric and basting the top and bottom, try it on your face and see how comfortable is it on your face, you can make any changes on the pattern before you make your fist mask.
2 – Mark Seams On The Fabric.
Before you start to work on this tutorial, press each fabric with a warm iron.
Fold each fabric in half so the right (pretty) sides are facing each other, as you are working with cotton fabrics, you can lay one folded fabric over the other fabric, in case you're using thicker fabrics for the tutorial, cut each fabric at the time.
Pin the pattern on the fabric and with a pencil trace 1/4″ for the seam.
The seam allowance for this tutorial is 1/4″, in case you want to make a bigger facemask you can add 1/2″ or 1″ seam allowance.
3 – Cut The Face Mask Pieces
With the help of a good pair of scissors cut out the two pieces for the mask. Remove all pins.
4 – Open Flat the two pieces of fabric.
5 – Sew A Big Buttonhole On The Fabric For The Lining
As there are some recommendations for a three layer face mask, I decide to sew a button hole on the fabric for the lining, this way it will be easier to insert a filter as the third layer. You can add an extra piece of fabric, a filter or even a Kleenex in your face mask.
Sew the button hole by sewing the four sides with small zigzag stitches, this time, buttonhole doesn't need to be perfect, it will be only an opening where you can add the extra fabric layer for more protection.
6 – Sew On The Bottom and Top Of The Face Mask
Fold in half each piece and sew on the bottom and top of each piece.
7 – Open Seams Flat
With the help of a pair of pointed scissors, make a cut on the point of each seam, so it can be open flat, Press with your fingers or with warm iron.
8 – Sew The Two Pieces Together
It's time to sew the two pieces together, put the one piece with right side (pretty side) up and put the second piece with the right side down, pinch a few pins on both sides.
On the picture below, you can see how the two pieces are placed one over the other with right sides to right side.
9 – Stitch On At The Bottom And Top Seam Lines
After you stitch on the bottom and top seam lines, remove all pins and with a sharp pair of scissors clip the curved line on the bottom and top sides.
Turn out the face mask and with the help of a round point pair of scissors push out the seams on the bottom and top line. Press.
10 – Topstitch Along Bottom and Top Edges
11 – Sew On A Channel For The Elastic Band
Fold twice the raw edge on each side of the mask and stitch on, you will need to reinforce the stitching at the beginning and at the end of each side of the face mask.
12 – Add The Elastic Band
13 – Insert The Filter In The Pocket
With a sharp pair of scissors you can cut out the buttonhole to insert the filter in your face mask.
Change the filter regularly and often wash your mask by washing it in the washing machine.
What filter is the best for a face mask? Well, to answer this question is always best to look for some accurate source like your family doctor or the government in your country. But you also can find accurate information on the internet where you can find more information about what fabric or other type of material to use as a filter in a made at home face mask.
FAQ For The Easy DIY Face Mask With Filter Pocket
What Is The Best Fabric To Make A Non-Medical Face Mask?
As this is a tutorial to help you to sew a face mask at home, after making a few different types, I found this mask to be comfortable to use and easier to make than the rest, this post is about the sewing steps to make it, and I'm not the best to answer what type of fabric is the best to make a face mask, you can find more information to learn more about different types of fabrics that can be used to make a face mask, or ask your family doctor for his/her recommendations.
What Is The Best Sewing Machine To Make A Face Mask?
Making a non-medical face mast is an easy project to sew for any beginner or for the more experienced sewer, for this reason you can use any sewing machine you have at home.
When making a face mask with your sewing machine, you won't need any special feature or presser foot to make it.
I set up my machine a Brother SW9130 Computerized sewing machine with straight stitching, 3 mm stitch length, with the multipurpose foot and the needle that comes with the machine.
I used polyester 100 % thread.
When working on the buttonhole for the opening for the filter, I set up the sewing machine with zigzag stitching feature and I set up the zigzag stitch to 1.4 mm width.
– This post may have affiliate links to Amazon or other affiliate program.
Easy DIY Face Mask With Filter Pocket Clothing Thoughts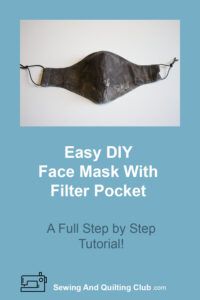 As we all need to ware a face mask when we go out of our homes whether for work or to buy anything you need, doctors and government are recommending people to use it as a way to protect ourselves and others.
For this reason I decided to share a tutorial I use at home to make the face mask we use when we go out, I find this is one of the easiest face mask I've made after making a few different styles, and it's also comfortable to use.
You can make one first and test how comfortable you feel when you use it, if you agree that this face mask is comfortable to use, then you can make a couple more, so you always have one ready to use anytime.
More Sewing Tutorials To Make: