DIY Soup Bowl Cozy will give you the easy steps to follow to make them and this is an easy sewing project every sewer will love to make!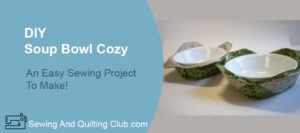 As the weather changes and it gets cold, you might want to have a hot soup bowl, if you use the microwave to heat the soup, you already know how hot any bowl can get, to protect your hands and to keep soup warm longer, you can sew a soup bowl cozy.
On this DIY I'll give you the easy steps to follow to a bowl cozy, once you see how easy it is to make, you will be making one for everyone in your family and a few more to give them as a gift to your friends.
DIY Soup Bowl Cozy
You Will Need
2 pieces of cotton fabric any color of 10 x 10 inches
1 pieces of cotton 100 % batting of 10 x 10 inches (You can use a cotton % kitchen towel as batting also)
Patchwork ruler, rotary cutter and cutting mat
Thread (I used cotton 100 % thread)
Pins
Scissors
Sewing Machine
Note: Before you start cutting all your fabric pieces, check up if all fabrics are cotton 100 %, never use any type of fabric made of polyester, nylon or other textiles that are not 100 % cotton, as these textiles can melt or catch on fire in the microwave.
DIY Soup Bowl Cozy
1 – Cut All Fabric Pieces Needed To Make The Soup Bowl Cozy
With your patchwork ruler, rotary cutter and cutting mat, you can cut the two pieces of fabric, use a good pair of scissors to cut the cotton batting.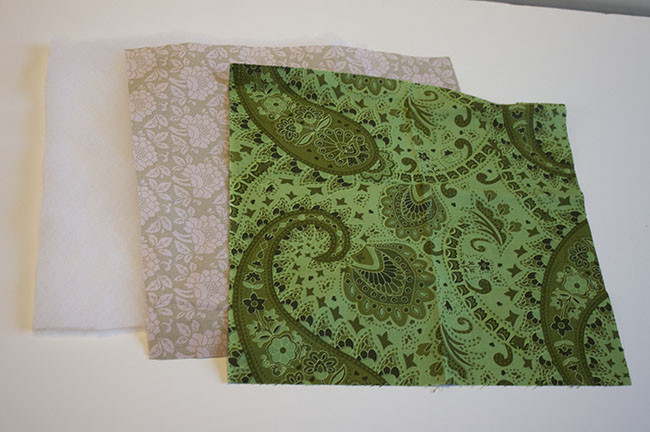 2 – Trace Your Marks
Fold one piece of fabric diagonally and press to mark a line, fold same piece of fabric but with the other two corners to mark the second line.
You can use also a patchwork ruler to mark both lines with a pencil for fabrics.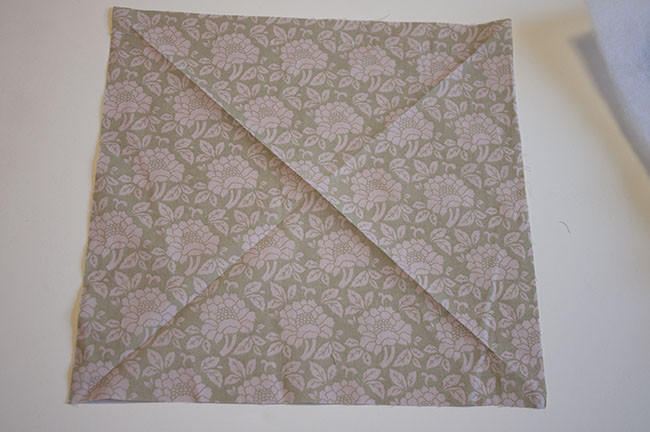 3 – Sew On Both Lines
Lay this piece of fabric over the batting fabric and pinch a few pins, sew on both lines on your sewing machine with straight stitching 3 mm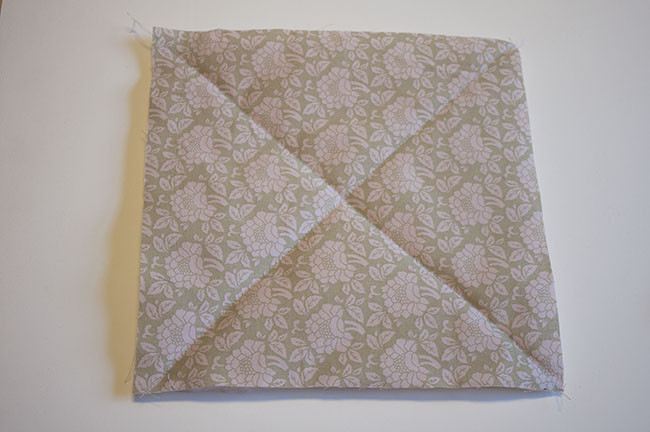 4 – Trace and Cut Middle Seams
Fold the other piece of fabric in the middle and with your patchwork ruler, mark these two measures on top and bottom edges. Fold the fabric in the other direction and mark and cut same points.
Do same step on the piece with the batting fabric.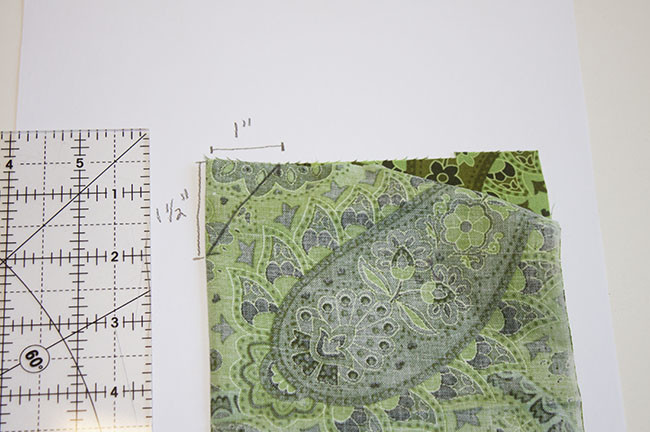 5 – Fold And Sew On
Fold each middle point and sew on to close, do the same on both pieces.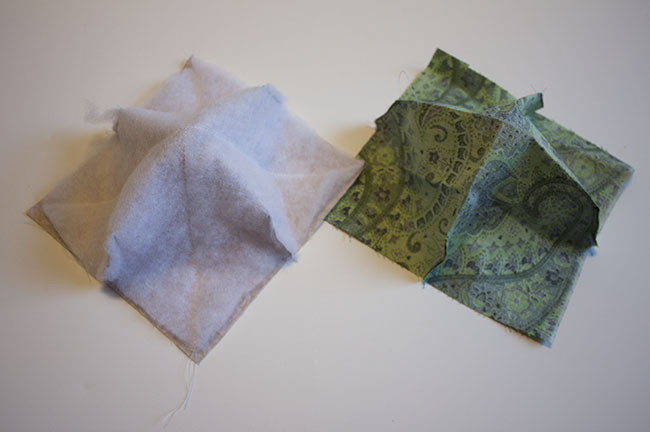 This is how each piece should look like when you sew to close the four middle seams.
6 – Cut Off Four Corners
To make the bowl cozy prettier, lay the piece with no batting on your cutting mat and place the patchwork ruler aligned the 90 degrees on the corner and both sides of the fabric should meet 1 inch, trim with the rotary cutter. Repeat same step on four corners.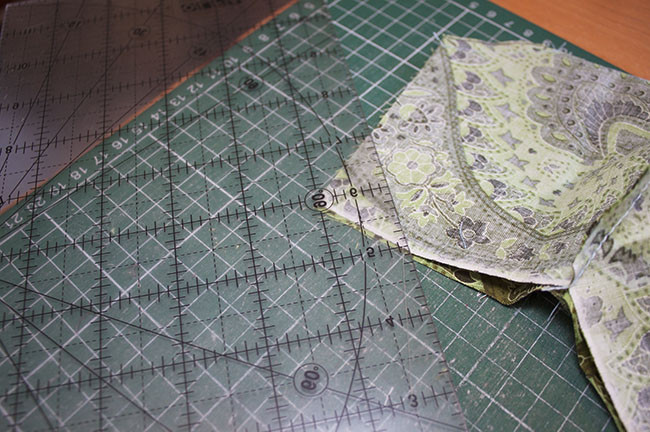 7 – Layer And Pin
Layer both pieces right sides together and pinch a few pins.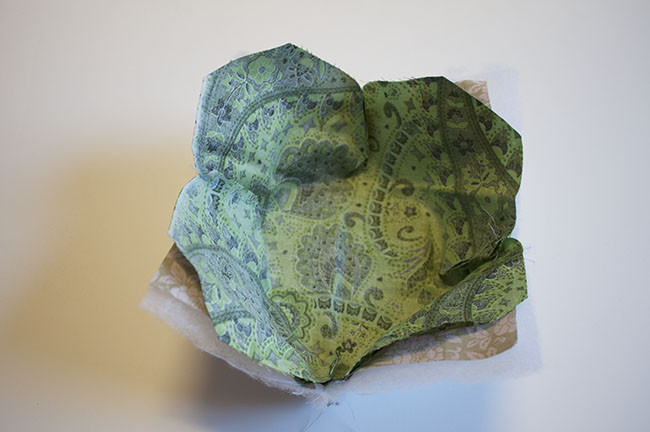 8 – Stitch
Sew on with your sewing machine all along the edge, don't forget to leave 2 inch space open to turn it out, follow the piece that has four corners cut. Once you finish sewing trim four corners with your scissors.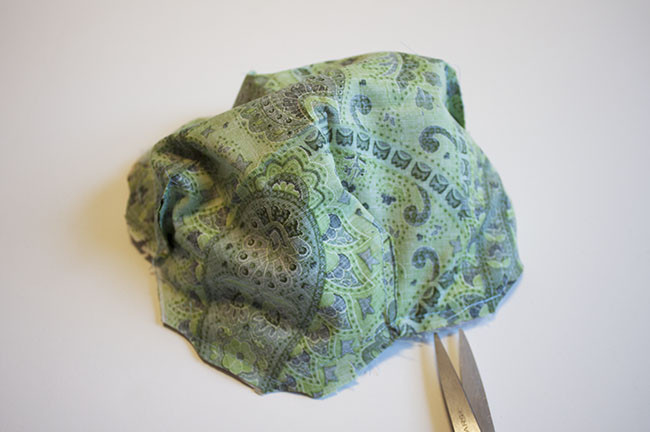 9 – Make Some Cuts
With a good pair of scissors, trim edge to 1/4 inch all along and make some cuts all around the edge without cutting the stitching, by doing this step it will be easier to give the bowl cozy a good shape after you turn it out.
Turn the bowl cozy out and with your fingers or with a round point pair of scissors push all corners out from the inside, once the bowl cosy is well shaped, pinch a few pins to keep the shape and place the open space seams inside to be closed on next step.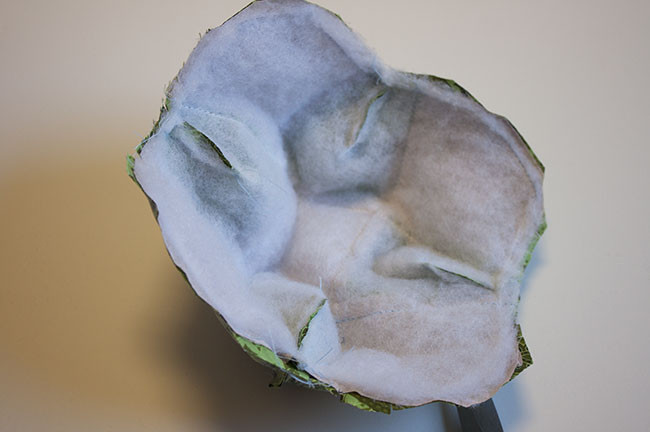 10 – Topstich 1/4″
Topstich 1/4″ around the entire edge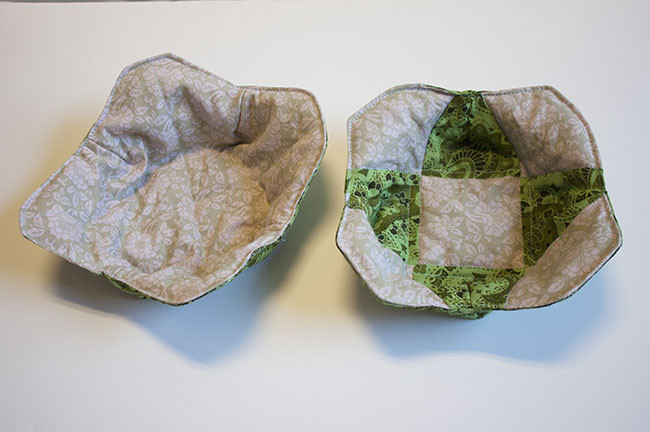 The Soup Bowl Cozy is now complete and it looks amazing!
Nine Patch Soup Bowl Cozy
In case, you have a Nine Patch Orphan 10 x 10 inches, you can use it to make a soup bowl cozy too, it will look nice and this is a great way to use an orphan patchwork block.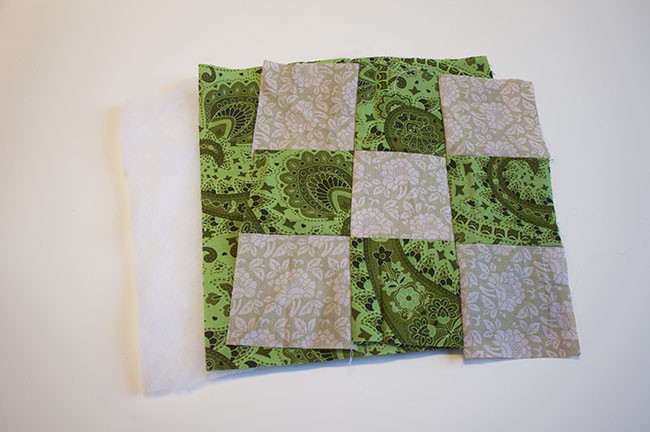 Stitch In The Ditch
I decided to use the stitch in the ditch as a quilting to sew on the batting fabric to one of the pieces to make the bowl cozy, but instead of stitching from one corner to the other, I followed the lines on the niche patch block.
To make the nine patch soup bowl cozy, just follow steps 4 to 10 as they are the same steps to make any bowl cozy.
In case, you have any other orphan patchwork block left 10 x 10 inches, you can use and you can decide what pattern to follow to do the quilting, using these any patchwork block will be a great idea to make each bowl cozy unique!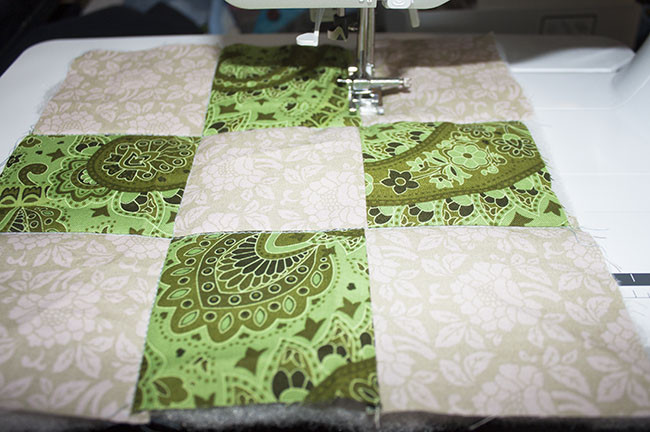 What Type Of Batting Is Better To Make A Soup Bowl Cozy?
All fabric to make this project should be cotton 100% as they can be used in the microwave oven safely, in case, you don't have at home any cotton 100 % batting, you can also use as a batting piece of kitchen towel made with cotton 100%
Sewing a Soup Bowl Cozy Is A Good Sewing Project For A Beginner?
Yes, this is a small sewing project that any beginner will love to make, it will give you the chance to sew a different project with a few different steps to work on.
It doesn't need to be perfect and have a professional finish when it's finished, and don't forget you'll get better at it as you keep making a few more soup cozies to give away to your family and to your friends.
Is There A Soup Bowl Cozy Template?
No, there is not a template as this is an easy project to work on and all you need is a patchwork ruler, a rotary cutter and a cutting mat to make all the cut pieces for this project.
In case, you don't have any quilting tool at home, you can make a template on a piece of paper 10 x 10 inches and mark the middle lines with a ruler and a pencil, then with a scissor for cutting paper you can trim your own template.
When you make a paper template it can be used to cut as many soup bowl cozies as you need to make.
Do You Need A Special Sewing Machine To Make The Soup Bowl Cozy?
No, you can make one or as many soup bowl cozies as you want to make with the sewing machine you have at home as this is an easy sewing project.
You will need the all-purpose presser feet and straight stitching set up on 3 mm length.
At home, I have Brother computerized sewing machine, and I could work on this sewing project with ease. You can take a look to a similar sewing machine on Amazon here!
You can also find more easy sewing tutorials here: