The Juki MO-654DE Serger Review is a serger that's easy to set up with its color coded threading guides, and has the ability to sew up to 1500 stitches per minute producing excellent quality stitches.
Juki MO-654DE Serger Review
It has a 2, 3, or 4 thread capability and is able to sew any of your heavier fabrics or multiple layers with ease.
We also feel that anyone starting out in the sewing business could learn to operate this machine with very little frustration compared to some other sergers out on the market, and would be an excellent machine for any at home based sewing business.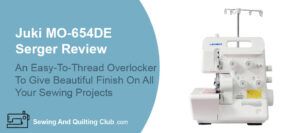 Juki is well-known for producing high quality sergers and sewing machines, and this model is no exception, being so much better than other sergers that are in its price range.
We will run through some of the features on the Juki MO-654DE and you can judge if it would be a good match for any sewing projects you have.
Stitches
This serger will do a number of stitches such as a 2 thread overcast, 2 thread rolled hems, 3 thread flat lock, and a 4 thread over lock.
It has an automatic roll hemmer which rolls the materials edge while sewing at the same time, and gives a strong professional finished edge on any of your projects.
The maximum stitch length for this model is 4 mm, and can be adjusted when needed, with the adjusting dial located on the right end of the serger.
The speed for sewing stitches is controlled by the foot pedal going from a slow speed up to 1500 stitches per minute.
There is also a seam guide located on the guard cover to give you accurate seam allowances when stitching.
Threading The Juki MO-654DE Serger
This serger is easier to thread than many, and has the color coded thread guides on the machine, plus the lower looper can be slid to the right with the push of a lever, and threaded very easily.
First you need to open the looper cover which has a safety switch, and cuts off the power when ever opened.
The procedure for threading is to do the upper looper first – blue color -, then the lower looper -red color -, then the right-hand needle – green -, then the left-hand needle – yellow -.
If you practice this threading procedure a few times it will get easier to do, and also need to mention when pulling the thread around the tension disc, just pull lightly with your two hands.
Once you have the machine threaded and set up it is always best to try it out on some scrap piece of fabric to see if everything works right.
Presser Feet
This machine comes with a multi-function presser foot which you can create over lock stitches with, or add ribbon, tape or sequins.
Other specialty feet can also be purchased such as the blind foot, elastic, cording, beading, piping, and the blind stitch foot, plus more.
Changing the presser feet for this model is easy with just the push of a lever behind the presser foot releases it, then you can snap a new one in place.
If you are sewing thicker or thinner fabrics, the pressure on the foot can be adjusted by the adjusting knob on top of the machine, but for most sewing it has been factory preset.
The presser foot lifter is at the back of the machine, and is a little inconvenient and takes time to get used to it, but it can be raised for more space under the foot when sewing thicker fabrics.
The
Juki MO-654DE Serger
Feed Dogs System
This model also has the differential feed control located on the end of the machine, above the hand wheel which adjust the front or the rear feed dogs, so that stretching or gatherings of the fabric can be adjusted.
The Knife System On The
Juki MO-654DE Serger
The upper knife is run by its own drive, and the knife position can be adjusted by turning a dial inside the lower looper compartment, and it will give a perfect cut to heavy or lightweight fabrics.
You can also release the upper knife by opening the looper cover, and pressing in on the knife shaft and turn the knob to raise it out of the way.
The Operating Buttons.
4 dials for upper and lower loopers and right and left-hand needle thread.
Presser foot adjusting screw, on top of the machine.
Handwheel on right end of the machine and turns counterclockwise.
Knob for adjusting stitch length on the right end of the machine.
Differential feed adjusting knob also on the right end.
On/off button on the right end, and also controls the light.
Lower knife adjusting knob, under cloth plate at left end of the machine.
Lighting
The lighting for this machine is a 15 watt bulb located just above the sewing area, and just unscrews if it ever needs replacing.
Accessories Included With The Juki MO-654DE Serger
Presser foot that's multipurpose.
Large screwdriver
Small screwdriver
Lower knife for a spare
Spool caps
Tweezers
Vinyl dust cover
Oiler
Thread nets
Needle threader
Needles
1/3 thread selector
Foot controller, controls speed of sewing.
Accessory bag
Power cord.
Specifications For The Juki MO-654DE Serger
2, 3, 4, thread serger
1500 stitches per minute
15.5 pounds in weight
4 mm maximum stitch length
12 1/2 inches long by 12 3/4 inches wide by 13 inches high
6 mm left needle overlooking width
4 mm right needle over locking width
2 mm for rolled hem
130/705H needles used
Thread Spools
When mounting the larger spools of thread, put the anti-vibration cones upside down first, and for the smaller home spools, remove the anti-vibration cones, and use the spool caps on them.
Also, the thread guide on the support rod goes on with the arrows facing towards you.
The
Juki MO-654DE Serger
Pros And Cons
Pros

Color coded threading guides
Will sew through heavy to light fabrics with ease
Light enough to be moved easily
Sews quieter than other sergers
Easy to keep clean
Fast sewing speed up to 1500 stitches per minute
Would be good for home sewing business
Cons

Lack of bin for collecting scraps
Instruction book could be better at explaining all the stitches.
FAQ For The Make A Sewing Machine Quieter
Where To Buy The Juki M)-654DE Serger
If you want to give this serger a test run before you purchase, you can give a call to the sewing machine dealer to ask if they have it, but you can always purchase it online

This post may contain affiliate links to Amazon.
Warranty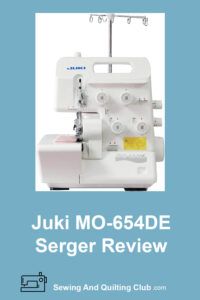 Juki provides a 5 year limited warranty, which is 5 years against defective materials, or workmanship, and 2 years on the electrics, lights, motor, etc.
It is always best to check warranty when purchasing.
Our Closing Thoughts For The Juki MO-654DE Serger
The Juki MO-654DE Serger is an excellent machine for home use, and will take care of all your projects with ease.
As sergers go, this is an easy machine to set up and start sewing with, and as Juki produces sturdy and reliable machines this one is built to last.
So our advice would be if you're interested in this machine, then take it for a test run, to see if it matches up with what you require for your sewing room.
Wishing you all the best on your sewing projects – Happy Sewing
You can read also:
Brother 1034D Serger Review – When you're interested to bring a serger to your sewing room, you might have a Brother serger on your list.