The Reversible Fleece Hat To Sew is an easy project to make for any beginner or more experienced sewer. Fleece is an insulating fabric and hats made with it will keep you warm during those cold days.
Winter is around the corner and with it will come those cold weather days, nothing better to keep you warm when you need to go out than a reversible fleece hat made by you in your favorite color.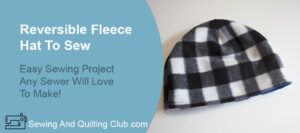 Winter in Canada can be cold with temperatures below zero degrees for many days, whether you go out to get some groceries or if you want to go out to have some winter fun, you don't need to worry as you or your loved ones will be wearing a reversible fleece hat made by you and it will be made with a double layer of fleece to keep head and ears warm all the time.
A pattern that will fit great to many, and easy to make, will take no more than 30 minutes to finish the first one you make, if you decide to make more, I'm sure you'll be making your second, and the next one in mush less time!
Reversible Fleece Hat To Sew
What you'll need to make the reversible fleece hat
2 pieces of fleece fabric of a half yard each one (half meter of each fleece fabric)
Scissors
Sewing Machine
Ball point sewing machine needle
Any domestic sewing machine will help you to make a fleece hat. I have at home a Brother computerized sewing machine (Amazon.com ) similar to this one and it helps me to make different projects.
Fleece fabric is soft and easy to sew, just pay attention when you're working on multiple layers of fleece, it can be too thick for your machine, in my case I have a Brother computerized sewing machine, it sews great most of the projects, but at the time to sew multiple layers of fleece I had to help a little by pulling the project behind the machine with caution.
I set the machine to stitch length of 3.5mm and it worked pretty good and the finished hat looks great. I used the all-purpose presser foot and I used polyester 100 % thread in matching color with fleece fabric.
Reversible Fleece Hat To Sew Step by Step Tutorial
1 – Draw Fleece Hat Pattern
Today you can draw the fleece hat patter on a piece of paper and just copy the draw with the measures, note that the bottom measure will be different for each hat, you will need to take the head circumference for each person you're making the hat and you will have to divide this measure in 4 to get the measure to draw the pattern.
Once you have the pattern drawn on a piece of paper you can cut it out using a good pair of scissors for cutting paper only.
Note: The high on the pattern should be 10.5 inches.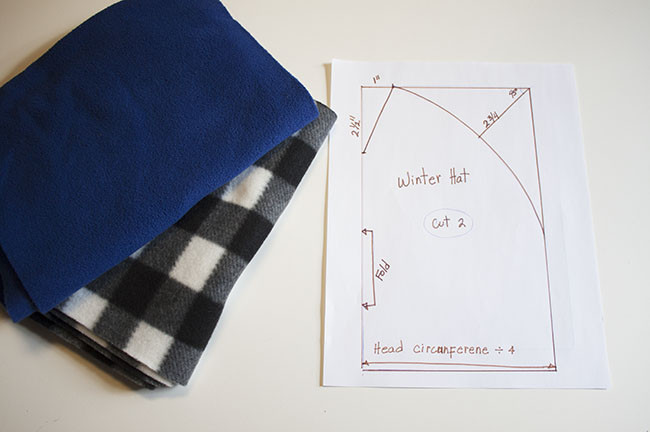 2 – Cut 4 Pieces From Fleece Fabric
Lay on your cutting table the fleece fabric you'll be using to make the fleece hat, fold a piece big enough to lay over it the paper pattern and lay the pattern on the fabric, pinch two or three pins.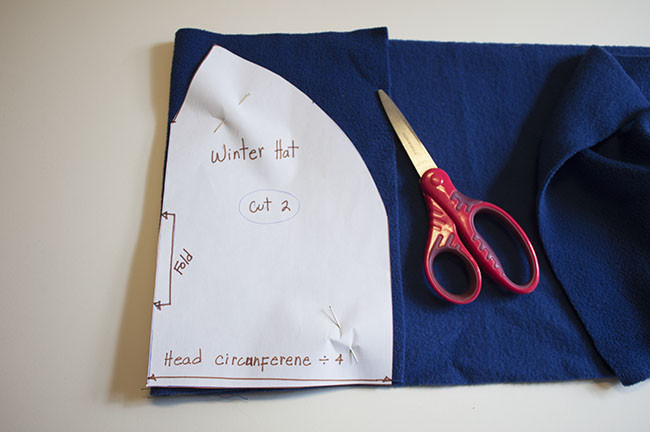 With a good pair of scissors for fabric only, cut out the four pieces, two pieces from each fleece fabric.
Note: If you need to make the hat a little bigger you can add a seam allowance of 1/4″ or even 1/2″.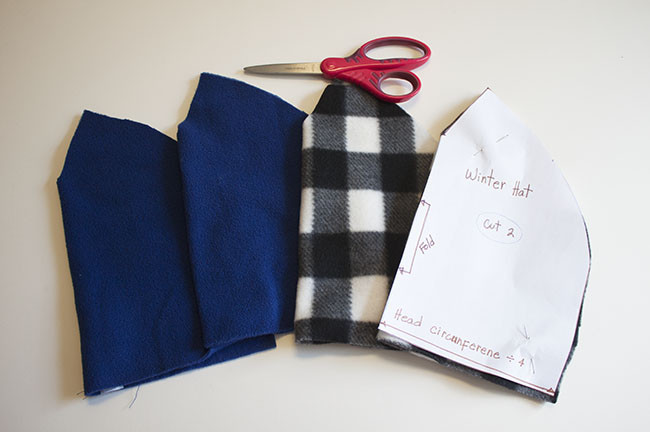 3 – Sew the "V" Shape
Sew on the "V" shape on top of each piece. Once you finish sewing on the four "V" shapes, clip the seam to open the seams.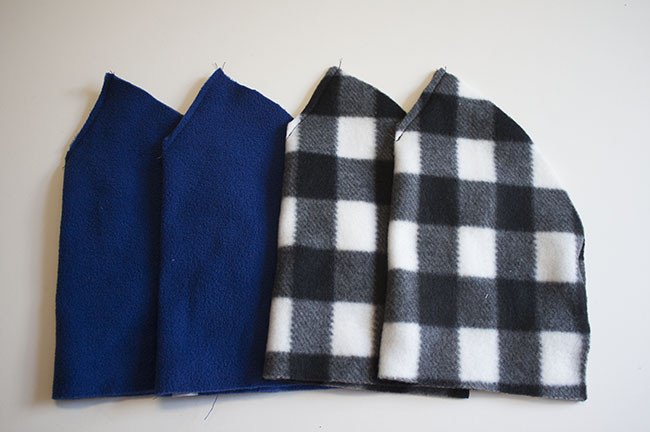 4 – Place Both Parts Right Side Together
On your cutting table, place each fabric two pieces both sides together, open the seams, pinch a few pins on each piece to sew. Sew all the round of each piece.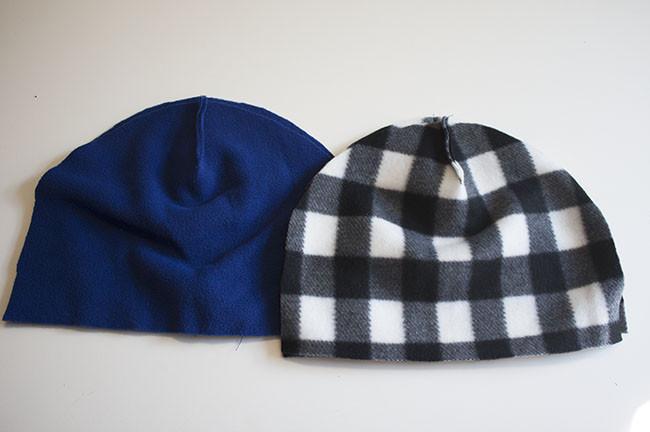 5 – Make Small Cuts With A Good Pair Of Scissors
Once both parts are sewn, make some small cuts with a good pair of scissors all the round way of each part.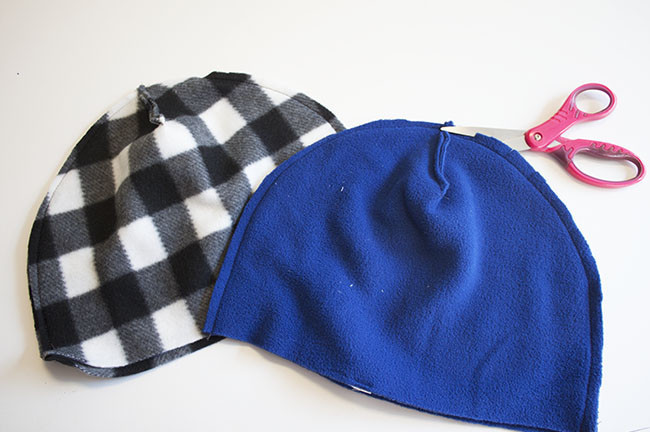 6 – Flip Right Side Out One Part.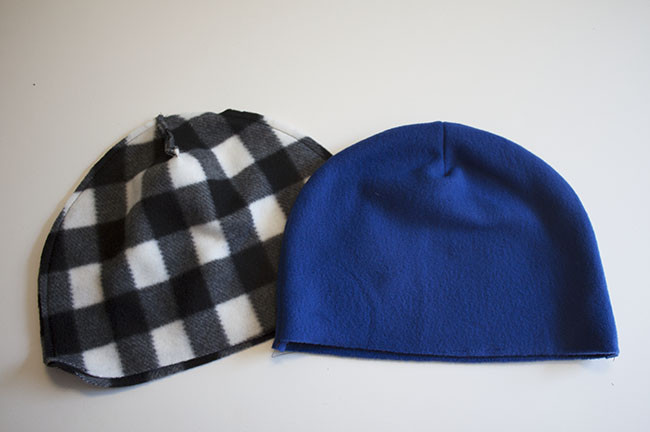 7 – Tuck In The Flipped Piece
Once you flipped one part, tuck it in the other piece and pinch a few pins all around base of the hat.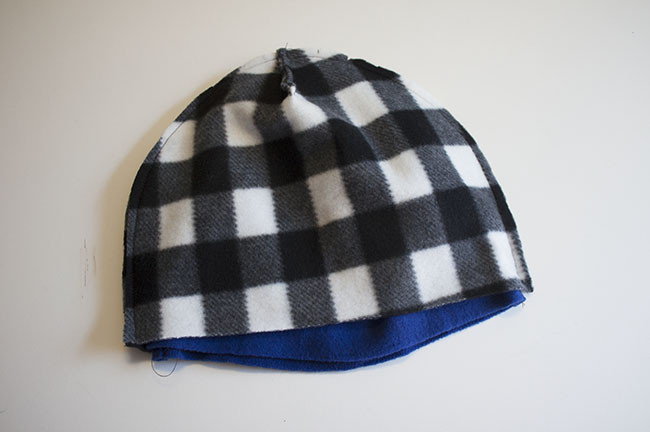 8 – Sew On The Hat
Sew on the hat leaving a gap of 2″ to turn it out.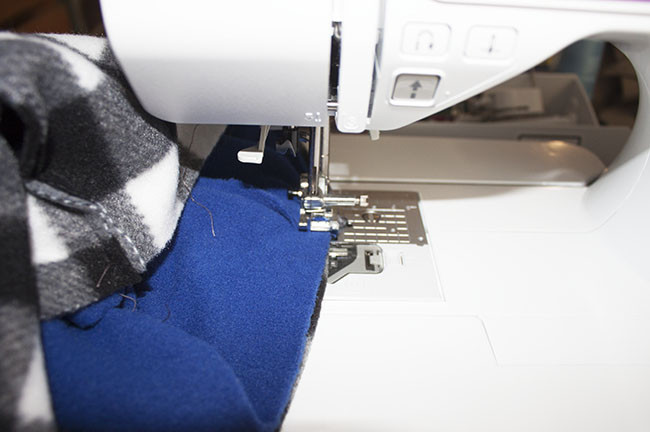 On the picture below, this is how the fleece hat should look and it's ready to turn it out.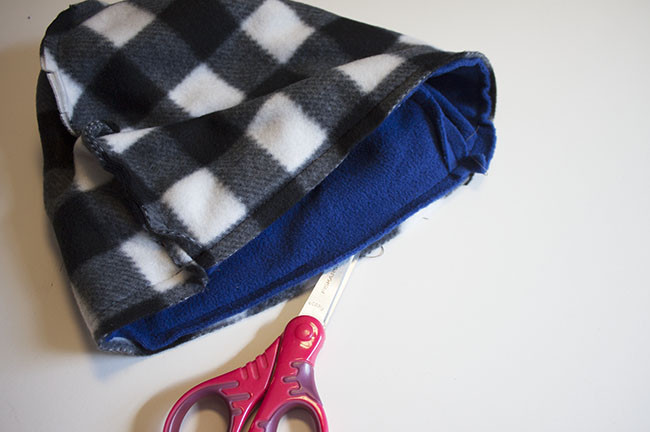 9 – Turn Out The Fleece Hat
Turn out the hat by the gap you left, the hat should look like this. Tuck in one part of the hat inside the other and pinch a few pins.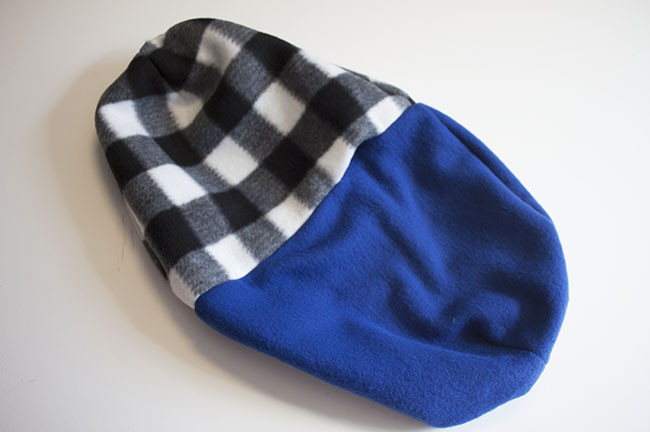 10 – Sew A Top Stitch All The Way Round
Sew a top stitch all the way round on bottom edge of the hat, as you sew on, the top stitch will close the gap you left open to turn the hat out.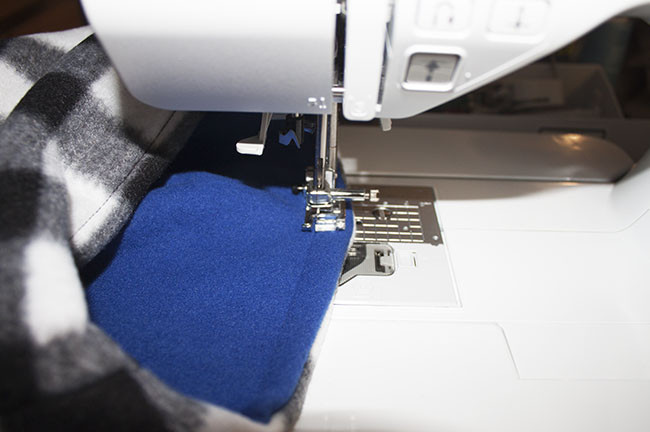 Done, and it looks amazing!
I'm sure after you finish the first hat, you will be making one for everyone in your family!
Once you see how easy it is to make the reversible fleece hat, I'm sure you will be making one for everyone you have on your list, and you can choose a fleece fabric in their favorite color or prints!
After you finish each reversible hat, you can add some decoration to each one of them such as sew in a colorful button or add a piece of ribbon, so each one will know which hat is theirs!
What Type Of Sewing Machine Do I Need To Sew Fleece?
For this tutorial, I wanted to try my Brother computerized sewing machine, (Amazon.com) it worked pretty good as fleece is a soft fabric to sew, I must add I just set up the stitching lenght up to 3 or 3.5 mm for better stitching.
I noticed the machine has a hard time to sew on multiple layers of fleece and I had to help the machine to feed the fabric as it sews, (just pull the fabric from the back of the presser feet softly as the machine sews)
Do I Need A Special Sewing Machine Presser Feet To Sew Fleece?
I did this tutorial using the all-purpose presser foot and it worked pretty good, but you need to pinch a few pins to keep the two layers of fleece to be feed smoothly as you sew.
Reversible Fleece Hat To Sew Closing Thoughts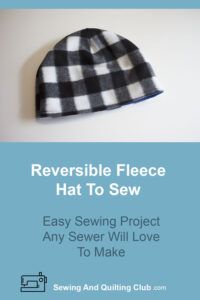 As winter is around the corner for some parts of the world, temperatures will go down and it's a must to have ready some cozy and warm clothing to keep everyone warm and healthy.
One thing about being a sewer is the ability to make any garment you and your family needs.
Fleece has become popular and you can find it in beautiful colors and prints everyone will love. Making a reversible fleece hat for everyone in your list will take you no more that 15 minutes once you see how easy it is to make.
This is a sewing project any sewer will love to make, and when you see how easy is to make it and how little money you spend on making each hat, this will be a sewing project to make a few winter hats to give them as a gift for everyone on your list for the Holidays.
You can read also:
The Best 14 Bother Sewing Machines – If you're looking for an affordable sewing machine to start sewing, Brother is a leading brand with different models where you can pick one for your projects.