Nothing feels better that making your own clothing at home! Learning to sew and start sewing from your own clothing and some home decor items for your home by yourself will be like a dream come true! Having a sewing machine with the features you need to work on every project is easy, today I will share on the Brother XR9550 Review, why this unit is the favorite for many sewers and quilters.
The Brother XR9550PRW is a computerized sewing machine that comes with an easy to view LCD display screen to pick out the stitches you will need for your projects.
This sewing machine is great for sewing and for quilting projects as it comes with an over sized wide table and the spring action foot supplied.
The Features For The Brother XR9550PRW
I was looking to see how this sewing machine works last time I visited one of my friends who is a quilter and she owns this model. As I could see how my friend works on this model to make a new quilt, I could see how many benefits this sewing machine has for beginners and more experienced sewers.
In short, this is a sewing machine that comes with all the features any sewer needs to work on many projects, the high stitching quality and the ease to switch from one feature o any other in no time, will help you to make from this sewing machine your favorite!
What Are The Features Of The Brother XR9550PRW That Make It The Favorite For Many Sewers?
It Comes With 100 Built-In Stitches And 55 Alphanumeric Stitches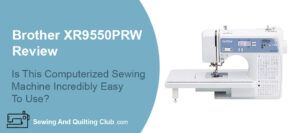 With the 110 stitches and 55 alphanumeric stitches you will have no trouble finding the right ones. You're sewing stitches are displayed on the front and numbered, so are easy to bring up on the LCD display screen along with the recommended foot.
In the instruction manual, you can also see the stitches displayed along with the recommended foot to use for each, and telling as to what each stitch is best used for.
Included with the machine are 8 styles of one-step buttonholes and the length and width of the stitches can be adjusted on the LCD screen, just by pressing the buttons to the right of the display screen.
Automatic Needle Threader
To thread this model takes little time, just follow the arrows down to the automatic needle threader and be sure the needle is raised and presser foot lowered.
With the thread behind the guide lower the needle threader, and attach the thread to the hook that goes through the needles eye, then release the lever and your machine is threaded. No more hard on the eyes threading.
Quick Set Top Drop In Bobbin System
To wind your bobbin, just follow the diagram on top, and on the bobbin wind the thread around it 5 or 6 times, then through the slit to cut the thread. Then push the bobbin and winding shaft to the right, and start the winding by turning on machine and pressing foot controller.
To install bobbin, just remove the clear plate and drop in the bobbin, and follow the diagram directions for the thread to the cutter, then replace cover and you're ready to sew.
Feed Dogs Up/Down Button
Common with most Brother sewing machines, this one has the 7 points feed dogs system that lets the material feed evenly and smooth. There is also a button for lowering and raising the feed dogs which is good for quilting or more decorative sewing projects.
How Many Presser Feet Come With This Sewing Machine?
The machine comes with 8 presser feet that are quick change snap into place and push button release.
Zigzag foot
Buttonhole foot
Zipper foot
Button sewing foot
Overcasting foot
Bind Stitch foot
Monogramming foot
Quilting foot
Can This Sewing Machine Make Auto-Size Buttonholes?
This is a feature that will help beginners and advanced sewers to sew accurate buttonholes with one-step!
Does It Comes With A Bright LED Light?
The machine comes with an LED light for your sewing area and automatically turns on when the machines gets turned on. The LCD screen is also very well lit to show the stitches.
Adjustable Thread Tension Dial
Free Arm
Start/stop button
Reverse Button
Needle up/down button
Speed Control Lever
Accessories And Accessory Tray
8 presser feet
Accessory pouch
Hard carrying case
4 bobbins
Seam ripper
Needles package – Ball point and twin needles
Cleaning brush
Eyelet punch
Screwdriver
3 spool caps
Extra spool pin
Power cord
Foot pedal controller
Wide Table for more space
Quilting Guide
Instruction manual and DVD
Brother XP9550PRW Specifications
Lightweight at 18.6 pounds
20 x 12.5 by 17.8 inches
So easily portable to sewing classes and workshops. Adjustable speed so that pressure on foot pedal will only allow speed to reach what you set it at.
What About The Warranty?
The warranty is much the same as other Brother sewing machines with the 25-year limited warranty against defective materials and workmanship, and 2 years on the electrical, and 1 year on parts labor, and accessory items, plus free technical support for the life of the machine.
What Are The Pros For The XP9550PRW?
Many sewers are happy to own this sewing machine as it comes packed with great features to help them to sew many projects, as this is a versatile sewing machine with high stitching quality and it comes with enough features.
Machine is easy for beginners and the more experienced sewers
Good price
Easy to use
Lightweight and made to last
Durable
Good for beginners
What Are The Cons For The XP9550PRW?
Hard to sew very thick fabrics
Limited edition
Lack of some accessories
Why The Brother XR9550PRW Is Easy To Use?
Whether your brand new to sewing or if you have been sewing for some time and you've become an expert, this model is so easy to set up and it comes with the features that will help any sewer to tackle any design you want to make. And this model comes with a great instruction manual that will help you find which feature to use on every project you're working on!
What Can You See With The XR9550PWR?
This is a versatile sewing machine that comes with the features you need to work on different projects, from making easy to make home decorations items like pillowcases or a tablecloth to start making a new dress or a winter jacket. This model can sew all type of fabrics to help you to work with ease any project you want to make!
Is The Brother XR9550PRW Sewing Machine A Durable Model?
Don't let this light model to fool you, this is another model designed to last by the Brother brand, they are always looking to design and built sewing machine with the features to help any sewer to work on many different projects and to last for many years in the sewing room.
What Does It Mean That The Brother XR9550PRW Sewing Machine Is A Limited Edition?
This is a model that was designed and built for the Runway Project and we don't know how long it will last on the market and this make for it a downside.
As this model was well-designed and built, with all the features any sewer would love to have in a model, by being a limited edition with a short life in the market, it does encourage impulsive buying.
Where To Buy The Brother XR9559PRW
The Brother Company is always thinking of bringing the best buying experience for the user of its brand, and they are always looking to place the sewing machine on easy to find department stores and specialty stores.
You won't have any problem to find this model at stores like Walmart, but of course it's also available on Amazon
Do you want to take a look to another sewing machine good for beginners, but that is not a limited edition? Take a look to the Best Sewing Machine For Beginners
Conclusion, Should You Buy It?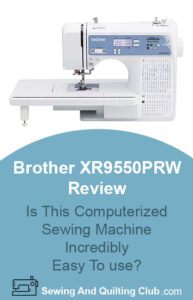 This machine is good for seasoned sewers and beginners also, and like most sewing machines it takes a little practice to get onto all the features it has.
The instruction manual is well illustrated for each feature, so will take care of any learning problems. It produces good quality stitching for your sewing projects, and for quilting.
For an easy to use computerized sewing machine that is built tough enough to last, this model will definitely help you be creative in your sewing projects, and will worth while taking a look at or trying it out for a test run.
The price is low enough for this machine considering it has many features.
Wishing you all the best on your sewing projects – Happy sewing!