The Brother DZ3000 Review, this computerized sewing and quilting machine is feature packed with 240 unique built-in stitches.
Just on the front of the machine you will find the start/stop button, back stitch and the up/down needle button, grouped together in a handy location just above the needle area.
Also on the front is the sliding speed controller to set the machine at what speed is best for what you are sewing and this also controls the speed of the foot pedal.
What is very handy with this model is the stitch chart located just below the LCD screen, which also has a flip up chart revealing all the patterns, and is numbered for each stitch. Making it very easy to bring up on the display screen.
The Brother DZ3000 Features
This in another great model from the Brother Sewing Machine Industries that any sewer will be happy to have it at her/his sewing room, it comes with all the features to help sewers to work with ease on almost all the sewing and quilting projects!
240 Built-In Stitches
As mentioned above, it has 240 unique stitches which include 110 alphanumeric stitches giving you a large variety for any creative projects that you have.
Included with the stitches are a large amount of decorative stitches, heirloom, and utility stitches, also 2 fonts, and it has 8 one-step buttonhole styles, plus the two sewing fonts, each have the 55 alphanumeric stitches.
14 Presser Feet And A Circular Sewing Attachment
The machine also has a circular attachment, so you can sew with straight stitches, zigzag or decorative stitches, and include a cording foot and a blinding foot which can be used with or without the circular sewing attachment.
Zigzag foot
Zipper foot
Monogram foot
Braiding foot
1/4 inch quilting foot
Cording foot
Adjustable zipper piping foot
Overcasting foot
Button fitting foot
Open toe foot
Stitch guide foot
Walking foot
Quilting foot
Blind stitch foot
Buttonhole foot
With these many presser feet, you can't go wrong, and they are easy to change by pressing the release button behind the needle, removing the foot and the next one just snaps into place.
LCD Screen
On the LCD screen, you also have the choice to adjust the length or width of the stitching to what ever you like, and another neat feature is it displays the letter of the foot to use with that stitch.
The instruction manual contains diagrams for the stitches and what to use them for, and is always an easy reference for you.
Bobbin And Threading
This machine has a jam resistant quick set drop-in bobbin that loads from the top by removing the plastic see through cover.
Just put in the bobbin and follow the guide with the thread which makes it very easy to load.
Winding the bobbin is very easy also by just following the diagram on top.
Threading the machine is just a matter of following the numbered diagrams down to the automatic threader, than by pushing the lever down it automatically pushes the thread through the eye of your needle.
Circular Attachment
With the circular attachment, you are able to sew circles of different sizes as the attachment is easily adjustable, and you can create some really neat designs for pillows or what ever else you have for your projects.
7 Points Feed Dogs System
With this machine as well as many other of the Brother models, you are able to drop the feed dogs by a button on the back, which is so handy when quilting or free hand sewing when you want to sew a design.
It has the 7 point feed dogs system that gives a very smooth feeding of any fabric you are using.
LED Lighting
There is a bright LED light to brighten up the work area as well, the display screen is back lit for easy viewing.
Storage And Free Arm
On the front of the machine is a storage accessory drawer that just pulls off, and than that gives you the free arm for sewing sleeves, cuffs or pants, or any of the more difficult sewing areas.
Wide Table
Included with this machine is a wider table which is so helpful when doing quilts or costumes providing you with more room to maneuver your projects.
Accessories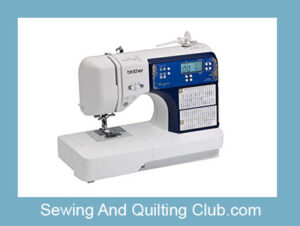 This machine comes with a load of accessories, probably more than most, and the variety of sewing presser feet are a good bonus.
Power cord
A hard case for dust protection with a handle
Foot pedal
Wide extension table
instructional DVD
14 presser feet
Spool cap- large, medium, and small
4 bobbins
Screwdriver
Cleaning brush
Disc shaped screwdriver
Etra spool pin
Circular attachment
Quilting guide
Pivot pin
Seam ripper
Needle set
Twin needle
Ball point needles
The machine size is 21.3 by 13.7 by 17.9 inches and is easily portable with its handle.
Warranty
As with most of the Brother sewing machines, this model comes with the 25-year limited warranty, and offers free technical support via online, live chat, or phone for the life of your machine.
Pros And Cons
What Do People Like About The Brother DZ3000?
Wide variety of stitches
14 presser feet
Feature rich
Not expensive for all that you get
Easy to set up
Versatile
Portable
What Do People Not Like About The Brother DZ3000?
Not good for large quilting projects, as throat could be a little larger.
Many plastic components
What User Like Of The Brother DZ3000?
Users of this model have left good reviews giving good ratings, users like it's an affordable model packet with rich features, large sewing surface, large display for stitches and fonts, and it comes with a large amount of accessories, if you want to read the users reviews, you can read them here!
Does This Sewing Machine Come With USB?
There is no USB port available on this model, so it can't be upgraded.
Who Is The Brother DZ3000 Best Suited For?
From beginners to the most advanced sewers will love to work with this model, as this is an easy to set up sewing machine beginners will have no problem at all to start sewing with it.
As any beginner keeps working on it, they will get more skilled, soon new sewers will be working on this model on any project.
What Kind Of Projects Can I Make With The Brother DZ3000?
I will recommend this model for sewers that are interested to work on any sewing project and repairs.
This is a great model that will help you to work with ease on garment constructions, home decor, and making crafts.
Is This Sewing Machine Good For Professional Sewing?
If you're a professional sewer and you're looking for a workhorse, I would recommend you to take a look to a semi industrial sewing machine that will help you to work on different projects.
Are you looking for a sewing machine to work with all your big quilting projects? Take a look to the Best Sewing Machine For Quilting!
Where To Buy The Brother DZ3000?
You can buy this sewing machine from online retailers and you can check its latest price here!
Conclusion
This computerized sewing and quilting machine will certainly pique the interest of any sewing artist with its large variety of features.
If you're looking for a sewing machine that can provide all your sewing needs, than take a look at this one or try it out.
Wishing your all the best on your sewing projects – Happy sewing!