Brother FB1757T Review, this is a basic mechanical sewing machine for light sewing and mending, and is very easy to use and set up.
The machine comes with an extra wide extension table and will make any of your quilting projects easier to work on, or even more advanced projects.
This is a lightweight machine and has a carrying handle for easy transportation to sewing classes or crafting with friends.
Even if you're a beginner sewer, you will find that this machine is easy to set up, and very easy to use, making it a good addition to any sewing room, plus it is not an expensive machine to own.
If you would like to find out if this machine is a good fit for your sewing projects, we will mention its features to give you a better idea.
Brother FB1757T Review
Why To Buy The Brother FB1757T Sewing Machine?
If you are a beginner sewer or someone who is looking to start sewing, this basic sewing machine is well-designed and built to help you to learn the basic of sewing and start making many different sewing projects.
For any beginner who is looking for a model to learn the basic of sewing without the need to break the bank, this is a good model to start your sewing hobby.
Stitch on The Brother FB1757T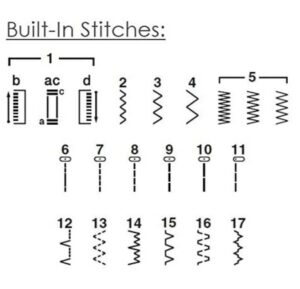 This machine comes with 17 unique utility and decorative stitches, and also has the automatic 4-step buttonhole maker.
The stitches are displayed on the front face of the machine, as well as on the selection dial which can be turned both ways for a stitch selection.
It has zigzag stitches, straight, blind hem, elastic, stretch blind hem, over edge, double action, and a bridging stitch, and there are illustrations in the instruction manual for all the stitches as a reference.
This machine can stitch up to 800 stitches per minute with the speed being controlled by the foot pedal, which with a little practice you can sew at the speed you prefer.
The reverse stitching lever is located just below the stitch selection dial, and is good for reinforcing at the start and finish of a run, plus the length of the reverse stitch is set at 2 mm.
The machine has a stitch length of 4 mm, and a stitch width of 5 mm and has a preset width and length for the different stitches.
Winding The Bobbing And Threading Of The Brother FB1757T
For This machine is best to use type 15 bobbins that are designed for this model.
Winding the bobbin is the same as most machines, and just follow the guides, and the instruction manual has excellent diagrams for this procedure also, Once the bobbin is full, remove your foot from the foot controller, remove the bobbin and slide bobbin winding shaft back to the left.
As this is a top loading machine just raise the needle and presser foot, then slide the cover towards you lifting it. Drop the bobbin with thread coming off counterclockwise, and be sure thread goes through tension adjusting spring correctly, leaving about 4 to 5 inches of thread toward the back of the machine.
Upper Threading.
For this, just raise the needle and presser foot, and follow the numbered guides imprinted on the machine down to the needle, and thread it by hand from front to back by turning the hand wheel towards you, leaving about 4 inches of both upper and lower threads under the presser foot, and towards the back of the machine.
In the instruction manual is a chart recommending the thread and needle to use for different fabrics you sew with.
Just above the sewing area is a dial for adjusting the upper thread tension, and we do recommend first sewing on a spare piece of fabric first for a test run.
Is There Free Arm Sewing
Yes, by removing the flat bed attachment with its accessory compartment gives access to the free arm for sewing cuffs, pants or other hard to sew fabrics.
Presser Feet
This machine comes with 4 presser feet, and others can be purchased separately for this model. (affiliate)
Zigzag foot
Zipper foot
Buttonhole foot
Button sewing foot
To change presser feet just push the black button at the back of foot to release it then snaps a new one in place, and you can also raise the presser foot lever for when sewing thicker fabrics.
Lighting
This machines has a bright LED light above the sewing area for when ever you have to sew dark fabrics, it is very handy and will turn on when the machine is powered up.
Feed Dogs
There is a 6 point feed dog system on this machine that will provide a smooth flow of the fabric while sewing.
A darning plate can be put over the feed dogs if you are doing free hand sewing or quilting.
Accessories for the Brother FB1757T
4 presser feet
Package of needles
Darning plate
Oval screwdriver
Brother FB1757T manual
Foot pedal
Power cord
Bobbins
Extra-wide extension table
Spool pin a double needle
Specifications For The Brother FB1757T Sewing Machine
800 stitches per minute
4 mm stitch length
5 mm stitch width
17 built in stitches
4 Step buttonhole
Class 15 bobbins
15.3 inches long by 12 inches high by 5.87 inches wide
6 point feed dogs system
The Dials And Levers On The Brother FB1757T Sewing Machine
Stitch selection dial on front of the machine with the numbered stitches
Thread tension dial above sewing area
Reverse sewing lever just below stitch dial
Presser foot lifter behind needle to the right
Handwheel on the right end
Power and light switch on the right end
Manual thread cutter on left end above sewing area
Warranty
There is a 25-year limited warranty on Bother machines, which is 25 years on any defective materials, and 2 years on the electrical parts, and 1 year for parts, labor, and accessories.
We always suggest reading the warranty when first purchasing.
The Pros And Cons
Pros

Easy to use basic mechanical sewing machine
Light enough with handle to take to sewing classes
Has the free arm
Set up takes very little time
Enough stitches for most projects
The best part is that this is a low priced machine for all that it does.
Cons

No automatic thread cutter
Is The Brother FB1757T Sewing Machine Good For A Beginner?
This is a well-designed and built machine by Brother, it comes with the basic features a beginner needs in a machine to start learning to sew and to work on many different easy sewing projects.
Related: Best Sewing Machine For Beginners.
Is The Brother FB1757T Good For Making Quilts?
When thinking about working on making a new top for any size quilt, you won't have any problem at all, this is a well-designed model that will help you to make the top for any quilt.
At the time to think about working on the Free Motion Quilting, this might not be the best model I would recommend to a quilter, but if you are a beginner and you want to learn how to do the free motion quilting on small projects, then this is a good model to work with, it comes with a darning plate to cover the feed dogs and you can learn the basic of machine quilting a project.
If you like how the Free Motion Quilting is done on a machine, then I will recommend you to upgrade to a better model from Brother or from Bernina.
Where To Buy The Brother FB1757T Sewing Machine?
You can find it on the specialty stores shelves, with the sewing machine dealer in your area or you can also purchase it online (affiliate)

Brother FB1757T Review Our Final Thoughts
We would recommend this sewing machine for any beginner or the more experienced sewer as it gives excellent stitches.
As Brother is well-known for their quality machines, we are sure that this one would be a good fit for any sewing room.
As a basic sewing machine at a low price, you might want to try this one out to see how it goes, and see if it can handle your sewing projects.
Wishing you all the best on your sewing projects, happy sewing!
Thanks so much for sharing our PIN on your Social Media!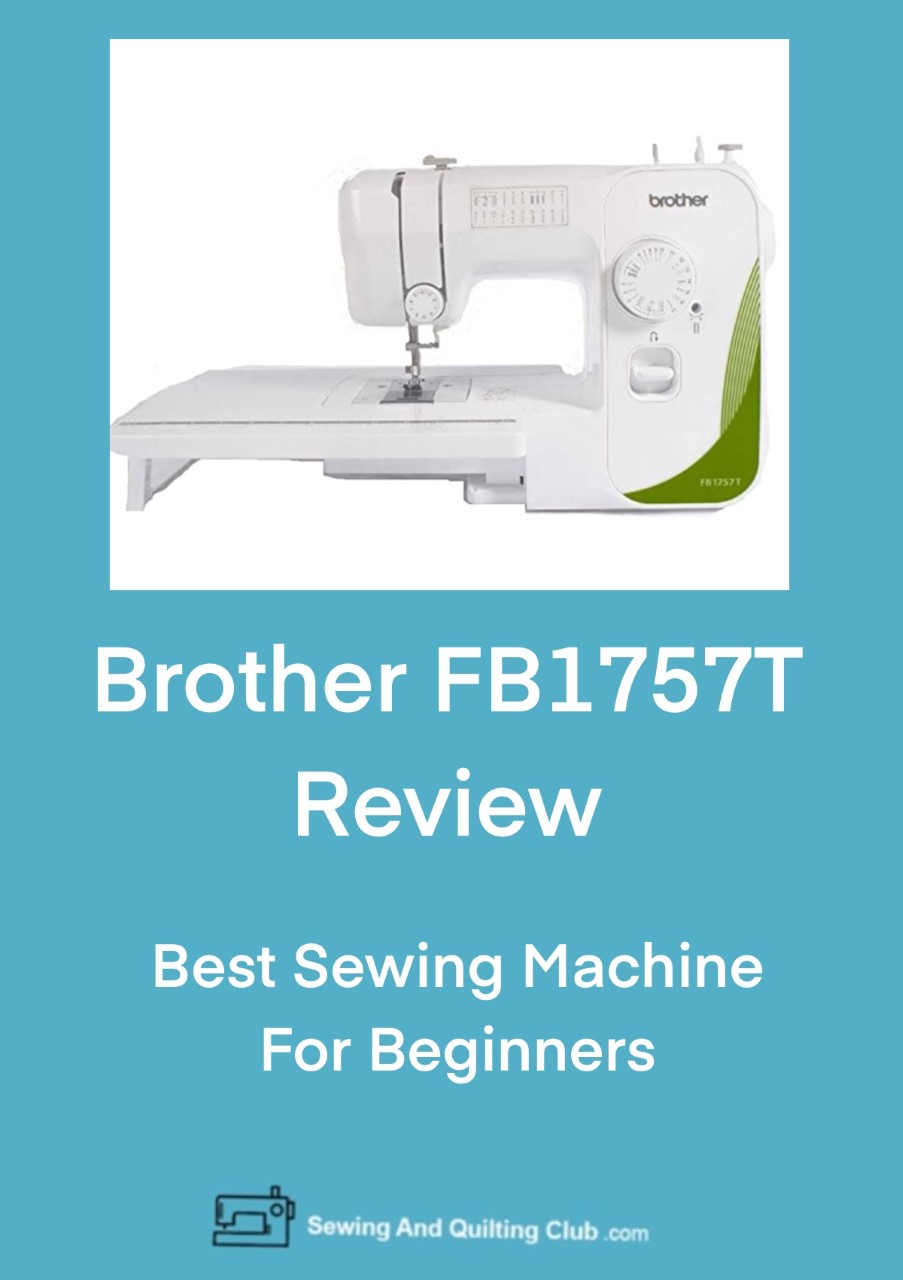 Watch the video here: