Are you thinking of starting to make some extra money or to turn your hobby into a full income? These Sewing Business Ideas will give you some inspiration to start with!
Sewing Business Ideas
How To Start A Successful Sewing Business?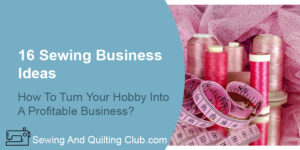 When you start sewing, you might find a new world, the process to turn any piece of cloth into something pretty and useful is one of your best rewards you can get. As you keep sewing, you might be wondering if you can turn your new hobby into a successful business.
Sewing business is one of the easiest business to start and you can make the first steps to turn your sewing business into a business from home, you can start small and your business can grow as big as you want to.
I'll share some ideas where you can start your own sewing business, find something you love to do and start from there.
Alterations
1 – Most of the times when anyone buys a new piece of clothing, it needs some work done, like hem pants or take in dresses, you can be surprised on how many people will love to find someone who does this type of work in their neighborhood or area. So if you like steady work, you can start by letting your friends to know that you're ready to do this type of work, as they start asking you to do it, they will tell their own friends about you. You always can grow your client list by doing some local advertising or you could make your own business cards and ask to some clothing stores and dry cleaners if is OK to leave some business cards on their front desk.
Customization
2 – If you love to add that special touch to every piece, you might want to start your own customization business, have you thought of getting specialized on creating some embroidery items to add to any piece of clothing or working to add the logo of other business or schools on uniforms. This idea might require some special equipment like embroidery machines or other specialized sewing machines, but as you grow your clients list, you will be getting more orders from your clients and the sky is the limit!
Drapery And Home Decor
3 – If you love to work on making any type of drapery and home decor items like curtains, shades, duvet covers, pillows, pillow cases, then you could start your drapery and home decor business, you can do it by yourself and work at the beginning to get some orders with some publicity for your business or you can get in touch with some professional decorators in your area and let them know you're open to get some orders from them.
Pet Accessories
4 – For many pet owners, their pets are like their own kids, they love to spend to get the best for them and it includes spending some money on their beds, leashes, toys, coats and clothing, hammocks and more. You can always talk to pet store owners and leave your business cards to them and talk about partnering with them to let people to know your new pet clothing business.
Dolls Clothing
5 – Dolls clothing is on huge demand today, as you love sewing, you might know already how fun it is to make a new doll some new pieces of clothing, young and not so young girls and boys, love to have not just one piece of clothing for their dolls. Opening an online dolls clothing store or sharing your work on platforms ready to sell handmade products could be the business idea your looking for.
Baby Clothing
6 – If you love to make small pieces of clothing, starting your baby clothing business could be the business idea you're looking for. Babies need many pieces of clothing as they grow, and parents are always willing to pay for a new piece, and good money for it, from bibs, small dresses, hats, shoes, the sky is the limit! And the best way to get your products known by new parents is with a website or sharing your new products on Social Media.
Children's Clothing
7 – Very similar to the previous point, starting a sewing business on making children clothing could be the business idea you're looking for, it doesn't matter if you can get children clothing at a very reasonable price on the stores today, there will be always a good demand for unique pieces of clothing for children, and don't forget there is a demand for some specialized pieces of clothing for children, like baptism, first communion, or some unique embroidery type clothing for young girls.
Handbags
8 – Women and people in general are always looking for that special handbag to carry everything inside, whether it is made of leather or from fabric, there is a huge demand of unique handmade handbags. Have you thought of giving it a try to show your handmade handbags on the next art show in your area?
Religious Items
9 – If you love to work making unique handmade religious items, this could be the niche where you can start your business, no matter if every time there's less and fewer churches in the area, this niche has a huge potential if you find some clients that are looking for unique handmade religious items, I didn't know how big the demand on this business can be, it doesn't matter in what country you live, you could get orders from any church that gets interested on buying from you as you show your work on the internet, some examples that you could work on are: priest clothing (they are always handmade embroidered), religious statures clothing are always handmade embroidery and most of the time these pieces add some pearls and beading on them, the prices can be huge, for an example, a few years ago, I had a talk with a woman who specialized on making bridal veils (hand embroidery) and she used to charge for one light work over $ 5000 US.
Bridal Wear And Accessories
10 – If you like to work with special skills and heirloom techniques, such as hand embroidering, beading, smocking and delicate lacework, this niche could be good for you, however you need to keep in mind, working to dress a bride to be can be stressful, and you might find yourself working around the clock to get everything to its best for that special day, but if you love this type of sewing business, you can build up your reputation and before you notice you'll get your business booked for the next few years, as wedding planning in many times takes to book the different services even up to 1, 2 or even 3 years in advance.
Custom Clothing
11 – The benefits of getting custom clothing are many, from the point that each piece is handcrafted with the right size, and it will give more comfortable wearing to the point that each person can pick the details they want on each piece. You can start your custom clothing business by making your own family clothing, as you get compliments about it from your friends, you might be surprised on how fast you'll get a good client list to work on their custom clothing.
Toys and Dolls
12 – If you love to sew toys and dolls, the internet is here to help you to grow your business, from easy made cute toys to art dolls, the option will be yours, from making a line of cute toys and dolls to selling on your own online store or on a platform of handmade items, to start making your own line of art dolls, both ways can turn into a profitable handmade business.
Costume Designer
13 – If you love to create amazing costumes, why not start your own business by making special clothing for theatrical or a dance company, or create also cosplay costumes for conventions-goers, there's a huge demand for handmade and unique costumes, if you start your own website and your business Social Media accounts, you can grow your own audience and get some orders.
Baby Supplies
14 – Have you given it a thought on how many baby burps, blankets, or baby shoes a baby needs? There is a huge demand for babies supplies these days, and parents are always willing to buy not just one piece but a few!
Upcycling Clothing
15 – The eco-friendly for everything is here and fashion is not the exception, have you though of starting you're sewing business by upcycling some pieces of clothing that you can get at the thrift store and give it a second or third life to it. People are looking for unique pieces of clothing with a story to tell.
Production Sewist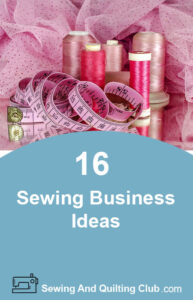 16 – If you like to work on serial sewing, and you do accurate seams and perfect pattern cuttings, you can start you're sewing business by working for other companies. This means you will be sewing many duplicates of the same items, you might be working on orders to start to finish each item or you can be hired to do just a part of the production, these type of sewing business can be often seen in a few countries where sewist get a contract to work for a company in their own workshop or at their own home.
What Is The Best Sewing Machine For My Sewing Business?
There are no rules about what sewing machine is the best for a sewing business, the best answer I can give you here is that you need to define which sewing business is the best for you from the list of sewing business ideas above.
Once you know which sewing business idea is the best for you, it will help you to know which sewing machine will be the best for you to start you're sewing business.
Can I Start Small With My Sewing Business?
Yes of course, starting small is a great way to start a sewing business, as you keep working on growing your clients list, you will get to know what sewing equipment will be the best to bring into you're sewing room to provide the best sewing service.
How To Start Your Sewing Business, on this post I share the steps to follow to turn your sewing hobby into your full time sewing business.