When doing fine work with your sewing projects, a good light to see what your doing is always so helpful around your sewing machine.
Sewing is a work that will require a few skills to work at the same time while you're making any sewing project no matter if it is a home decor sewing, dress making or quilting, you need to have a good light in the sewing area to help you to work with ease, some sewing machines comes with a built-in lights, but many don't.
In many cases even if you have a sewing machine that has a built-it light you might want to improve the light in the sewing area.
Top 11 Sewing Machine Lights Review 2019
You can find some information that will help you to find the right lamp (light) for your sewing area, that will help you to work on any sewing project better and not hurting your eyes.
---
The Tohoer Magnetic Mult-Task LED Light
The Tohoer Magnetic Mult-Task LED Light has 33 high quality LEDs that will relive any eye strain while you work, and will not pulsate or flash to spoil your concetration on the work.
The flexible goose neck will let you adjust the light to where ever it is needed, and stay in that position.
Only 6 watts to give you a very bright light, and the bulb is god for 50000 hours of use.
It also has a magnetic base and comes with a 12 month refund warranty and a low price tag.
---
The Gold Star Hi-Performance Sewing Light
This lamp comes with 50 LED lights that produce a natural light for no eye strain while working on your sewing projects.
It is 99% energy efficient, and last up to 60000 hours, so you wont be changing the bulb too often.
There is also a switch for 2 levels of brightness, and a 30 inch gooseneck with a rotating head to easily position the light where it is needed.
This is an excellent light for sewers and crafters, and will clamp on to your sewing platform where needed
---
Bonlux Sewing Machine Light 2W30LED Lamp
This light has a strong magnetic mount that stays where you put it, and a convenient on-off switch.
With its flexible arm it is very easy to put the light where you want it.
It has 30 LED lights for a very strong light aimed at your work place, saving yourself any eye strain.
If your sewing machine has no metal to put the base on, then you can glue a piece of medal on your machine- flat washer- then mount the base of the lamp there.
For a strong 30LED light you might wont to give this one a try.
---
This light comes with a unique adhesive base that can be attached onto any surface of your sewing machine.
It comes with two bases so the detachable LED light can be moved between the two for your convenience.
The Mighty Bright is cordless, and the battery will last around 8 hours of use, and with the tough LED it will last 100000 hours, so replacing bulbs will not happen for a long time.
There is an adjustable bending neck  of 5.5 inches on it which will show light on your fabrics and threads, and not being overly expensive is a very good buy.
---
This lamp is portable, and being a LED it will supply a good light where ever needed, and batteries have to be bought seperately.
It comes with two bases that a magnetic on there button and the sides, are are 5 1/4 inches long,
The gooseneck wich is adjustable is 18 inches long, and the LED lamp on the end is 2 1/4″ long.
These LED light will last longer than any of the traditional lights, so you may want to check this one out!
---
This LED light is very bright to make your sewing jobs much easier on your eyes.
It comes with a 6 foot cord for plugging in and on off-on swiitch on its magnetic base, and the adjustable arm is 7 inches long with the light fixture on its end, being 3.24 inches long.
The LED is very energy efficient, saving you 90% when in use on your electric bil.
So if you're looking for a bright LED for your sewing projects, give it a try, and can be used for any where you need a bright light for your sewing projects.
---
This very bright light has 30 LEDs and will not hurt your eyes while you work on your sewing projects.
It can last up to 50,000 hours before having to be replaced.
There is a strong magnetic base on it, with the on-off switch located on the base.
The goose-neck is very adjustable, it rotates 360 degrees and about 8 inches long, while the plug in cord is 4 feet 6 inches and it comes with a 12 month warranty
This light is not very expensive and you could also find it handy for reading, on any shop work where extra light is needed.
---
This light has a 3″ inch magnifying glass with LED around it that gives a cool white light, that will not put a strain on your vision.
The goose neck is 13.5 inches long and has a base that's heavy enough to support the lamp.
You will find this lamp perfect for threading needles, or any dots and crafts that your working on.
The plug in cord is 5 feet long and the lamp's life is about 15 to 20 years, so you should never have to replace the bulb, and the on-off switch is located near the lens on top of the goose neck for convenience.
The lamp is highly recommended by crafters, so you might want to check it out.
---
HengBo Sewing Machine Light
This sewing machine light comes with an 11.8 inch LED strip with 18 LED in it, it is flexible and can be stuck to your sewing machine.
It produces a bright white light with a touch dimmer button that always comes on at the last setting, you have it at, and by pressing for 2 or 3 seconds you can adjust the brightness.
There are also adhesive clips to keep the 6.6 power cord out of the way, and the power cord has a USB plug adapter for the power supply.
These light strips could also be used under cupboards just by the peeling the tape off and sticking them to wherever light is required.
LED strips are very handy to have for your sewing projects.
---
Daylight Company Naturalight LED Sewing Machine Light
This is a perfect small lamp for your sewing machine, you can direct the light where you need it, you won't have any problem to mount the lamp to your sewing machine with the self-adhesive stickers.
The Daylight LED's will gives high contrast and accurate color matching, it will help you to work on your sewing projects for fong hours without tiring, it will also help you to see more details on your sewing.
The LED's in this lamp will never need to be replaced and it use very little energy.
---
This light is bright enough to help you to work in your sewing projects with no problem at all even if you love to work for long hours on them.
This light for sewing gives you 90 lumens of brightness, which is really good and it will illuminate your sewing area, it will be easy to attach it as it comes with cord clips and mounting adhesive, it comes with a long cord of 8 feet.
The Bendable Bright Light Kit is energy-efficient and you can use it on the sewing area or on other areas where you use to work.
You won't have any problem to find some good reviews on this light.
---
This light is made in the form of a LED light strip, you'll simply stick it onto the machine as needed. It might be tricky to install it as you want to be sure you get the strip in the right place, but once you get it right you won't have any problem and you'll love it.
The Razon Sewing Machine LED light can be harder on your eyes than the other lamps for the sewing machine as it features high color temperature of 6500K but it's nice and bright.
One feature you'll love is the dimmer switch that will help you to adjust the brightness of the light, so you can get the intensity of light that you need.
---
FAQ
What Lamp Should I Buy For My Sewing Machine?
Most lamps for Sewing Machines will work good on most of any sewing machine, you won't have much problems to find the right lamp for yours.
You need to take your time to check if the lamp features will be the right for your sewing machine, and be sure if you want just to illuminate the sewing machine area or your sewing area, so you can have a better light of the sewing space.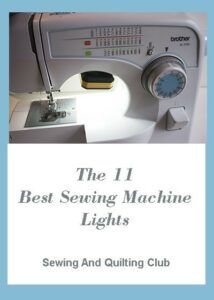 Where to attach the Sewing Machine Lamp?
Some lamps will be attached to the side of the sewing machine and some others need to be attached on the sewing machine, the importance here is to get the lamp that will give you the proper light on the area you need it.
Some lamps have their own stands and it can be placed on the sewing table right next to the sewing machine, these lamps will provide enough light on the sewing area and it will help you to see all the materials you use.
Other lamps need to be attached to the sewing machine and they have a goose neck that will be directed to the needle.
How often do you need to get a new Sewing Machine Lamp?
Most of the lamps (lights) are high quality made, this means that the lamp you choose to buy will last many hours, and they will last for many hours.
To answer better to this question you need to know how often you work on your sewing machine, if you sew from time to time, any lamp will last for years, but if you love to sew often and for long hours, you might need to get a new lamp in a few years or just to change the bulbs on it.
Final Thoughts.
Being a sewing addict, I love to work on my sewing machine often, some days I can work for long hours and some days I will just sit there for a few minutes.
It doesn't matter if you want to sew for a few minutes or for long hours you need to have a good light in the sewing table so you help your eyes to see with ease, by getting a good sewing machine lamp will help you to enjoy more the time you spend sewing and you will get better results on any project you do!