Best Chairs For Sewing will provide a beginner or to the experienced sewer with the comfort you need when you sew for long hours on a project. It is not only another piece of furniture in the sewing room, the chair should be as comfortable as any of your furniture to provide you with freedom of movement at the same time as it is reliable and flexible.
What Is A Sewing Chair?
When you start sewing you might start with any chair you have at home, after a few projects you might see the need to find the best chair you have at home as you noticed you've been sewing for a few hours and you need best support and movement of freedom.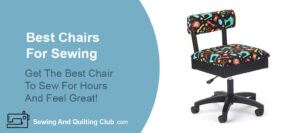 Any sewer needs to find the best chair to bring into the sewing room as you will spend long hours working on small and large projects and you know how important it is to help your body to feel good as you keep working on your projects. Many sewers don't quit sewing because they don't like it anymore, but because they start feeling tired, this is why finding a good chair that gives your support as you work and prevent any back pain is important.
There are some chairs in the market that are designed with people working sewing or seated for long hours, these chairs are designed and built to give back support and prevent any stress on your legs.
Best Chairs For Sewing
1 – OFM Core Collection Armless Mid-Back Task Chair
This chair by OFM will give you superior posture support to anyone who sews for long hours, its arm less design will give you more freedom of movement while you work on small or big sewing projects.
To provide you with mobility freedom this chair is designed with a sturdy five-star base and castor wheels, this is a heavy-duty swivel chair with up to 250 pounds capacity.
The chair is build with a gas-lift mechanism to allow you to pick your custom seat height. The upholstery features a stain-resistant fabric, which it can be cleaned in a breeze.
Pros
Built-in lumbar support
Adjustable back height, back deep and seat height
Price is affordable
Cons
Seat cushion might be too firm to some sewers
2 – Reliable SewErgo Ergonomic Task Chair
When you're looking to have in the sewing room a chair that is highly comfortable and ergonomic, the Reliable SewErgo Ergonomic Task Chair is the one you might be looking for, its features make of it one of the most comfortable chairs for sewers who will be working for long hours.
This chair is manufactured in Canada and it's made with up to 62 per cent of recycled polyester, which is good as it helps the environment. Many user give this chair a good review because of the waterfall seat edges that relieve pressure, so you can be comfortable while sewing for long hours.
Pros
Very comfortable
Highly adjustable
Excellent lumbar support
Made from recycled materials
Cons
3 – Boss Office Delux Posture Chair
If you're looking for a chair that can give you comfort for hours as you keep working on your project, the Boss Office Delux Posture Chair was designed and built with a thickly padded back and seat, along with lumbar support
4 – Arrow Height Adjustable Hydraulic Chair
This chair was designed with sewers and crafters in mind, the height is adjustable with easy controls, and the cushions will help you to work for hours with comfort. This chair is designed and built with 5 casters on a star base, so you can move around the sewing area easily.
This chair has a hidden storage, all you need is to lift the seat cushion to reveal the compartment for small notes and patterns.
Pros
Cushion covers are made of durable fabric
Gives comfort while spending hours sewing
Assembly is very easy
Cons
Price
No height adjustments
5 – Boss Office Medical Stool
This is a stool you will love to have in your sewing room as it has an ergonomic design that emulates the natural shape of the spine to increase comfort and productivity.
You know already you might spend long hours working on a new project and you want to find a chair that will help you to spend those long hours sewing and not to get tired at all.
This is a chair well-designed and build that will give comfort at a very good price!
Pros
Ergonomic design.
Good quality at an affordable price
Easy to adjust to give you more comfort
Moves quietly
Gives nice back support
Cons
6 – Amazon Low Back Desk Chair
Budget Pick
This chair is well-designed for anyone who will be working for long hours while doing different tasks, and you know as you work with your sewing machine, you need to do a few different tasks as you work on a project and in some cases you will be doing more than one at the same time.
This chair swivels a full 360 degrees and comes with pneumatic lift and smooth-rolling casters, which will help you to work with ease on small and big projects.
Pros
Very comfortable
Easy to put together
Affordable
The seat height adjust easily as well
7 – Chair With Flip-Up Arms And Adjustable Height
This chair with flip-up arms and adjustable height is a contemporary task chair that gives comfort as you work for long hours on a project.
The back of the chair provides lumbar support and the seat is designed waterfall edges to relieve any stress on your legs. The chair has a tilt lever to push in to lock in an upright position, pullout to activate rocking motion which will give you more movement freedom to work on large sewing projects.
Pros
Comfortable
Easy to assemble
Flip-up arms and adjustable height
Cons
Some owners claim it won't last long.
Where To Buy A Chair For Sewing?
There are many places where you can visit to find the chair that will be part of your sewing room, one of the best place to find the chair you need is Amazon as it will be delivered on your front door, but you can also visit the big box stores to find the chair you're looking for.
Should A Sewing Chair Have Arms?
To answer to this question, you need to think about how you spend your time working with your sewing machine and what type of projects you will be working on.
From my experience sewing for a few years with domestic and industrial sewing machines, I would say when working on your sewing machine whether you work with small or large projects, the best chair is arm less as it will give you more movement, and freedom.
When you work on a project, you might need to go to the cutting table often and turn the chair from right to left fast to take some notions or different pieces of fabric to keep sewing on your project.
An arm less chair will fit better under the table after your finish sewing for the day.
When I need to work on a project sewing by hand, I like better to do it on a chair with arms, seems to be more comfortable and it helps me to keep the project to the right height for hand sewing.
What Is The Best Type Of Chair For Sewing?
In the market you will find many different options for a sewing chair:
A regular chair
Armless chair
Arm chair
Chair with castor wheels
Chair with storage compartment
From all the options in the market to find the best type of chair for sewing, after being sewing for a few years and being part of a quilting group and talking to friends who love to sew, I would say everybody comes to the same thought.
A chair to have in the sewing room should be comfortable and should allow you to maneuver freely, and at the same time not taking too much space in the room.
An arm less that is ergonomic designed with 5 castor wheels, lightweight but strongly built to support your weight and good quality to last for a few years in the sewing room.
Closing Thoughts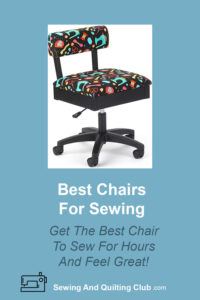 After a few years sewing and quilting, I can say a must have in the sewing room after your sewing machine is the chair, it will not be only another piece of furniture to bring in, you might want to try all the chairs you have at home to see if one can be picked as the one to have in the sewing room.
It needs to be comfortable and give you back support and freedom of movement, it should be light and with preference of built with castor wheels to help you to move from point A to point B in no time to get everything you need to continue working on your project.
We have tried a few chairs to find the one I will have in the sewing room, we share some of the chairs we had tested and we are sure you will find one to bring to your sewing room.
There are a few different options of style and price, but all of them are well-designed and built to help any sewer to work on your projects for hours and feel great.
Happy Sewing!
You can also read: