The Bernina 335 Sewing Machine Review, this is a sewing machine that comes with a good range of features.
Actually every model from this Swiss Company has a very high reputation around the world for making the best quality and precision sewing machines, plus being in the business for over 100 years, we think the Bernina brand stands as one of the best.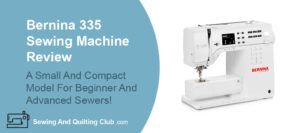 The B335 comes with all the latest technology, and the machine is small and light enough so you can take it to your sewing classes, and is strong enough to sew through your toughest materials.
If you want to just mend your clothes, or other projects you have, or even use the decorative stitches to fancy up your sewing, then this machine will get it done, and give you sewing pleasure for years to come.
The Bernina 335 Sewing Machine Review
Below we will mention the features you can find on this sewing machine.
221 Stitches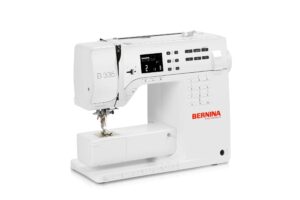 The Bernina 335 comes with 221 stitches and 2 built-in sewing alphabets, and a 1-step buttonhole. The maximum stitch width is 5.5 mm and the maximum stitch length is 5 mm, and both are easily adjustable to your preference on the LCD screen and both can be adjusted even while sewing.
In the accessory kit you will find a stitch pattern summary card with all the stitches numbered.
There are about 78 decorative stitches, 11 quilting stitches, and there is your straight stitch and many others, so you have a large variety to chose from for your sewing projects.
The machine can sew up to 900 stitches per minute, and also comes with a speed control on the front. It also has the ability to do mirror image stitches with just the press of a button.
The computer also can store in its memory stitch patterns, letters, and numbers, to bring back up when needed.
6 Presser Feet
The machine comes with 6 presser feet.
Reverse pattern foot
Overlock foot
Zipper foot
Blind hem foot
Open embroidery foot
Buttonhole foot
And an adapter shank for the feet. On this machine the presser feet are easily changed by pressing a button behind the foot releasing it and then put another presser foot under the shaft and lower the presser foot lifter till it snaps into place. The presser feet are numbered for an easy reference.
The Bobbin And Threading
To wind the bobbin on the Bernina 335, just follow diagram on the machine as in your instruction manual. The bobbin is wound by a separate motor and will stop automatically once it is fully wound.
To insert the bobbin on this model you open the bobbin cover on the front and insert bobbin with thread coming off clockwise and just follow the instructions in your instruction manual.
To thread the machine follow the arrows on the machine down to the automatic threader, and use it to thread the needle, and there are also 3 manual thread cutters.
Feed Dogs
With each stitch the feed dogs move by one step, and the length of this movement is made by the stitch length selected. When the fabric feeds evenly the stitches will be perfect.
By pushing a button conveniently located on the end of the machine, the feed dogs can be raised or lowered for free motion sewing such as darning, embroidery, quilting or free hand sewing when needed.
Lighting
The LED light on this model is very bright, and will illuminate your sewing area, and very handy when sewing any darker fabrics.
Free Arm
The free arm on this machine is easy to access allowing you to sew cuffs, parts, sleeves, or other hard to sew areas.
Control Buttons for the Bernina 335
Just above the sewing area conveniently located for easy reach of your fingers is the:
Quick reverse button – to tie off your stitches.
Start/stop button
Speed control lever – located to the left of the screen
Up/down needle stop button – located below the screen
Pattern end button
Mirror image button
Stitch length button, needle position button and stitch width button, plus your memory and alphabet buttons located to right of screen.
Stitch selection buttons are located on the face
Also on the front at bottom is a place for the knee lifter, for free hand sewing which is an option
Lid for bobbin cover is first below sewing area
On the end of the machine just below the foot control socket is the button to raise and lower feed dogs
And on the top above needle area is the dial for thread tension adjustment.
Accessories Provided For The Bernina 335
Dust cover
Accessory box – storing
Foot control
Power cord
Slide on table – for sewing larger projects
Stitch pattern card
3 bobbins
Selection of needles
Screwdriver
Seam ripper
Hex Key
Lint brush – for cleaning
3 spool disc – different sizes
1 foam pad
Height compensating tool – for when presser foot is not level.
Presser feet
Items come in a plastic bag and can be stored in the accessory box.
Specifications For The Bernina 335
900 stitches per minute
5.5 mm maximum stitch width
5 mm maximum stitch length
17.6 pounds, with a carrying handle
Dimensions of machine 14 9/16 inches X 6 11/16 inches X 12 13/16 inches
Warranty
This machine has 10 years on the mechanical parts and 5 years on electronic parts.
Pros And Cons For The Bernina 335
Lighweight – easy to take to sewing classes
Easy to set up
Enough stitches for any variety of sewing projects.
Quiet running
Very well built
Cons
It's a higher priced machine
No automatic thread cutter
How Often Do You Need To Oil This Sewing Machine?
You need to oil this sewing machine to keep it in its best condition for your best stitches, but you can put a drop of oil before you start a big project. When you work on a big project, oiling the machine once every day will help you to keep it in its best condition.
Is The Bernina 335 Good For Beginners?
Yes, this is a good model for any beginner that wants to start sewing, you can set up the sewing speed to the lowest speed as you start learning to sew.
Is The Bernina 335 Good For Free Motion Quilting?
This model comes with the drop feed dogs features, you can work on the quilting for your quilts, but it doesn't come with the quilting feet you need to get best results while working on the free motion quilting, you can purchase the quilting feet with a dealer or online.
How Much Does This Sewing Machine Cost?
As you might know by now, Bernina sewing machines don't come at a cheap price, if you get interested on getting this model or another model from this brand, you need to get prepared to pay a higher price than other sewing machine brands.
You can find this brand has a different model to help beginners and more advanced sewers to get the model they need for the projects they plan to work on. The range of prices could go from $ 700 to $ 2000 US
Take a look to the Bernette B35 sewing machine, this is a more affordable model from the Bernina family
Where To Buy The Bernina 335
This sewing machine is not for sale online, to purchase it you need to call a dealer in your area or to check on the Bernina website.

Our Closing Thoughts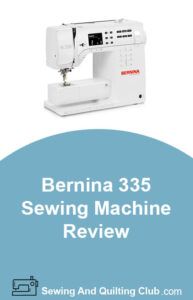 The Bernina 335 comes with all the newest sewing technology to make your sewing life easier.
For any sewing project that you have on the go, this machine will handle them.
When you're out looking for a sewing machine you need to find one that will be a fit for what you like to sew, and what functions the machine has that are important to your sewing.
A good quality machine often comes with a high price tag, as this one does, there are less pricey models and more expensive ones, your decision is to find what you require in a sewing machine, and we hope this review can help you with that.
It's often best to try a machine out to see how you like it.
Wishing you all the best on your sewing projects – Happy Sewing!