As a beginner, everyone wants to sew something easy to make, but at the same time you might want to sew something cute, original, and useful, the Easy Sewing Projects Teenagers Can Make will help you find ideas that you can start making and they will look great!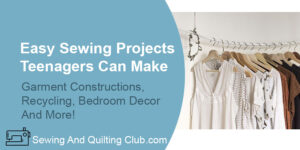 When teenagers ask for a sewing machine, in many cases this means they want to express themselves by creating their own style on their clothing and accessories, this could be learning garment constructions to make their own cloths with their personal style or adding some personal touch here and there to help them to stand out from the rest.
Turning a pair of jeans or a t-shirt into a unique piece of clothing won't take long and anyone can make a unique piece by adding some decorative stitches with the sewing machine here and there or learning to sew on a new patch, when a teenager learns to sew, there will be no need of using the glue for fabrics to add anything you want to turn a piece of clothing to your own brand.
Let's take a look to some:
Easy Sewing Projects Teenagers Can Make
Tote Bags
Making your own tote bag with the fabric you choose from the store will turn into a tote bag nobody else will have, a tote bag is so easy to make and it's a perfect project for any beginner. Straight seams and you can sew the straps or you can use some cotton strips already made for this use.
Sewing a simple tote bag with a cute or fun fabric will be fantastic, but if you decide to buy a tote bag already made, you can add some personal touches by adding some decorative stitches here and there, some colorful buttons or some patches.
You always can sew a zipper pocket inside of the tote bag to keep all your important belongings safe.
Decorate A T-Shirt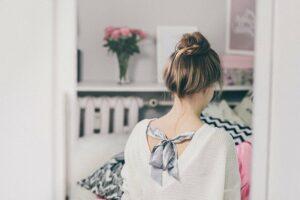 Turning any comfy t-shirt into a unique piece with your own style won't be difficult to do when you learn to sew, there are so many cool ideas you can to with a simple t-shirt.
Maybe that t-shirt you got from your parents or from a family member as a present on your last birthday didn't make you happy at all, or maybe you're already bored with wearing the same old t-shirt over and over again.
It's time to put your sewing skills to work, add some personal touch to turn it into that unique piece everyone will be talking about.
Recycling Old Clothing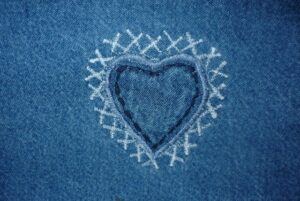 It doesn't matter if we talk about recycling an old t-shirt or an old pair of jeans that is starting to fall apart, you always can turn any old piece of clothing into a brand new piece, patching and mending is back today as it helps to turn any piece of clothing into a second life and help to save the planet.
From patching with decorative stitches, to using a floral piece of fabric to patch a hole in your jeans, it will look so cool and you can wear that pair of jeans for a couple of months more.
Making a totally new piece of clothing with a couple of old pieces will help you to get new sewing skills and you can make a unique piece of clothing.
Easy Drawstring Bag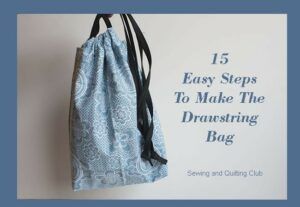 Love to carry your stuff on a practical drawstring bag? Say no more, you can make your own in just a few minutes, pick one cute and sturdy fabric and you can sew it in a few steps to follow.
After you finish this project, I'm sure you'll be making more than one, always so useful to have an extra drawstring bag in your bag in case you stop to get some groceries or some material for your next school project.
Easy to make and so useful as an extra bag where to carry everything you need for a busy day at school!
You can read the full tutorial to make the drawstring bag here!
Infinity Scarf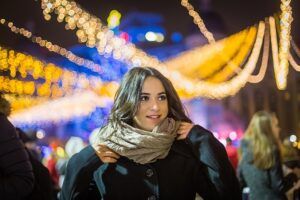 No matter what is the weather, you always can make an infinity scarf with different types of fabric, choose one light fabric for Summer, like cotton or silk and with just a few easy seams to make with your sewing machine, the new scarf will be ready in less than 10 minutes.
Need a new scarf for cool weather, say no more! Wool or knit fabrics will be perfect for this projects!
Make more than one! When you start to sew your own clothing and accessories you will see how you can afford to make more than one!
Sew And Make Your Own Bedroom Decor.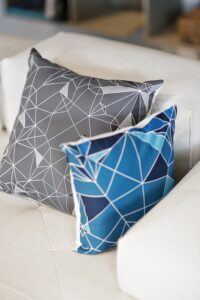 Tired of the same bedroom decor from your childhood? As you have been working on some projects, you might feel more skilled to try some bigger projects to sew, what about to start making a pair of pillow cases!
Choose a cute fabric from the store that tells more about you, the color palette or the design, start with a cheap fabric, spend a couple of dollars for your first try, they will look amazing and the pillow cases will add that color touch to your bedroom!
As you get more practice, than you can try that amazing designer fabric!
It's time to work on a new bedspread or maybe try to make a new simple pattern quilt, it will add your personal touch to your bedroom.
Nothing better to spend time in your bedroom working on your homework or studying for the next exam when your bedroom looks amazing and all made by you!
Final Thoughts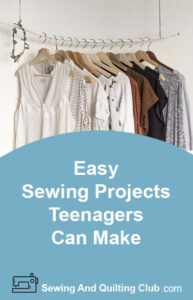 Starting to sew will be fun for any teenager when they see how good they are making their own stuff. Let them try to grow their own creativity.
Start with small projects to sew, learn more skills and before you notice, you'll be ready to try bigger projects.
For just fun or with a career in your mind for the future, sewing is something that will help any teenager to learn some new skills.
Planning a new project, learning how to work with color palette, starting and finishing a new project, how to solve a problem, these are some of the skills you will learn while sewing, and these skills will help you to work on future projects of any kind later in life.
A word about making mistakes – All sewers, beginners and the most advanced have made small and big mistakes, from cutting the wrong cut, to mistaking the right side of the fabric.
When sewing is OK to make mistakes, you will learn as you keep at it, and when making a mistake, find a way to solve it out, sewers are the most creative people in the world.
Very often nobody will know about your mistakes while sewing, I've made a lot and I never say anything about it unless I want to tell people how to patch something or how a mistake can lead to something more creative.
Start with a cheap fabric to make your first projects, and as you feel more skilled, than get that fabric you love and go for it!
Keep learning, there are so many good tutorials and you will be making amazing stuff!
Happy Sewing!
Great Sewing Machines For Teenagers:
Janome JW8100 Review – An affordable model that comes with 100 built-in stitches!
7 Autumn Easy Sewing Projects – As weather starts to get fresher, you will love to sew an infinity scarf with a soft knit fabric or a pillow with Fall colors to decorate any room at your home!