The Bernina 215 Simple Red Review – This sewing machine has enough features to get you started, and show off your creative sewing skills.
The machine is light enough to take to sewing classes for any beginner sewer. This sewing machine is easy to set up and operate and will sew from thin to thick layers of fabric, and is very easy to bring up the stitches on the computer screen.
Bernina sewing machines can also be easily upgraded with new accessories as you get better at sewing, plus this Swiss brand has always been aiming to make the best sewing machines to give you a sewing experience like no other.
This is a perfect machine for anyone starting out on the sewing journey.
Bernina 215 Simple Red Review
Below we will mention the easy to use features found on this sewing machine.
215 Stitches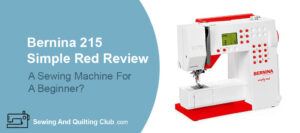 The Bernina 215 comes with 11 stitches, 10 utility stitches and 1 buttonhole.
The maximum stitch width is 5.5 mm, and the maximum stitch length is 5 mm, and both are able to be adjusted on the LCD display screen, to your sewing preferences.
The utility stitches are:
Straight stitch – for stitch most worked with.
Zigzag stitch – for most fabrics
Running stitch – mending and patching
Triple straight and triple zigzag stitch – for reinforcing seams in tough heavier fabrics.
Blind stitch – for most fabrics, decorative seams
Double overlock stitch – all types of knit fabrics
Stretch overlock stitch – for overlock seams, flat joining seams.
Super stretch stitch – open seams, and stretch fabrics.
Honeycomb stitch – smooth fabric, visible seams
Darning – for fine medium weight fabrics
Buttonhole – shirts, blouses, trousers.
The machine can sew up to 900 stitches per minute, and has a button to reduce the speed in half or back to full speed.
5 Presser Feet
This model comes with 5 presser feet.
Reverse pattern foot – for practical and decorative stitches
Overlock foot – seams, hems, sewing edges.
Buttonhole foot – for manual buttonholes
Zipper foot – sewing zippers
Blind stitch foot – blind hems, edge stitching
Presser foot shaft included. The presser feet are the snap on type that's very easy to change, just push the release button on shaft behind foot, then snap another in place.
Also, when selecting your stitch on the screen, it will display the presser foot recommended for that stitch.
The Bobbin And Threading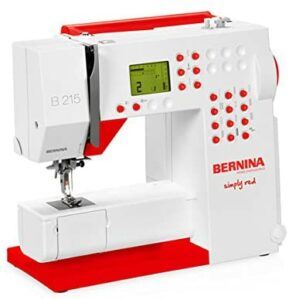 To thread the bobbin follow the direction of the arrows, and press engaging lever against bobbin then press the foot control, and the motor will stop automatically when bobbin is full.
To install the bobbin, open the cover, and pull out bobbin case, insert bobbin and case so it clicks into place, close the cover and the thread doesn't have to be brought up, as the lose end is proper length to start sewing.
To thread the 215 follow the arrows down to the needle threader, and use it to thread the needle, if any difficulty the instruction manual has a good diagram instructions. There is also a thread cutter on the frame just above sewing area, and a thread tensioner which is very seldom adjusted.
Feed Dogs
The feed dogs on this machine move ahead by one stitch, and that is determined by the length of the stitch selected, and even at high speed the fabric moves fairly slow under the foot. On the end of the machine there is a button for lowering the feed dogs, for free hand quilting or sewing.
Lighting
The LED light for this model gives a strong illumination of the working area, and has a long life spam.
Free Arm
You are able to use the free arm for cuffs, pants, sleeves, and other hard to sew places.
Control Buttons
Just above the sewing area is the:
Reverse button- for reinforcing stitches
Needle stop button – for up or down position of needle
1/2 motor speed button – adjust speed
Stitch width button – for computer
Stitch length button – for computer
Needle position button – for computer
On the stitch selection on front of machine is a c/r/del – button and the stitch select buttons.
The rest of the dials and levers are basically standard for most sewing machines and always check the instruction manual when not sure.
Accessories Provided
2 Bobbins
5 presser feet and shaft
Package of needles 130 / 705H
Lint brush
3 spool disc
Oiler
Foam pad
Seam ripper
Foot control
Fabric cover
Power cable
Warranty card
Specifications For The Bernina 215
Size is 12.08 inches high by 6.92 inches wide by 13.58 inches long.
Weight is over 17 pounds and has convenient carrying handle
900 stitches per minute
5.5 mm stitch width
5 mm stitch length.
Warranty For The Bernina 215
The warranty for this sewing machine is 20 years on mechanical parts from date of purchase. 5 years on the printed circuit board, and 2 years on the electrics.
You can read the Bernina 215 manual here!
Pros And Cons
Pros

Light enough to take to sewing classes
Easy to set up and ideal for beginner sewers
Quiet running
Strong enough to sew heavy fabrics
High quality sewing machine
Handle small pieces better when making the piecing for a quilt
Cons

No automatic thread cutter
Price is fairly high for someone starting to sew
Is The Bernina 215 Sewing Machine Easy To Use For Beginners?
This model is a computerized sewing machine easy to set up and easy to use for everyone who wants to learn sewing, any beginner will love to learn on this model as is easy to set up all the features and its speed can lower to 1/2 of top speed.
Why The Bernina 215 Is A Good Model For Making Quilts?
When looking for a sewing machine to make small and big quilts, you want to find a model to work on the different steps to make a quilt: piecing the top and make the quilting with your sewing machine.
This model comes with the 1/4 inch presser feet that can beat other models from well-known brands, when thinking of working on straight quilting, once again this model beats other models as it can handle pretty well multiple layers of fabrics.
Why The Bernina 215 Is A Good Sewing Machine For Sewing and Quilting Classes?
It's a compact model, lightweight with a build-in handle that makes things easy to carry it around the house or to carry it to your sewing classes. Easy to set up and you won't have any problems at all to work on different projects as you learn the basic of sewing and quilting.
Is This Sewing Machine Good For Free Motion Quilting
You won't have any problem to work on the free motion quilting on your next quilt with this model, it comes with the drop feed dogs system feature that will help you to work with ease as you do the free motion quilting.
However, this model doesn't come with the free motion quilting foot, but you can order it online.
Where To Buy The Bernina 215?
When you're interested to get the Bernina 215 or any other model from this brand, the best idea is to find a dealer in your area, or visit the sewing or quilting center near you to ask them if they have this model so you can take a look at it.
When you're looking for a Bernina Sewing machine online, only a few models can be found on Amazon.
Take a look to the Bernette B35 Sewing Machine
Bernina 215 Simple Red Review – Our Closing Thoughts
This sewing machine is made of the highest quality, and with its up to date features would make a great machine for the beginner sewer.
The pros far outweigh the cons on this model, and our opinion is that it would make an excellent choice, and give years of sewing pleasure.
If you don't mind the price and it fits what you're looking for in a sewing machine, then take a look at it, or take it for a test run.
Wishing you all the best on your sewing projects – Happy Sewing!