The Bernette B35 Sewing Machine Review – This is a machine of very good quality coming from the Bernina line of sewing products.
For any beginner sewer this one has just the right amount of features to get you to love sewing. As a mechanical sewing machine it is easier to set up than the computerized models when you are first starting out sewing.
The Bernina brand from this Swiss company have been making high quality sewing machines for many years, and the Bernette line has the same quality.
If you even thought about having a Bernina sewing machine but the price was too high, then the Bernette 35 could be the next best thing at a much lower cost.
The Bernette B35 Sewing Machine Review
We will list some of its features here.
23 Built-In Stitches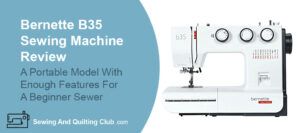 The machine comes with 23 built-in stitches, as well as a buttonhole stitch, you get 14 utility stitches, decorative stitches and more.
The machine has 2 dials on the front for adjusting the width and length of the stitches. The maximum stitch length is 4 mm. The maximum zigzag width is 5 mm. It will do 860 stitches per minute. Also, with the stitch width dial you can change the needle position.
Operating Dials And Levers For The Bernette B35
This machine has 3 dials on the front with the first one from the needle is the stitch selector, followed by the other 2, which are the width and length of stitch selectors.
Below the dials is the diagrams of the stitches, and then below that is the reverse lever, for tying off your stitches.
Also on the front above the needle work area is the thread tension dial. The machine also has a needle threader that is operated manually, so takes a bit of time to get used to.
A manual thread cutter on the end side above the working area.
7 Presser Feet
The Bernette B35 comes with 7 different sewing feet
Zigzag foot
Buttonhole foot
Hemmer foot
Satin stitch foot
Blind stitch foot
Zipper foot
The machine also has the ability to sew a wide variety of materials from fine to heavier fabrics, and has the 2 step presser foot lift for your thicker materials such as denim, or quilting.
The presser feet are the snap on type making for an easy change.
The Bobbin And Threading System
The bobbin winding system is the same as most machines by following the guides on the top of the machine. To insert the bobbin you need to remove the accessory drawer and open the bobbin cover, then insert the bobbin with thread going to the right, then into the bobbin case slot and under tension spring, then into delivery eye, and pull about 4 inches from the bobbin.
To thread the machine follow the arrowed guides down to the thread guide in 4 steps, then thread the needle from front to back and you're ready to sew.
Feed Dogs
The feed dogs on this machine can be lowered or raised by removing the accessory drawer then opening bobbin door, where you will find a lever that need to be pushed down and moved to the right to lower feed dogs, and move the lever down and to the left to raise feed dogs. We have found this to be somewhat inconvenient compared to other machines.
Lighting
The machine does have a light that's aimed at the sewing area.
Free Arm And Storage Area
By removing the accessory tray, you gain access to the free arm for sewing cuffs, pants, shirt sleeves, etc.
Accessories For The Bernette B35
As this is a sewing machine designed for beginners, it comes with the essential and most common accessories to help you to work on different sewing projects with ease!
Cover
4 bobbins
Seam ripper
7 presser feet
Screwdriver large and small
Needle assortment
Power cord and foot controller
Specifications For The Bernette B35
17.1 inches by 11.8 inches by 14 inches
Weight is 16.4 pounds, portable with handle
Speed is 860 stitches per minute
Stitch width 5 mm
Stitch length 4 mm
Warranty For The Bernette 35
There is a 10-year limited warranty on this machine against defective materials and workmanship, and 2 years on the electric parts.
The Pros And Cons For The Bernette B35
Pros
Comes with 7 sewing feet
A good price
Built to last
Will sew thin and thick fabrics
Enough features to make your sewing easy
Light enough to take it to sewing classes
Excellent machine for beginners.
Cons
Bobbin loading system takes a while to get used to.
Some people complain about buttonholes are larger size than in other models.
Is The Bernette B35 Good For Beginners?
This is a mechanical sewing machine easy to set up and easy to use, any beginner interested to learn sewing will love to bring it to the sewing room.
As it comes with enough features to help beginners to work on different projects, the only con could be the atypical bobbin loading that will take some time to get used to it, but after a few tries, it will go great!
Who Makes The Bernette Sewing Machines?
If you have been looking for information about sewing machine for a while, you might known by now Bernina is a brand well known by sewers around the globe as a high quality models. This brand has designed and built models for every sewer who wants to take their sewing to the next level, but when you look for a product that is designed and built to get you to the next level, you will need to pay for its price tag and get the skills to work with it.
Bernina is always thinking about everyone who is interested to start sewing, for this reason, they thought about designing and building a model to help beginners to start their sewing journey with a high quality model, with enough features to work on many different projects and easy to use, this is why Bernina started to design and build sewing machines in a daughter brand called Bernette.
Is This Sewing Machine Good To Work With Denim?
This is a well-designed sewing machine that will work great with any type of materials, if you have in mind to work on projects made with denim, you will be happy to see this is one of the best sewing machine for denim. You will have no problem at all to work on the multiple layer seams to make your own pair of jeans at home.
Take a look to the Best Sewing Machine For Denim
Is This Sewing Machine Portable Enough To Carry It To Sewing Classes?
The Bernette 35 is a compact and lightweight model that you will love to carry it around the house or to carry it to your sewing classes. It's also a model easy to set up in no time and you'll be ready to work on any project you want to learn to make on sewing classes or sewing retreats.
It comes with a built-in handle that will help you to carry it with ease.
Where To Find Compatible Bobbins?
As this is not one of the most common known sewing machine brands, you might ask if you need to purchase more bobbins, where you could find them?
The good news is the Bernette 35 has bobbins that are compatible with universal bobbins. This is good to known even if you can get better results by getting some extra bobbins to have in the sewing room from the brand, in case you can't get them, you can use universal bobbins to keep working on your projects.
Our Closing Thoughts
So you might be thinking is this machine a good buy or not?
In our opinion the Bernette B35 has enough up to date features to make it an excellent machine for anyone starting into the sewing world.
It's strong, and well put together, enough speed to sew thick or thin fabrics, and one of the best things is that it comes with an affordable price tag.
It's a machine that's built to last for years of sewing, so is an all around good investment for any beginner sewer.
Wishing you all the best on your sewing projects – Happy sewing!
Where To Buy The Bernette B35?
As this machine is made by the Bernina brand, it will be easier for you to find a sewing machine dealer in your area that also have the Bernina's sewing machine in their store for sale.
You'll be happy to known that thanks to its huge success Bernina is taking care its machine can be found easily by any sewer interested on purchasing any model from them, including the Bernette 35 in stores and online.
You can find this sewing machine from a dealer in your area, but you also can check today's price on Amazon.