4 Types Of Quilting For Beginners is a guide to help you find the quilting technique for you to start making your first quilt.
Each quilting technique has its own method of work on it, and while some quilters love to make their quilts with one technique on a quilt, you can find some quilters love to make quilts where you can see they use two, three and even the four different quilting techniques to make the top of the quilt.
As a beginner, one of the best tips I can give you is to try one method at a time to make your first quilts, as you work to make the top of the quilt, you will learn more about each technique and you'll master it. Later you can start working on a quilt with two or even more different techniques on it.
4 Types Of Quilting For Beginners
Pieced Quilts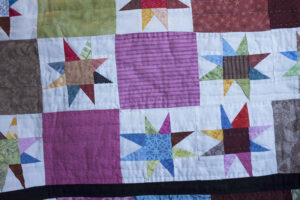 1 – You might have seen amazing quilts all over the internet with this quilting technique, these quilts are made with the basic American pieced technique.
You'll be working to cut small pieces of fabric following a patchwork pattern to sew those pieces of fabric to make blocks or rows.
As you sew on the pieces of fabric by hand or with your sewing machine, you will be sewing with the seam of 1/4 inch, open the pieces and press.
As you work to sew the blocks or the rows for a quilt top, you'll be sewing on the blocks to make rows and then you'll be sewing the rows one to the other to make the top.
Once the top is finished and pressed, it will be ready to make the quilting sandwich to work on the quilting.
The Pieced quilt technique is recommended for beginners who wants to start making quilts, there are so many great designs to make a quilt, however you can find the most recommended designs for a beginner quilter as working with strips or working with triangles.
Applique Quilts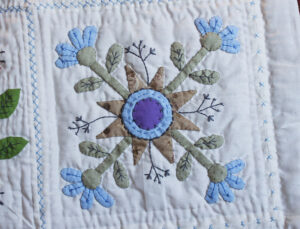 2 – When we talk about Applique Quilts, we can talk about those quilts made using any shape of fabric and sewn on one piece of fabric by hand or with the sewing machine.
This way you can find any type of design on a quilt: floral, landscapes, portraits, and many more!
As you work on a quilt using the Applique technique, there's no limit for your imagination and your creativity, you can find a great design to work on your next quilt or you can design your own quilt.
When talking about making an Applique quilt, you can work on the traditional method that will require you to draw a template on a piece of paper to help you to trace it on the fabric, you will need to add the seam that will be folded in the back of each piece of fabric as you work to do the applique of each piece.
Most of these quilts are made by hand.
In the modern times, quilters have found their own voice to make this technique with their sewing machine, you can follow the traditional applique technique with folded seam in the back of each piece or you can work on this technique with the raw edge.
When working with raw edge it is more simple, you will be tracing the template shape on the fabric and you will be cutting each piece out the fabric without the need of adding the seam.
You can use a fusible web to add each piece to the quilt block or you can just lay each piece on the block and work on the applique by hand using a back stitch or buttonhole stitch or with your sewing machine.
Paper Piecing Quilts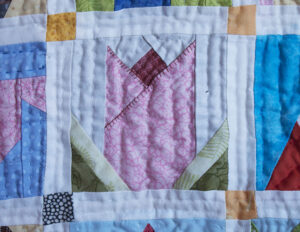 3 – These type of quilts made using the Paper Piecing method have become the favorite technique for many quilters around the world, as it helps quilters to work on their blocks making perfect crisp points, and you can make any amazing shapes and design using this quilting method.
As a beginner you might want to start working on this quilting method with some simple Paper Piecing Quilt Pattern, some pattern with easy shapes to follow and not to elaborated.
As you keep working on this quilting method, you'll be more skilled to try some more elaborate patterns.
Before you notice, you'll become a master of the Paper Piecing technique, and you'll be making amazing quilts with it.
As a beginner you need to follow the steps to work on this technique:
Chose a simple shape to work on the Paper Piecing technique
Chose a small project to make as a pillow or as a small baby quilt
Give yourself enough time to work on this quilting technique to understand how it works.
If you need some help, ask a quilter friend to help you to work on your first project with the paper piecing technique, quilters are always ready to help other quilters.
Watch a video on YouTube as many times as you need, it will save you tons of time.
Keep at it, I will say this quilting technique works great to make amazing quilts, and it deserves to give it not only one try but as many as you need to, and then it might become one of your favorites quilting techniques to work with on your quilts.
English Paper Piecing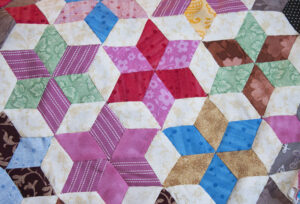 4 – Many quilters started to make quilts with the English Paper Piecing.
This quilting technique might take you to remember most of the old quilts made with it, a great way to start making quilts with the easy technique to make the quilt pattern on paper and to fold on it a piece of fabric to give it the shape of the pattern, the most known quilt pattern made with this technique is the Grandmother's Flower Garden and the most popular shape is the hexagon.
The good thing about this quilting technique is that you can use the paper pattern as many times as you want to use them to make quilting projects with them.
Today, you can find hexagon rulers to help you to cut your paper piecing to work on a new quilt in easy steps, just lay the hexagon ruler on the paper, trace it and cut as many as you need.
You can work on a quilt by making batches and reusing the same paper piecing to make more batches.
Related Posts:
Closing
Quilts are easy to make and as you start working on your first you'll be learning more quilting techniques that will help you to be better at it.
Here you have 4 types of quilts to start with to make your first, and I'm sure it won't be the last ones, making quilts is a hobby that grows more and more as you work on it.
Making just one quilt is not enough, soon you'll have a beautiful Quilts collection made by you!
Are you ready to start making your next quilt? Here you can read about what sewing machine is better to make quilts
Thanks for reding my blog today!