The Juki HZL-F600 Exceed Quilt Pro Sewing Machine is a computerized model with many exciting features.
The Juki company is a well trusted brand since 1936 making quality sewing machines, that are made to last
Juki HZL-F600 Exceed Quilt Pro Sewing Machine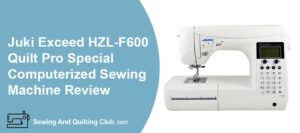 If you're a serious sewer and quilter, then this machine has every thing you need, and will produce superior stitch quality every time and it will work great every time you work on your projects to garment construction, home decor, making quilts and more.
With this machine you can push a button and select from 10 of your most popular sewing stitches.
If you're a beginner sewer, then it might be better to start with a less pricey sewing machine, but it you have deep pockets and the desire to learn, then this sewing machine won't let you down.
The Many Features Of The Juki HZL-F600 Exceed Quilt Pro Sewing Machine
225 Sewing stitches
4 fonts
16 Buttonholes styles
Large LCD display 33 mm by 66 mm with easy stitch selection
Mirror imaging on decorative stitches
Large work surface 8 inches wide x 12 1/4 inches long
Automatic threading
Automatic thread trimming by button and by heel on the foot control
High speed of 900 stitches per minute
Walking foot to sew multiple layers
Quilting foot and quilting guide
7 point feed dog system
Precise stoppage of needle controlled by button
Bobbin winding with separate motor
2 LED lights
Quiet running and made to last
Carrying handle on the top
Hard case
Diagram of stitches under top cover
Reverse stitch capabilities
Kneed lift
Stitch width 7 mm and adjustable
Stitch length 5 mm also adjustable
Speed control handle
Machine starts at slow speed then to the speed that you set it too.
Automatic or manual thread tension by a dial
70 of your favorite stitch patterns can be saved
Button for up/down of feed dogs
225 Stitches, 4 Fonts And 16 Buttonhole Styles
The Juki HZL-F600 comes with 225 stitches to chose from plus 4 fonts and 16 buttonhole styles.
Juki has also thought about the quilters by putting exclusive quilting stitches on this model.
The stitch width can also be adjusted up to maximum of 7 mm and to get started you can just press a button to select a stitch from 10 of the more popular ones.
On the inside of the top cover you can find the display of all your stitches to chose from.
The Juki will sew from 80 to 900 stitches per minute, and will start off sewing at a slow speed and it also has the reverse stitch button.
Automatic Needle Threading
Under the top cover you will place your spool of thread and follow the numbered guides down to the needle, and it can take only 6 or 7 seconds to thread this machine.
With its automatic needle threader you just put the thread in the guide above the needle and into a small slot on the threader then push the lever down, and needle is threaded.
To cut the thread on this machine, you push on the back of the foot pedal with your heel, or you can use a button on the front, or you can automatically program the trimming.
There is also a dial for manually setting the thread tension, or it can be set for automatic.
7 Point Box Feed Dogs
The Juki HZL-F600 has a 7 point box feed system, which will eliminate your material from shifting or shrinking providing a superior stitch in light or heavy fabrics.
Also when you remove the auxiliary arm there's a lever giving your the option to lower the feed dogs which is handy when quilting.
Free Arm
And with the auxiliary arm removed you also can sew harder to get at items such as sleeves, shirts or jeans, on the free arm.
Top Drop-In Bobbin
The bobbin on this sewing machine is top loading drop-in, and easily removed or put it by removing the clear plastic cover.
When loading the bobbin just put it in and follow the guide numbers 1 to 3, and after step 3 it will cut the thread, and you're ready to sew.
The bobbin winder on this machine has its own motor, and runs very quiet, and will automatically stop when full.
2 LED Lights
This machine comes with two LED lights, there is one for the needle area and the other is under the arm giving excellent light for your working area.
12 Presser Feet
The Juki HZL-F600 comes with 12 presser feet, so you will have lots to work with. The presser feet can be lifted using the traditional lever or the knee lever that's connected into the front of the machine.
Zigzag foot
Overcasting foot
Smooth foot
Quilting free motion foot
Open toe foot
Patchwork foot
Zipper foot
Walking foot
Blind hem foot
Edge sewing foot
Automatic Buttonhole foot
Manual Button hole foot
Knee Lift Attachment
This sewing machine has a knee lift attachment to raise the presser foot giving you both hands to work with, and it also has the lever to raise and lower the presser foot as well as being adjustable. When the knee lift lever is used, the presser foot can be raised up to 12 mm to help you to work with extra layers on your project.
Up/Down Needle Button
Another thing to mention here is that there is a button to stop the needle in the up or down position, so when sewing you don't lose your place with the needle down, when you come to a stop.
The Juki HZL-F600 comes with a variety of accessories for it.
Wide table
12 presser feet
Quilt guide
Hard cover
Auxillary spool pins
4 bobbins
Knee lifting lever
Seam ripper
Lint brush for cleaning
Twin needle
Foot control
Power cord
Special screwdriver
Spool caps – one large, medium and small
Eyelet punch
Package of needles
Instruction manual
Many of these accessories can be stored in the storage tray located in the auxiliary arm.
Specifications for the Juki HZL-F600
Able to stitch from 80 to 900 stitches per minute
225 stitches
Weight – 21.6 pounds
17.5 inches long, 11.5 inches high, 8.25 inches deep
8 inch throat space
21 3/4 inch space with large extension table
4 1/4 inch height at throat space
Needle type 130R / 705H
So if you want to sew fabrics from silk to folded denims, and any quilts then this machine can do it with ease.
The Juki Warranty
The Juki sewing machines come with a 5-year limited warranty which is 5 year on workmanship or defective materials and 2 year on any of the electrics.
Pros
Large variety of stitches
Automatic needle threading
Strong and built to last
Easy winding of bobbin
Box feed system works great
Light enough to be portable
Quiet
Works great on large fabrics and quilting
Cons
Very few
Might be a few too many features for a beginner
Is The Juki HZL-F600 For Beginners?
This Juki model is packed with great features that will make any sewer and quilter happy to have it in their sewing room, however if you are a beginner to sewing, this model might not be the one recommended for you to start your sewing adventures, as its a pricey model and it will take some time to learn how all the features work.
If you're a beginner and you want to start sewing and making quilts with a beginners model, you can check on the Brother CS6000i, and bookmark this model as it might be the next sewing machine to bring to your sewing room soon.
However if you're really interested to start sewing and quilting, and you're willing to take your time to learn the sewing and quilting skills in a model that will last long and you're willing to make the investment on it, then give it a try
Can I Do Free Motion Quilting With the Juki HZL-F600?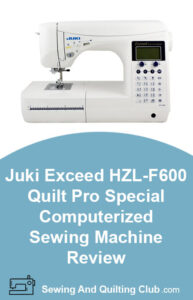 All sewing machine models are designed with a target in mind, and this model is not the exception, it has been designed to have the features that will help any quilter to work on their projects with ease.
If you love to add decorative stitches on your quilts, this Juki model will help you to choose one or as many decorative stitches to work on the quilting of your projects.
When it comes the time to think about doing the Free Motion Quilting, this model is designed with the features any quilter needs on a sewing machine to create the most amazing designs on your quilts.
So easy to set up the sewing machine and start working on the Free Motion Quilting, all you need to do is to take your time to create the beautiful quilting designs you want to work with on your quilts.
What Types Of Fabrics Can This Sewing Machine Handles?
This Juki model is designed to handle many different fabric types, you'll be working on a variety of projects with ease with different types of fabric as regular and natural fibers as cotton, linen or wool, but this model will have no problem to handle thick, heavy or stretchy fabrics.
Closing
So the Juki HZL-F600 could be considered almost the perfect sewing machine with its performance and quality of stitching ahead of many others.
As computerized sewing and quilting machine go this one leads the way.
Now, about the price, yes it is expensive, but like many things if you want the best it usually cost more.
For a sewing machine that's made to last it is a good investment, so you might want to take a look at the Juki HZL-F600 and give it a test run, as it will meet any sewer or quilters needs.
Check Today's Price on Amazon.com