The Singer Start 1304 Review is more of a basic sewing machine, but has just enough of the newer features to help any beginning sewer to get creative with their sewing projects.
As this machine is not high priced it could even make a good gift for someone starting to sew. The machine has a strong heavy-duty frame under its smooth exterior, so is made to last.
Even anymore experienced sewers would appreciate this machine because of its simplicity of use, and taking almost no time to get it set up and start sewing.
The motor on this machine creates very little noise when sewing and it sews excellent stitches with enough power to go through denim or even some fine leather.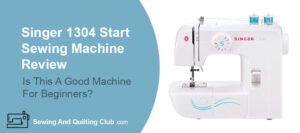 So if you're interested it a basic sewing machine we will go through the features, and you can see if it would be a good fit for your sewing projects, or even an extra addition for your sewing room.
When you're new to sewing, the Singer brand will come up in first place as this brand was the first one to design and build a machine that will help sewers to make their projects better, in less time and with less work from them. Singer is a well-known sewing machines around the globe and it has a model for the needs of each sewer, the Singer Start 1304 might look basic and with just a few features, but it will help you to work on your projects with ease.
Singer Start 1304 Sewing Machine Review
6 Basic Stitches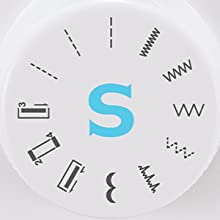 The 1304 comes with all the basic stitches, 6 to be exact, zigzag, straight, scallop, blind hem, 4 step buttonhole and the satin stitch.
The width and length of the stitches are preset, so no need for adjustments, and maximum width is 5 mm.
There is also the 4-step buttonhole that comes with this machine, so will take you very little time to add buttons on your projects.
To select the stitches just turn the dial on the front of the machine to which ever stitch you wish to sew with, and the dial can be turned in both directions.
There are also two spool pins on this machine that allows you to sew parallel rows of stitching which could be in different colors for more decorative features.
Winding The Bobbin and Threading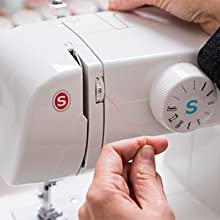 To wind the bobbin just follow the printed guides on the machine over to the bobbin, and with thread through bobbin, move the bobbin spindle to the right then press on the foot pedal, and the bobbin will turn slow when full, then move bobbin spindle to the left and remove.
Be sure bobbin spindle is all the way to the left or the machine will not sew.
To insert the bobbin on this model, you need to remove the extension table which pulls to the left, as this is a front loading machine.
Open the hinged cover and remove the bobbin case, then insert the bobbin so thread comes off in a clockwise direction, then follow the directions leaving about 6 inches of thread out and insert bobbin with case into the shuttle.
To thread the needle should take very little time by following the imprinted guides on the machine down to the needle and thread it from front to back, leaving about 6 inches of thread out and you can cut the thread with the manual thread cutter on the end of the machine.
To raise the bobbin thread just turn the hand wheel then lay both thread to the back under the presser foot.
There is a thread tension dial that can be adjusted when sewing different thicknesses of fabrics, but 90% of all the sewing will be between 3 and 5.
Also in the Singer Start 1304 manual, you can find a chart for the best size needle to use for the different fabrics.
The Presser Feet
This machine comes with 3 presser feet.
All purpose foot
Zipper foot
Buttonhole foot
Other feet can be purchased separately for this machine, such as quilting, blind hem, satin, darning foot and more.
To change the presser feet is quick and easy with the snap on type for this machine.
Also when sewing thick layers the two-step presser foot lifter is handy for positioning the fabrics you are sewing.
Feed Dogs
The feed dogs on this machine will move the fabric very smoothly while sewing.
As there is no lever to lower or raise the feed dogs, a darning plate is provided in order to give free motion sewing, and it is also recommended purchasing a darning / embroidery foot for this.
Lighting
There is an LED light over the sewing area to brighten the area up.
Easy-To-Remove Free Arm and Storage Area
The machine is designed for beginners in mind and it has the extension table that can be pulled off to the left, and it also has a flip cover to store any accessories in.
With the table off there is access to the free arm for sewing cuffs, pants or other hard to reach sewing areas.
Buttons
As this is a basic sewing machine there are not many controls.
On the front of the machine is the stitch pattern selector dial.
The thread tension dial.
And the reverse sewing lever for tying off the stitches at the beginning or ending of a run.
Accessories For the Singer Start 1304
This model comes with a good number of accessories to help you to work on many projects and it can be stored in the free arm storage
3 presser feet
Carrying handle for easy portability
Package of needles
3 bobbins – class 15
Screwdriver
Darning plate for free motion sewing
Spool pin felts
Seam ripper and lint brush
Power cord
Foot controler
Singer Start 1304 manual
Specifications for the Singer Start 1304
13 inches long by 11.5 inches high by 7 inches wide
11.5 pounds in weight
400 stitches per minute
6 built-in stitches
1 4-steps buttonhole
16 to 18 needle size
Warranty For the Singer Start 1304
This sewing machine comes with a 25-year limited warranty, which is 25 years against defective materials or workmanship, and 2 years on the motor, lights, and 90 days parts and labor free of charge.
Always check the warranty when buying your new sewing machine.
Pros and Cons For the Singer Start 1304
Pros

Good sewing machine for a beginner and young sewers
Light enough to take to sewing classes
Can sew thicker materials
Runs smooth and not too much noise
Easy to set up and start sewing
Is a good price for anyone
Heavy duty metal frame
Cons

Speed is limited and not adjustable
Have been a few reports of the bobbin jamming.
FAQ For The Singer Start 1304 Review
Is The Singer Start 1304 Good For Beginner Sewers?
Yes it is, as this is an easy to set up and start sewing machine, it will help anyone who is willing to start sewing to sew many projects with easy sewing instructions and know more about how a machine works.
What Type Of Projects Can I Make With The Singer Start 1304?
As this is a basic sewing machine that comes up with only 6 stitches, it will help you to work on many projects that will be make with basic stitching patterns, by this doesn't mean that you will be limited, when sewing there are so many different sewing projects that are made with basic stitching patterns, from making some crafts to start making your own clothing and some home decor.
At the time when you feel skilled enough to start making other type of projects as working with denim, or big projects as curtains or start working on making big quilts and work on the quilting with your sewing machine, it will be time to upgrade the sewing machine for one that comes with more features, I will suggest you to take a look to another sewing machine:
Where To Buy The Singer Start 1304?
You can find the Singer Start on the speciality stores sleves and with the Singer dealear in your area, but you can also purchase it online!

Our Final Thoughts On the Singer Start 1304 Review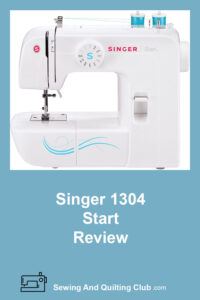 We would recommend this machine for anyone, and especially beginners or your sewers starting out in the sewing world.
As a basic sewing machine it has just enough features to make it very easy to learn to sew on.
The price is easily affordable for any sewer, and would make a great gift for any new sewers.
So if you feel this sewing machine would be able to handle your sewing projects, then visit your dealer and give it a test run.
Wishing you all the best on your sewing projects – Happy Sewing!
You can also read: