Creating quilts will help you to feel good and grow your creativity. These 5 reasons Why To Learn To Quilt have many benefits!
Why To Learn To Quilt
Grow Your Creativity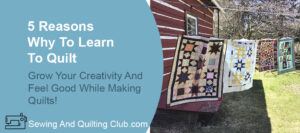 1 – If sewing is great to help you to grow your creativity, making quilts is second on the list!
From choosing the printed fabrics or the color palette you want to work with, the design of the quilt is something you might have in your mind, from following the steps to make a design you like from your favorite quilter or to start your own quilt design.
Adding some eye-catching details to each quilt you make by adding some embroidery or some new quilting pattern with your sewing machine to make the free motion quilting.
Home Decorating
2 – When you learn to quilt, you will be learning some skills that will help you to make many things for your home, from making a wall hanging, to making some pillows, or a few things for the kitchen.
The list of things to make for your home could be endless and you can make each project with your own personal style!
Make Gifts
3 – One of the biggest benefits of learning to make a quilt is you'll be learning how to make many different things like pillows, bags, cosmetic bags, place mats, potholders and many other things.
Learning to make a quilt will help you to learn the different steps to follow to make easy hand made gifts everyone will love to get on a special occasion like birthdays, weddings, welcoming a new baby in the family and of course during the Holidays.
You will be saving lots of money as you start to make all those gifts to give to people you have on your list, but most important you can make anything for your family members and friends who might need something you already know.
Quilts made by you will always be an appreciated gift for anyone on your list!
Donate To Charities – Help Others
4 – When you're interested to help others and you also love to sew, nothing is better than making quilts to donate one or a few.
There is always a need for donated quilts for many organizations, from people who have lost everything because of a fire or another type of accident in life, to people who work hard to make our lives better like firefighters, soldiers, and lately doctors and nurses.
When you donate a quilt made by you, you're helping others to feel better when they are having hard times.
You don't need to be an expert making quilts to start donating a quilt to a charity, you can start donating easy to make quilts of any size, from crib or nap quilts, to twin size quilts.
Start Your Own Quilt Collection
5 – Quilts have become pieces of art by their design and by the piecing and quilting work quilters make on them!
I'm sure you might have seen more than one quilt and you have thought you wish to have it! – This is a good reason why you should learn to make a quilt.
Quilts look hard to make, but when you learn the basic of making quilts, you will be learning the easy steps to follow to cut all those small pieces of fabric that make one quilt, as a quilter does the work of piecing a new top.
Before you notice, you will learn the secrets of making quilts, I've been making quilts for a few years, and I know quilters have their own secrets to help them to make a new quilt top with small pieces of fabric in just a few hours.
As the time comes to think about working on the quilting, there are a good number of sewing machines designed and built to help any quilter to work on the free motion quilting or on a simple quilting work with the walking foot.
You always can start with a small size quilt and then as you learn the skills every quilter has, you can work on bigger size quilts.
Before you notice you'll be able to make any size and quilt design you want to make!

Where To Start To Make A Quilt
Start with an easy quilt to make, there are plenty of good tutorials on the internet to help you to make a quilt with strips of fabric or printed fabric blocks.
You can also work on an easy to make quilting by machine, I'm sure everyone will love the quilts you'll make.
Why To Learn To Quilt is good for beginners and young sewers!
What Quilting Techniques For Beginners You Should Learn?
When you start making quilts, one of the best tips I could give you is to start with simple and easy to make quilts, as you might know there are plenty of quilt designs and patterns where you can pick one to make, but starting with a high level skill quilt pattern will give you some frustration if you can work only on one step.
While making a couple of easy to make quilts, will help you to learn the quilting techniques for beginners with ease.
How to use a rotary cutter
How to work on the piecing with 1/4 inch seams
How to make a quilting sandwich
How to hand quilting
How to Free Motion Quilting
How to finish a quilt
What Is The Best Sewing Machine To Make A Quilt
There are plenty of sewing machine on the market where you can choose one to start making a quilt, from mechanical sewing machines to machines designed and built with quilters in mind.
As you're just starting making quilts, one tip is to work on a quilt with the sewing machine you already have at home, any model will help you to work on the piecing and it doesn't need to be a top model to work great.
You can read: Best Sewing Machines For Quilting
At this point, the most important thing is that you enjoy the process of making a quilt, take your time to cut the fabric and follow the instruction for this step on the pattern you choose to work on for your first quilt.
When the time to use the sewing machine to work on the piecing, check if the sewing machine you have at home has the 1/4″ presser foot, if it does it will help you to sew accurate seams, but if it doesn't use a patchwork ruler to mark on each piece of fabric 1/4″ seam.
Take your time to work on piecing the top, if the quilt design is easy it won't take you long to finish it, but if you start with a design with different size or shapes, it will take longer for you to finish, work on blocks or work on lines, and follow the pattern.
When the top is finished, then it will be the time to make the quilting sandwich, this step is not hard to work on and it will be better if you're making a small quilt.
At the time to start working on the quilting, you need to decide whether to make it by hand or with your sewing machine, in both cases you can work on a sample and see how it looks like, then take your time to work on this step. It takes more time to work on this step carefully.
You can also read:
Closing Thoughts For Why To Learn To Quilt
After being a quilter for many years, I can say there are many good reasons why you should learn to quilt.
Starting as a hobby, quilting can bring so many good benefits, to be busy for some time, to have a project to work on and to help you to make pretty things for your home and for your family and friends.
Quilting has more benefits that can help you to feel more proud of yourself, making a quilt is not easy when you start quilting, finishing a quilt is something you need to celebrate and feel proud of!
As your skills as a quilter grow, you can try to make higher level designs or patterns, but you can be sure, every time you finish a quilt, you will feel so proud of what you have accomplished!