The Brother LX3817 Review. High level of performance, durability, portability, versatility and more makes of the Brother LX3817 a great sewing machine to learn to sew, on my Review I will tell you why this is a great sewing machine for beginners and other sewers too.
If you're new to to sew, then the Brother LX3817 was designed with you in mind. It is not computerized, so you won't waste any time learning the features on the LCD screen.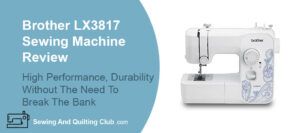 Brother is well-known for making high quality sewing machines, and with this one you won't have to break your bank account to buy it.
This machine comes with and instructional CD to show you how to use it, plus most Brother sewing machines have the instruction manual on the internet for quick downloading.
It is a full size sewing machine and lightweight at a little over 11 pounds, so can be taken to sewing classes or moved around easily.
The Brother LX3817 Review
We will go through the features found on this machine to see if it's a match for what you're sewing projects are, and it would also make a good gift for anyone starting out sewing.
How Many Stitches Come With The LC3817?
This model comes with 17 built-in stitches and 4 step automatic size buttonholes.
There are straight stitches, zigzag, blind hem, over edge, elastic, double action stitches, and buttonholes.
The stitches can be easily picked with the turn of the dial on the front of the machine, and each stitch is numbered.
There is an adjuster beside the stitch dial for buttonholes, and can be adjusted if the stitches are not the same on both sides of the buttonhole, and a screwdriver is needed for this.
Below the dial is the reverse stitch lever for reinforcing or tying off stitches.
The stitches are preset for length and width.
Easy Top Loading Bobbin and Easy Threading
This is a basic sewing machine, so to wind the bobbin and the threading is the same as any other. For anyone starting out, we will go through the procedure.
Winding the bobbin is just a matter of following the guides imprinted on top of the machine, and with thread up though bobbin and bobbin on the winder shaft, move it to the right, then using foot pedal wind bobbin until it slows down and is full.
The one thing we should mention is that if you happen to use bobbins from another model they will not work properly.
This machine has the drop in bobbin, just by removing the cover put bobbin in with thread coming out counter clockwise, and follow the guide for the thread.
Threading the needle is done by following the numbered arrows on the machine down to the needle, and thread it from front to back.
Free Arm
This machine does have the free arm by sliding the flat bed attachment also the accessory tray to the left giving access to the free arm for sewing cuff, pants, sleeves, etc.
Lights
The machine does have the light over the sewing area, and very helpful when sewing darker fabrics, and the switch is at back of the machine, and will turn the sewing light and power on at the same time.
How Many Presser Feet Come With The LX3817?
The machine comes with 4 presser feet.
Zigzag foot
Zipper foot
Buttonhole foot
Button sewing foot
Other optional presser feet for this machine can be bought separately. To change the presser feet, push black button located behind the presser foot to release it, and then a new one can be snapped into place.
The Control Buttons
This machine has the thread tension dial just above the work area which is usually set from 3 to 5, but might need to be adjusted when changing fabrics or thread.
The pattern selection dial which turn to the right or left to choose the stitch you want to use.
Reverse Sewing lever for reinforcing stitches, just below stitch dial.
Handwheel is on the end to raise and lower needle.
Power and light switch also on the end.
Feed Dogs
The feed dogs move the material evenly while to sew, and this machine does not have the switch for raising or lowering the feed dogs, but a darning plate which same come with or it can be purchased separately to cover them for free motion sewing.
Brother LX3817 Parts
4 presser feet
Screwdriver
Needle set
4 bobbins
Instructional CD
Instruction Manual
Foot controller
Power cord
Specifications For The Brother LX3817
17 built-in stitches
4 step auto-size buttonhole
11.35 pounds with carrying handle
17.28 inches long, by 14.19 inches high by 7.44 inches wide
4 presser feet
Warranty
This machine comes with the Brother 25 year limited warranty, and you will have to pay shipping cost for any repairs.
All the Brother machines come with free online and phone technical support for the life of the sewing machine. And is always best to check the warranty when purchasing.
Pros And Cons For the Brother LX3817
Pros
Lightweight and portable – good to take to sewing classes.
Very easy to set up and start sewing
This machine is good for beginner sewers
A low priced sewing machine
Will sew light fabrics very easily
Has 17 built-in sewing stitches.
Cons
Not recommended for heavy fabrics
Advanced sewers might find it lacking in features
Some sewers find it a bit loud when sewing
FAQ For The Brother LX3817 Review
What Type of Projects Can I Make With The Brother LX3817?
As a mechanical Brother machine I can say Brother machines are with high quality to help you to work on different projects, from making an easy to make face mask or a tote bag, to higher level projects such as construction garments or even making a quilt. This model is a basic sewing machine, but it has enough features to help you to work on many different projects and you won't have any problem to learn the basic of sewing on it.
Can I Make A Quilt With The Brother LX3817?
This is not a model designed and built with quilters in mind, but you won't have a problem while piecing any size new top for a quilt, it will work perfect while you sew all those small pieces of cotton fabric to make a quilt top.
At the time to think about working on the free motion quilting, this model doesn't have the drop feed dog system, but it comes with a darning plate that you can place over the feed dogs to work on the free sewing or free motion quilting.
As an owner of another Brother model that comes also with a darning plate to work on the free motion quilting, I can say it works great, however you will need to take same time to practice on a sampler before you want to work on a full size quilt.
It will work great if you want to work on the free motion quilting on small size quilts, working on full size quilts on this sewing machine might not be recommended as the sewing machine is not heavy enough and it doesn't come with a big throat.
What is the Brother LX3817 Price?
Brother sewing machine are one of the most affordable machines in the market, designed and built with high quality that will last for many years helping you to work on different projects.
You can find this machine with an affordable price on the rage of $$ depending on where you make the purchase, but in general Brother mechanical sewing machine can be found in a range of $200 to $500
Where To Buy The Brother LX3817?
You can find this model on the speciality stores shelves or with the sewing machine dealer in your area, but you can also read more reviews online and check for today's price.

Our Final Thoughts For The Brother LX3817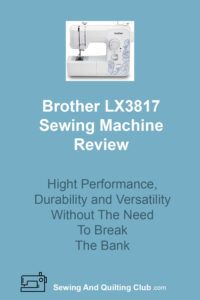 For the price of this machine, it's hard to go wrong when buying it, and will even make a good gift for anyone starting to sew.
As Brother makes good quality sewing machines, and the LX3817 comes recommended by many sewers, we believe it would be a good addition or gift for any ones sewing room.
So if anyone wants to awaken their creative skills for to sew, then this is a good machine to get started with.
Also, you might want to try it out first and before purchasing, check for different prices on the internet.
Wishing you all the best on you're sewing projects – Happy Sewing
You can also read: