Thread Storage Ideas will give you some tips about how to keep your thread well organized in your sewing room.
Once you start sewing, soon you will have a few thread spools everywhere in the sewing room, whether they are for sewing, quilting or embroidery, but how to keep them well organized when you need to use them on your sewing projects.
Thread Storage Ideas
How To Organize Your Thread
The first thing is to organize your thread by the different types of thread:
As a sewer and quilter, as you keep working on different projects, you'll be getting the right type of thread you need for each project you make, whether is the type of thread or whether is the exact color you need to sew a new project.
Soon, you will have a few different spools, sorting them out and keep them organized, will help you find the right spool for your next project right away!
Hand sewing thread
Sewing machine thread
Overlock thread
Embroidery Thread
Quilting thread
Related: 10 Must Have Sewing Tools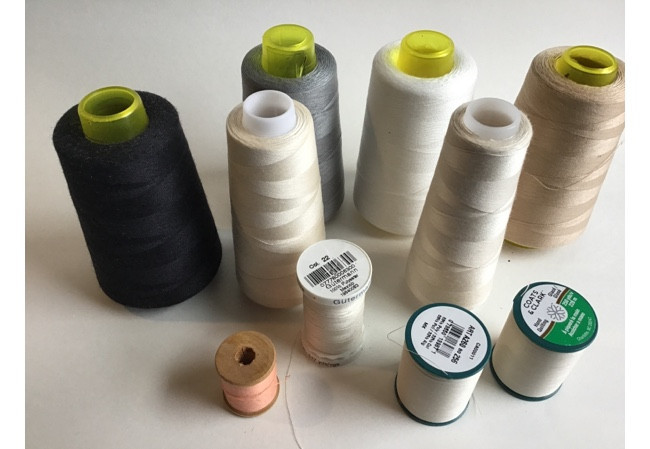 Thread Stand
Having a thread stand in your sewing room is a good idea when you have many different thread spools already.
You might have been working on different projects that each one requires a different color or type of thread, before you notice, you might have some thread spools everywhere.
You can find different sizes of thread stands to buy to get all your thread well organized and it will help you to know exactly what type of thread and what color you will be sewing with on your next project.
Most of these thread stands can be placed on your work table or on the counter of your sewing room, but there are also some that can be hung on the wall and this it won't take any room on your work table, they will be easy to get and you can place the spool back on it as soon as you finish sewing with it.
Cons Of Thread Stands
There are many good reasons to get one thread stand to get all your spools well organized in your sewing room, but when you have many spools on the stand, there is a probability that many of the spools you have there won't be used for a long time.
You need to keep in mind that sunlight might damage the color and the fibers in the thread, when you storage a spool for a long time when it's exposed to sunlight it might be damaged.
Storage Your Thread Spools In A Drawer
If you have a sewing table that comes with drawers, a good idea is to keep one drawer to store your thread spools in there, you can keep them well organized by placing them in order or with some plastic boxes, it will be easy to find the thread you need for your next project.
When you keep all your thread spools in a drawer, they will be protected from daylight and you can be sure any spool will be kept on it's best and you can be sure the thread color will be always the same.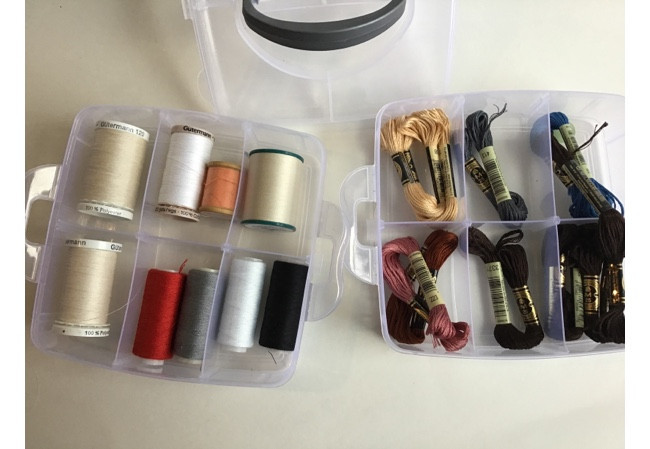 Why To Buy Good Quality Sewing Thread?
When you think about thread prices nowadays, you might not be happy to see some thread prices can be high and it can be hard to get all the thread you want to have in your sewing room to work on different projects.
But sometimes it is worth to pay thread prices as you are also paying for its quality, there is a big difference when you sew a project with good quality thread and when you're sewing with any spool you might find anywhere.
Good quality thread is made by good manufactures and they will warranty it's quality at the time of sewing on a new project and because their thread can be stored for some time without losing its quality.
Always go with a well-known brand of thread when you're working on your projects, whether you're working on a sewing, quilting or embroidery project.
What Thread Is Best To Keep In A Thread Stand?
As you work on your sewing projects, you will get to know what spools you use more, those are the spools you can keep in the thread stand, easy to get and easy to find the spool you need on the next step of your project.
Any spool you buy for a particular project and you will be using it very seldom, it should be storaged in a box in a drawer, so it stays protected from daylight.
How To Know If A Thread Is Good To Be Used On A Project?
As a sewer, I often get some extra spools from my friends, and I'm sure that this might have happened to you too.
As a rule, I always accept the thread my friends or a family member gives me, but at home I test it before I use it on any project.as some spools have been storaged for years and its quality might not be good anymore. Some will be good to be used on small projects or some projects that are be used just once or twice.
Some old thread spools are pretty to be storage in a jar and put somewhere in your sewing room as decoration.
Thread Storage Ideas, Closing Thoughts
As a sewer and quilter, I like to have enough thread spools to work on different projects, as you can find me working on one project today and on a different project tomorrow, and I can say this might happen to many sewers around the world, we all love to work on one or two different projects at the same time.
When you have been sewing for some time, I'm sure to say you might have a good collection of different thread spools, whether they are for sewing, quilting or to do some embroidery.
Trying to find the right color or the right thread for your next project, can be a challenge in a busy sewing room, but when you keep all the spools well organized, you can find any spool in just a few seconds!
We hope, you find these tips to keep your thread well organized in your sewing room helpful, as keeping everything in its place will help you to save a lot of time and you can find the right thread to keep working on your project right away!
If you have another tip to help other sewers to keep their thread well organized, leave it on a comment, we love to hear from you!
Happy Sewing!
Thanks so much for sharing our blog on your Social Media!