The Singer Prelude 8280 Review, this is a basic mechanical sewing machine and light enough to take to sewing classes
Under the plastic hood is a heavy-duty aluminum frame, making it strong enough to last.
This is a very easy machine to set up for any beginner sewer to use on small projects, such as repairs to clothes or hemming.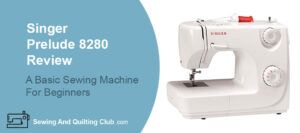 As the price for this machine is low enough for most sewers to be able to buy it, and as it does not have a huge amount of features is a good machine for someone starting out sewing.
Although once you progress in your sewing abilities, you would want a machine with more features and stitches for larger projects.
The Singer Prelude 8280 Review
Best Sewing Machine For Home Use
We will go through the features of the Prelude 8280, and you can judge if it would be a good match for your sewing projects or even as a gift for a beginner sewer.
8 Built-In Stitches
This machine has 8 built-in stitches, there are 2 straight stitches, a zigzag stitch, multiple stitch zigzag, blind hem stitch, regular blind hem, and 2 decorative stitches.
The stitch selector dial can be turned left or right, but is best to have the needle in a raised position for this.
With the two straight stitches they are for the center and the right needle position, and both will work for regular sewing.
The maximum stitch width is 5 mm and the maximum stitch length is 4 mm, and there is a dial above the stitch selection dial to adjust the stitch length, plus with the zigzag stitch you can adjust the width by turning the stitch selection dial.
The multi stitch zigzag can be used for darning, mending, and applying elastic and trims.
With the two decorative stitches you get the shell and crescent stitch.
This machine also has the ability to sew simple buttonholes with a 4-step process.
The machine has a reverse stitch lever on the front, just above the sewing area which when pressed will sew reinforcing stitches, and can be used at the start and end of seams.
Bobbin Winding and Threading
Winding the bobbin for the model is very easy by following the arrows on top, then moving the bobbin to the right and use the foot control to wind, and when finished move bobbin winder back to the left, otherwise the machine won't sew.
On this machine it has the front loading system, and you need to remove the accessory tray and open the hinged cover, then pull out the bobbin case and insert bobbin with the thread coming off in a clockwise direction, and follow guides then insert bobbin case.
Threading down to the needle is just a matter of following the numbered arrows down to the needle and thread it.
There is a thread tension dial on the top of the machine, and it is usually set from 3 to 5 for most sewing projects.
Also, before sewing just turn the hand wheel to bring up the bobbin thread, and also Singer recommends class 15 bobbins for this model.
On the end of the machine above the sewing area, is a manual thread cutter when needed, and there is a guide for the recommended needle, thread and fabric to use in the instruction manual.
4 Presser Feet
This machine comes with 4 presser feet, and if more is needed they can be purchased separately from your dealer or online.
All purpose foot
Zipper foot
Buttonhole foot
Button sewing foot
This model is able to raise the presser foot to a higher position when sewing thicker fabrics.
It also has the presser foot pressure adjustment on top of the machine, and this has been preset requiring no adjustment, but if you feel a need to adjust the presser it can be done by loosening for thin fabrics and tightening for ticker fabrics.
To change the feet just raise the lever behind the foot, and it drops off then lower the presser foot shank into a new one to snap it in place.
The Feed dogs
On this machine there is no lever for raising or lowering the feed dogs, but a darning plate is supplied so you will be able to sew by free motion when needed.
The Free Arm and Accessory drawer.
The snap-in sewing table or accessory drawer can be easily removed by pulling out towards the end of the machine, giving the sewer access to the free arm for sewing pants, cuffs, or other hard to sew areas.
The Operation Buttons On the Singer Prelude 8280
As this is a basic mechanical sewing machine, there are not too many operational buttons.
There is the pattern selection dial
The stitch length dial
The reverse sewing lever
Thread tension dial
Presser foot pressure adjustment
Manual thread cutter on the end of the machine.
Lighting
This model has a strong light over the sewing area, and if the bulb ever needs to be changed, you just remove the end cover and replace it with a 10 or 15 watts bulb.
Accessories For The Prelude 8280
4 presser feet
Feed cover plate or darning plate
3 bobbins – class 15 recommended
Seam ripper
Lint brush
Seam guide
Screwdriver
Spool holder
Foot control
Specifications For The Singer Prelude 8280
13.1 pounds
15 inches by 12 inches by 7.5 inches
8 built-in stitches
3 needle positions
4 snap-on presser feet
4-step buttonhole
Warranty for the Prelude 8280
It has a warranty of 25 years limited, which is 25 years against defective materials and workmanship, and 2 years on the motor and electrics, and 90 days on parts and labor free.
Always check warranty when first purchasing.
The Pros and Cons For The Prelude 8280
Pros
8 built-in stitches
It's light enough, and with a handle can be taken to sewing classes and retreats.
easy to set up and start sewing
Strong frame, under the exterior
Good machine for beginners and young sewers.
Has a low price tag.
Cons
No automatic thread cutter
No carrying case
not a good choice for experienced sewers
FAQ For The Singer Prelude 8280 Review
Is The Singer Prelude 8280 Good For A Beginner Sewer?
Yes, this is a great sewing machine easy to set up and start sewing any beginner will love to give it a try and start making from easy sewing projects to make some easy to sew garments, crafts and home decor.
Is The Singer Prelude 8280 A Portable Sewing Machine?
This is a lightweight sewing machine that comes with a built-in handle, it will be easy to carry it around the house or to carry it to your sewing classes or retreat.
If you're looking for a sewing machine for a beginner with more features, you can read:
Where To Get The Singer Prelude 8280?
You can find this sewing machine on at local specialty store or you can get it online.

Our Final Thoughts On The Singer Prelude 8280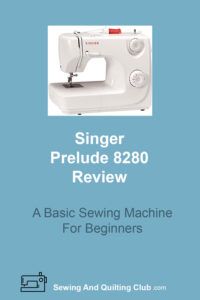 For the low price of this machine, we would recommend it for any beginner sewers to use on simpler sewing projects.
As a simple basic sewing machine without all the features, makes it easy for someone to start learning their sewing skills, and we also believe that as your sewing abilities grow, you will find this machine limiting your sewing on more complex projects.
As a gift for any sewer starting out it is ideal, so you might want to take it for a test run.
Wishing you all the best on your sewing projects – Happy Sewing!