The Necchi EX30 Sewing Machine Review, this is one of the best-selling models for this Italian company. It has many of the newer sewing features you find on high end machines, and will be able to take care of all your sewing projects from quilting to home decor to basically all your sewing needs.
If your into quilting then this sewing machine can help you out with a sewing bed of 8.6 inches by 6.7 inches and an extension table of 16 inches by 11 inches, giving you plenty of room for quilts or any other larger sewing projects.
With this computerized model all the stitches are displayed below the LCD screen for a very easy reference when choosing the stitches you want.
The Necchi EX30 Sewing Machine Review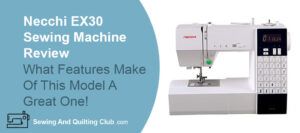 To see if this sewing machine will match up with your sewing needs. We will run through the features found on this model.
30 Built-In Stitches
This machine as the name suggest has 30 built-in stitches and 3 step buttonholes.
On the front of the machine you have the direct stitch selection buttons to bring up any stitch you like onto the LCD screen.
You also have the option with the computer to adjust the stitch length and width, with the maximum width being 7 mm and maximum length of 5 mm.
Also, when you pick a stitch to use, the display screen will show the number of the stitch, and the recommended foot.
It has a good variety of stitches such as your basic straight stitches to zigzag, zipper, buttonholes, decorative stitches and many more.
Bobbin and Threading
To wind the bobbin follow the instruction on top of the machine for the thread and put the bobbin on pin, then push bobbin to the right and a bobbin icon appears on the display screen, then with speed slider in the fastest position turn motor on, and bobbin will stop winding automatically when full.
This machine is a top loading, just remove the cover plate, insert the bobbin with thread coming off counter clockwise and follow the thread diagram on the cover plate, and it is not necessary to leave thread out.
To thread the machine follow the numbered arrows down to the automatic threader and with power off and needle in the highest position use auto threader.
Its recommended to use # 11 to #16 needles, and thread size 50 to 90.
The machine also has the thread tension dial for adjusting when sewing different thickness of fabric.
Feed Dogs System
As with most of the Necchi sewing machines, this model has the 7 point feed dog system, which will move the fabric evenly and smooth while sewing.
The feed dogs can also be lowered by a lever at the back of the free arm, which is very useful when quilting or free movement for your sewing.
The Control Buttons.
Start / stop button – this cannot be used when foot pedal is attached, plus the button is green when stopped and red when sewing.
Reverse stitch button – ties off stitches
Auto – lock button – automatically locks off stitches
Needle up/down button
Thread cutter button – cuts thread from needle and bobbin and is very handy to have
Speed control slider
Stitch pattern selection buttons
Twin needle button
Elongation button
Stitch length and width buttons
Drop feed dog button – back of free arm
Presser foot pressure dial – on top
Thread tension dial – front
Memorize button – to help you to save favorite stitches
Safety button – to keep your machine in safe mode
Free Arm
This model gives access to the free arm by removing the accessory base, so that your able to sew cuffs, sleeves, pants and more.
7 Presser Feet
Zigzag foot
Overedge foot
Zipper foot
Satin stitch foot
1/4 inch seam foot
Automatic buttonhole foot
Blind hem foot
On this model you can raise the presser foot 1/4 inch higher than normal, making it easier to remove the presser foot. By pressing the lever behind the foot it will drop off, then put a new one on by lowering the presser bar and new one snaps into place.
Each foot is marked with a letter to match up for the stitch being used, and will be displayed on the computer screen.
The presser foot pressure dial can also be adjusted -3 to 6 for ordinary fabrics and 1 – 3 for finer fabrics and 5 – 6 for thicker fabrics.
Accessories Included
Presser feet
Spool holders – 2 large
Spool holders – 2 small
Extra spool pin
Bobbins – 4
Assorted needle set
Seam ripper
Lint brush
Screwdriver
Optic magnifier – 20 X magnification
Hard cover
16 x 11 inches extension table
Buttonhole stabilizer plate
Detailed instruction manual
Foot control
Power cord
Specifications for the Necchi EX30
A great model to have in your sewing room, lightweight, good size and with good amount of built-in stitches
15 pounds weight with built-in handle
15.9 inches by 11.7 inches by 6.5 inches
8.6 inch by 6.7 inch working space
16 inch by 11 inch extension table
7 mm maximum stitch width
5 mm maximum stitch length
30 built-in stitches
Lighting
This machine has 2 rows of LED lights to brighten up the work area, and give a strong light to what you're sewing, and also has an optical magnifier of 20 X for any extra fine sewing.
Warranty
The Ex30 comes with a 25-year warranty against defective materials or workmanship, and 5 years on the electrical components, and 1 year for labor from time of purchase, and always best to check warranty with machine.
Pros And Cons For The Necchi EX30
Pros
Easy to set up and good for beginner sewers
Enough features to make sewing easy
Large work area and extension table
Excellent lighting
Has free arm for sleeves, cuffs, etc.
Stitches easy to select on LCD screen
Good for quilting
Light enough to take to sewing classes
It comes with knee lift
Cons
No separate motor for bobbin winding
Can I Control The Speed On This Sewing Machine?
It comes with a speed control button, you can select the speed you want from 66 stitches per minute to a 1000, it will help any beginner to start learning to sew with low speed.
Who Can Work With The Necchi EX30?
This is a sewing machine that is good for beginners and more advanced sewers.
Beginners will find this is an easy to set up and use model, it comes with control speed and it will help them to start learning to sew and handle a sewing machine.
More advanced sewers will find this model a good quality machine to have in the sewing room as a back up model or as a unit to work all their projects as it comes with a good amount of up to date features.
Is This A Portable Sewing Machine To Carry To My Sewing Classes?
This is a lightweight sewing machine with a good amount of up to date features, you will find it easy to carry around the house or to your sewing clases as it comes with a built-in handle.
Why Knee Lift Is A Plus To Have In A Sewing Machine?
When sewing you will be working with your two hands to hold the fabric as your machine sews on, with most of the machines, you will need to lift the presser foot with your hand to move the fabric or to start sewing another seam, with the knee lifter you can focus to work on your project with your two hands, while you lift the presser feet with your knee, this will allow you to work faster as you work on a project.
Can I Make Quilts With The Necchi EX30?
This model comes with a few features that will help you to piecing any quilt top, and it also comes with the drop feed system that will work great at the time to work on the free motion quilting.
However, it doesn't come with the presser feet you need to work on your quilts, you will need to purchase the walking foot and the spring quilting foot apart.
If you're looking for a quilting and sewing machine, take a look to the Necchi QS60 Sewing Machine Review here!
Where To Purchase The Necchi EX30 Sewing Machine?
You can find the Necchi EX30 on the shelves of specialty and fabric stores or with a sewing machine dealer in your area, you can call them to make an appointment for a test run, but you also can purchase this model online, check today's price on Amazon.
Our Final Thoughts
Well the pros easily outweigh the cons on this sewing machine, and we believe it would be a good addition to any sewing room.
With the large extension table and the extra work area, this is an ideal machine for quilting or any large sewing projects you have to work on, and the machine is strong enough for some sewing of heavier fabrics.
Another bonus is that it is light enough to move around easily or even take to sewing classes, and with all it's up to date features is a joy to work with.
So it all depends on what you are looking for in a sewing machine, as we do recommend this one to any sewer.
After reviewing this machine we hope it gives you a better idea when choosing a new sewing machine.
We wish you all the best on your sewing projects, happy sewing!