The Baby Lock Aria Sewing Machine Review – This is a computerized sewing and quilting machine. It has an over sized LCD screen for you to easily pick out your stitches and is one of the most popular sewing machines from this company.
The company that makes Baby Lock sewing machines is the Suzuki Machinery Company Ltd. in the city of Yamagata, Japan, and they started at around 1968.
They test each machine for 20 minutes sewing the different stitches before they are approved, and they have about 50 different models.
This machine is excellent for quilting and will sew extra thick fabrics or multiple layers, and synthetics, knits, natural fibers, fine fabrics, and even upholstery.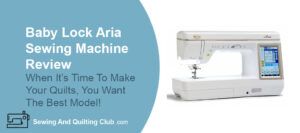 The screen is 7 inches diagonally, and shows a variety of colors giving a bold vivid display of your stitches and machine settings.
There is 11.25 inches of throat space on this sewing machine – to the right of the needle letting you sew thicker projects and large quilts with ease.
This sewing machine has all the up to date features, and is one of the best user-friendly models you can find today.
The Baby Lock Aria Sewing Machine Review
Below we will mention some of the features on this sewing machine.
573 Built-In Stitches
This sewing machine comes with 573 built-in stitches, which include 137 utility stitches, 14 one step buttonholes, 283 decorative stitches, 20 satin stitches, 61 decorative satin, 14 cross stitches, and 58 combination utility stitches, and 5 built-in alphanumeric fonts.
To pick out your stitch simply touch the screen which then shows the stitch menu, and along with the stitch it shows the recommended foot to use and the stitch length and width which can be adjusted.
It has the reverse stitch and reinforcement stitch to tie off the stitches when needed.
You can create your own stitch patterns and save them in the memory, but when you start again you will have to delete your previous stitch pattern.
The machine also has the ability to do a mirror image of the selected stitch pattern, and has 2 USB ports for connecting a computer to it for more stitch patterns
The maximum stitch length is 7 mm and the maximum stitch width is 5 mm and it will sew up to 1050 stitches per minute.
Bobbin and Threading
With this machine you can wind the bobbin by using the supplemental spool pin and just open the cover on top and follow directions, and bobbin will automatically stop when full.
By moving the bobbin winding switch to the left puts it in bobbin winding mode, where you press start and you can control the speed of winding.
The bobbin is top loading and first you need to lock the buttons by pressing a key on the screen, which prevents the machine from starting if any button is mistakenly pressed.
Remove the cover and install the bobbin with thread coming of counterclockwise and follow the diagram, then put back cover, and there may be some sewing applications where thread needs to be pulled up about 4 inches such as making gathers, darts or free motion quilting.
To thread the machine follow numbered diagram down to the automatic threader, and with this model you only have to press the automatic threading button for the needle to be threader, and if any difficulty arises check the instruction manual or press help key on the screen.
There is an automatic fabric sensor system that adjust the thread tension to give perfect stitches, plus you can adjust the thread tension on the screen.
Feed Dogs
The feed dogs have a 7 point system, allowing the fabric to move smooth and evenly when sewing.
On the screen is also the free motion mode key which raises the presser foot and lowers the feed dogs for free motion quilting.
Lighting
This sewing machine has excellent lighting with its LED bulbs and covers 10 inches around the needle and working area.
The color touch screen can be used with a touch pen, and it is able to show 260,000 colors for enhanced brighter colors on the screen.
Free Arm
The Aria has the free arm so you can sew sleeves, cuffs, pants, etc., just by removing the accessory storage compartment.
Operating Buttons For The Aria
Start/stop button
Reverse stitch button – for tying stitches
Reinforcement stitch button – ties off the stitch
Needle position button – used when changing sewing direction
Thread cutter button – cuts bobbin and needle thread
Presser foot lifter button
Sewing speed controller button
Automatic threading button – threads needle
Knee lifter – on bottom front
Buttons On The LCD Screen
Free motion stitch key
Auto reverse key
Auto thread cutting key
Stitch width and length key
Help key
Thread tension
Stitch preview key
Raise and lower feed dogs key
And many more for your stitches, is best to go through the instruction manual to become familiar with the computer features.
Presser Feet
1/4 inch quilting foot with a guide
Buttonhole foot
Overcasting foot
Monogramming foot
Zipper foot
Zigzag foot
Blind stitch foot
Button fitting foot
Free motion quilting foot
Free motion open toe quilting foot
Free motion echo quilting foot
Straight stitch foot
Digital dual – feed system foot.
To change the presser feet, raise the presser foot lever, and press the black button behind the foot to release it, then snap a new one in place.
The presser foot can also be raised with the knee adapter lift, giving free movement for quilting.
Accessories For The Aria
Touch pen (stylus)
USB cable
Knee lifter
13 presser feet
Special bobbin case
Cord guide bobbin cover
Straight stitch needle plate
Soft cover for machine
Bobbins
seam ripper
Twin needle
Foot pedal
Instruction manual
Specifications For the Baby Lock Aria
1050 stitches per minute
33.7 pounds – has carrying handle
13 inches high by 22.5 inches long
7 mm maximum stitch width
5 mm maximum stitch length
11.2 inches throat space.
7 inch diagonal LCD color touch screen
260,000 colors shown
573 built in stitches
Warranty
It has a 5-year limited warranty and 2 years on electronics, and 1 year labor, and always check warranty when purchasing.
Pros And Cons For The Baby Lock Aria
Pros
Superior stitch quality
Has all the newer features
Strong enough to sew heavier fabrics
Large work area for quilting
Has free arm
Cons
Heavy – not suitable for sewing classes
Not recommended for beginners
Price is high
Is The Baby Lock Aria Good For Beginners?
As this is a sewing machine that comes with many features, it has a learning curve that is designed for more advanced sewers who already know the basic of sewing and want to get their projects to a higher level.
We recommend the Brother DZ3000 Sewing Machine for beginners.
Is The Baby Lock Aria Good For My Quilting Projects?
This is a computerized sewing machine designed for quilters, it has a bigger working area than many of other models, this will allow you to work on your quilting projects with ease, it also comes with a good number of quilting presser feet to help you to work on the free motion quilting on your quilts.
Is The Baby Lock Aria A Good Model For Sewing And Quilting Classes ?
This is a unit that comes with all the features you will need to work on your sewing and quilting classes, however this is not a model we would recommend carrying to your classes as this is a heavy sewing machine, it will be better to keep it in your sewing room and take another unit to your classes.
Where To Purchase The Baby Lock Aria?
As this is a more specialized quilting and sewing machine, it will be better to call specialty stores or a sewing machine store in your area to see if they have it so you can take a test run or you can check today's price online.
Our Final Thoughts
We find this to be an excellent computerized sewing machine, with every feature any sewer needs for their quilting projects.
It has a learning curve, so is probably not the best for someone starting out sewing.
The machine does excellent stitches and once you get used to all the features, you will wonder how you sewed without them.
We hope this review gives you a better idea on how the Aria works, and you can see if it meets with what you would like in a sewing machine.
We wish you all the best on your sewing projects – Happy Sewing!