The Janome 3160QDC Computerized Sewing Machine Review is designed with quilters in mind with the features of a more expensive model at the right price.
This sewing and quilting machine is for the quilters and sewers that want to have a lightweight model to carry to their sewing and quilting classes and workshops.
Janome 3160QDC Computerized Sewing Machine Review
The Janome 3160QDC comes with 60 built-in stitches and 6 buttonholes, giving you a good range of stitches to chose from.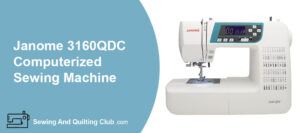 This model has many features that even the more experienced sewer will appreciate, and to make things easier for quilters it has the extension table provided.
This sewing machine is perfect for home use or even for a small home sewing business use, and being lightweight it is very portable to even take to a sewing or quilting class.
Ease Of Use
Owners and testers of the Janome 3160QDC find this model easy to set up and use, with all the features any sewer or quilter love to have in a model and with helpful diagrams to set up all the features in no time!
Whether you're starting out with sewing or if you're a more advanced sewer, this model offers a great selection of features to work on many different projects.
Versatile
As you start sewing, you'll be working on many different projects, finding a good sewing machine with the features to work on different projects is all you need to have in your sewing room to do garment constructions, home decor and making quilts!
Features that are often only found on many larger machines.
LCD screen with back light
Navigation buttons that are easy to use
A superior 7 piece feed dog system
An extended needle plate
Built-in one hand needle threader
Speed adjustment with a slide control
Start stop button
Adjustable pressure dial
Needle up/down button
Extended free arm
Adjustable foot pedal pressure
Drop feed dogs
Memorized up/down for needle
Automatic lock stitch button
Storage compartment for accessories
Reverse stitch button
Auto-lock button
Free arm
Fold down carrying handle
60 Built-In Stitches
The 60 stitches selection guide is displayed on the front of the machine, only requiring you to select the number of your stitch, and use the directional buttons to lock the stitch on the LCD screen.
It also has the basic straight stitches, zigzag stitches, decorative stitches, and 6 different buttonholes.
There is also a button for auto lock that when pressed will tie the stitch underneath, so that even though the machine has a reverse button it won't be necessary to use it all the times.
The maximum stitch width is 7 mm and the length is 5 mm, plus the machine will sew 850 stitches per minute.
Top Drop Bobbin
The Janome 3160QDC has the top drop in bobbin system that is jam proof.
There is an easy to follow guide for loading the bobbin, and for threading the machine also.
It is easy to tell when the bobbin is running low of thread with its clear plastic cover.
Fabrics
This machine is not designed to sew through leather or thicker fabrics, but will sew:
Natural fibers – wool, linen and cotton
Fine fabrics such as silk, velvet or satin
Synthetic fabrics – blends, rayon, polyester
Upholstery
Some multiple layers of fabrics
Presser Feet
The machine comes with a variety of presser feet
Open-toe even feed foot
Open-toe darning foot
Zigzag sewing foot
Overedge sewing foot
Zipper sewing foot
Blind hem sewing foot
Automatic buttonhole sewing foot
1/4 inch seam sewing foot
The machine also has the extra high lift lever for the presser foot
Feed Dogs
This machine has the 7 piece feed dogs system which means they contact your material at 7 different places to feed your cloth through evenly
Threading
The Janome 3160QDC is very easy to thread by just following the diagram down to the needle.
And with the automatic needle threader you will save a lot of time getting your machine ready to sew
This computerized sewing machine also comes with a precision tension dial that you can set to your own requirements when sewing different fabrics.
There is also a button on the front with a scissors display that you can push to cut the thread for the top and the bobbin.
It also has an LED light, so you can see where the thread is, and your work area.
Accessories for the Janome 3160QDC
Hard cover
Presser feet
Assorted needles
Spool holders – large and small
Bobbins
Screwdriver
Lint brush for when cleaning
Seam Ripper
Instruction manual
Quilting kit
Foot pedal
Extension table
Spool pin felt
Speed Of Sewing
This sewing machine has an adjustable slide lever on the front you can set for different speeds, that will override the foot control.
There is a start/stop button when you don't want to use the foot control.
Specifications of the Janome 3160QDC
This sewing machine weighs 12.6 pounds, and is 15 inches long by 8.4 inches in height, and 6.9 inches in depth.
Your work space is 6.8 inches wide by 4.5 inches high.
Speed of 850 stitches per minute and can be adjusted.
Pros
Machine is very easy to set up and use
Great option for beginners
Lightweight and portable
An easy to use control panel
Cons
The LED Light could be brighter.
Not very great with thick fabrics
Warranty
This sewing machine comes with a 25-year limited warranty that covers the material and workmanship.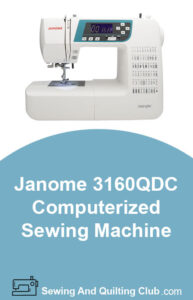 The electronics parts are guaranteed for 2 years from original purchase date. And during the first year, you can receive replacements for any defective parts, and labor is free of charge.
After the first year, you will have to pay for labor to fix your sewing machine.
Also warranty is only good if your Janome is bought through an authorized dealer.
If you want to take a took to another sewing machine for quilting, take a look to the Brother CS6000i
Conclusion
The Janome 3160QDC Computerized Sewing Machine would make an ideal gift for any new sewers to learn the skills of sewing on.
It's very easy to set up and get started on your sewing projects, and with all its automatic features, you will find it is a pleasure to work with.
So, if you're looking for a computerized sewing machine for home use, then have a look at this one or try it out!
Check Today's Price on Amazon.com