The Janome MC6700P Review, this is a computerized sewing machine that's packed with the newer features to make you're sewing and quilting so much easier.
If you are an advanced sewer and in need of a machine that will last for years, and handle all you're sewing and quilting projects, then we suggest you take a look at this model.
One of its drawbacks is that its price is high, especially for anyone starting to sew and quilt, but if you're an advanced sewists with deep pockets, then this machine comes highly recommended by anyone who uses it.
This machine is very well-made with an aluminum body underneath the exterior, and a suppression vibration system to give you quiet, smooth running with excellent stitches for all your projects.
It has enough power to sew any thicker fabrics that you have with ease.
Another thing to mention is their is no free arm with this model if you want to sew cuffs, sleeves, etc., but is designed more for quilting and sewing.
The Janome MC6700P Sewing Machine Review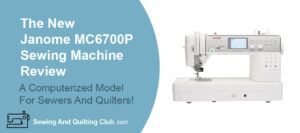 We will give you our view of some of the features found on this sewing machine, to see if their's a match for you're sewing preferences.
Stitches.
The MC6700P comes with 200 stitches and 5 alphabets, plus 9 one step buttonholes.
It's capable of sewing from slow speed to 1200 stitches per minute.
The stitch chart can be displayed on the top of machine for handy reference, and each stitch is numbered for dialing in on the LCD screen from the large variety of stitches to chose from.
You can get beautiful designs on your art quilts with the 9 mm decorative stitches, giving a bold and more distinct design, and upper case letters can be sized to 9 mm.
When you bring up a stitch on the screen you can adjust the width and length as well as see which foot is recommended for that stitch.
The maximum stitch width is 9 mm, and the maximum stitch length is 5 mm.
The machine comes with 3 stitch plates that are very easy to change by pushing the button on the sewing end of the machine to release, and then snapping another one in place.
You have the normal plate, the straight stitch plate and the HP professional plate, plus the machine knows what plate you're using, and you can only select stitches for that plate.
On the front of the machine the direct stitch selection buttons are pre-programmed with commonly used stitches.
Presser Feet
This machine comes with a good variety of presser feet, 17 to be exact, so you probably won't have to buy extras.
Overedge foot
Rolled hem foot
Zipper foot
Satin stitch foot
Blind hem foot
Open toe satin stitch foot
Button sewing foot
1/4 inch seam foot
Darning foot
Dual feed foot
Dual feed foot 9 mm
Automatic buttonhole foot
Convertible free motion quilting foot
Convertible free motion close-toe foot
Convertible free motion open-toe foot
Convertible free motion clear view foot
Professional grade foot HP
The machine comes with a dial to set the pressure on the presser foot for sewing any thicker fabrics or quilting. It has the adjustable knee lifter to raise and lower the sewing foot, giving you free hands when quilting, and once you get used to using it you will find how handy it is.
The feet are the snap on type and very easy to change and each is lettered for easy referencing.
The Bobbin and Threading
This machine has a separate motor for bobbin winding and very easy to set up by following the diagrams on top of the machine and pressing the bobbin winding button, and when bobbin is full it stops automatically. Bobbins can be wound even while sewing.
This is a top loading bobbin system, and loaded by removing clear cover, and putting in bobbin with thread coming off counterclockwise, and follow instructions on the cover.
To thread the machine follow instructions on the machine with arrowed guides down to the needle threader. It's best to use # 11 and # 16 needles and thread size 50 to 90 for the needle threader to work well.
There is also a dial just above the needle area for thread tension adjustment.
Feed Dogs
The feed dogs can be lowered by a switch on the lower sewing end of the machine. With the Janome AcuFeed system, you're sewing fabrics will move evenly on top and bottom of the feed dogs area, precisely at the same time, so their are no puckering or folding when sewing.
Lighting
On this machine their are 6 LED lights in 3 different locations to brighten up the work area, and the LCD screen is 3.6 inch wide and bright enough to be easy on the eyes.
The Control Buttons
Start/Stop button – will not work when foot control is connected.
Reverse button – locks stitch in place
Auto-lock button – locks stitch in place
Auto-lock button – locks stitch
Needle up/down button
Thread cutter button – cuts thread from bobbin and needle – so handy!
Foot Presser dial – on top working end of machine, set at 3 for regular sewing.
Thread tension dial – on front above needle, set at 4 for regular sewing.
The LCD screen will show when turned on the recommended foot, the selected mode, recommended thread tension, recommended foot pressure, and shows feed dog position, stitch pattern number and image, stitch width and length.
Mode button to right of screen to select one of 3 modes for your stitch selection.
Number button on face of sewing machine used to select desired stitch.
Stitch width and length dials to right screen.
Stitch display button
arrow buttons are for desired pattern
Key button locks and unlocks machine
Bobbin winding button
Double needle button
Set button with a few other function buttons – such as mirror button, and elongation button.
Folder button – to recall programming patterns
Start over button – used to sew a stitch pattern from the beginning again.
If we have missed any buttons, check the instruction manual as it has excellent diagrams and explanations.
Accessories For The MC6700P Sewing Machine
17 presser feet
Lint brush
2 small spool holders
Seam ripper
Spool stand and pin
Felt
Quilting guide bar
Needle set
Bobbins
Screwdriver
Adjustable knee lifter
Touch panel styles
Cloth guide
Cover
Needle plates (3)
Dual feed foot holder
Extra wide table
Foot control
Power cord
Instruction manual plus DVD
Specifications.
Weight of 25 pounds – has carrying handle
1200 stitches per minute top speed
20 inches by 12 inches by 9 inches in size
9 mm stitch width
5 mm stitch length
10 inch work space to right of needle
LED lights in 3 places
Warranty For The Janome MC6700P Sewing Machine
The warranty on this sewing machine is 25 years, and is on the mechanical parts, and 2 years on the electrical parts plus 1 year for the labor, but always best to check the warranty included with your machine.
Pros And Cons For The Janome MC6700P Computerized Sewing Machine
Pros
Superior quality sewing machine
Strong enough to sew thick fabrics
Another of the better machine for quilting built to last
So many up to date features to make a sewers' life easier.
Cons
You will find a very few negatives about this model.
No free arm and the price
Designed more for quilting
No Free Arm – not really a necessity
High price – Well, you're paying for one of the best sewing machines in the market
FAQ For The Janome MC6700P Review
Is The Janome MC6700P Good For Beginners?
If you're just starting to learn to sew, this model might be not good for you, as it's a high speed model and beginners need to learn how to control the machine to learn the basic of sewing.
Many times beginners will be signing to sewing lessons, and this model is not lightweight to carry it to the sewing classes.
I will recommend you to take a look to the Bernette B35.
Is the Janome MC6700P Portable ?
This sewing machine is not a lightweight model, as it weights 25 pounds, it comes with a carrying handle to move it around the house or the sewing room, but it will require a strong arm to carrying this model to the sewing classes.
Is The Janome MC6700P Good To Start Your Own Sewing Business At Home?
If you're good at sewing, and you're thinking about starting your own sewing business at home, this is a good model you can start with and it will help you to work with ease on many different projects.
It's easy to work with, and the speed on this model will help you to work faster with your projects.
This is a model considered as a semiprofessional sewing machine, so if I wanted to start a sewing business, I will go for it!
Is The Janome MC6700P Good To Make Quilts With It ?
This is a model designed for quilters, it comes with the features any quilters will love to have in a sewing machine to help them to work on the piecing a new top for their next quilt.
At the time to think about working on the free motion quilting, this is a model any quilter will love to have in the sewing room.
Built strong and with a good weight, it will help quilters to work on small and big quilts with ease.
It comes with a good selection of presser feet for any work that a quilter wants to work with on their next quilt!
Where To Purchase The Janome MC6700P
Janome is a Brand that's well-known, and you can find this model in the specialty and quilting stores in your area. You always can call a sewing machine dealer in your area and ask if they have this model so you can take a look at it.
You can also find this model online, take a look to today's price on Amazon.
Our Final Thoughts On the Janome MC6700P Computerized Sewing Machine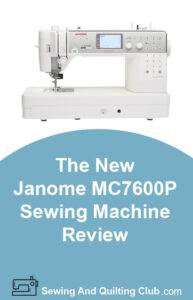 As sewing and quilting machines go this model is one of the best.
With its 200 stitches and large amount of features to make you're sewing life easy, you can not go wrong.
Its large computerized display screen makes it so very easy to pick out your stitches, the foot for them, length and width, etc.
The threading and bobbin winding takes only minutes to learn to do.
We do admit that using the computer, might take a while to learn and practice with, but from anyone who owns this machine their are no negative reviews.
So we hope this review helps you out in your choice of a sewing machine for what you are looking for in either quilting or sewing.
We wish you all the best on you're sewing projects – Happy Sewing!