The Janome MC6600P Review, this is a computerized sewing machine with enough features for any quilters needs.
This machine is perfect for the experienced quilter and sewer, and has plenty of power for all your sewing needs including denim and even stretchy fabrics.
One thing the machine does not have is the free arm for cuffs, sleeves, etc. But the machine is basically designed for sewing quilts and patchwork projects where the free arm is not a necessity.
The computer controls are very easy to work with, and threading and setting up the machine will take very little time, so if you're starting out learning about quilting, this is actually an ideal machine to work with.
The machine is not too light, so would not be the best to take to sewing classes, but does come with a carrying handle to move around in your sewing room.
The Janome MC6600P Review
Below we will give you a rundown on the features found on this  Janome machine to see if they match your sewing preferences.
Sewing Up To 1000 Stitches Per Minute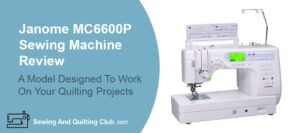 This machine is capable of sewing up to 1000 stitches per minute, but also has a switch for your control of different speeds.
It comes with 163 built-in stitches, which are your decorative and standard stitches, and includes the alphabet and are displayed on a chart you place on the top of the machine for a handy reference.
The maximum stitch width is 7 mm and maximum stitch length is 5 mm, and both are adjustable on the LCD screen.
The computer also has the ability to edit combination stitch patterns for your sewing pleasure. To chose a stitch on the screen just pick the mode and anyone of the numbered stitches on the touch pad, and the screen will also recommend the foot to use.
Presser Feet For All Your Projects
This model comes with a variety of presser feet.
Zigzag foot – used for a variety of stitches
Overedge foot – used exclusively for overedging
Rolled hem foot – the curl on this foot helps form a hem at a constant width.
Zipper foot – for zippers.
Satin stitch foot – Good for decorative and satin stitches
Craft foot – for patchwork and applique
Blind hem foot – for blind hemming
Cording foot – designed for braiding
Overcasting toot – to simulate professional style overlocking
1/4 inch seam foot – for patchwork piecing
Bastin/darning foot – can be used for free motion quilting
Automatic buttonhole foot – for buttonholes
Duel feed foot – special for hard to feed fabrics, prevents shifting and puckering.
There is a dial that you can set for pressure on the presser foot when sewing different thickness of fabrics.
The machine has the knee lift lever for raising the foot when quilting and also to disengage the dual feed foot, raise the lever to second position then pull down and lift back up on the dual feed foot, and do the opposite to engage foot.
The feet are the snap on type and very easy to change.
TheBobbin and Threading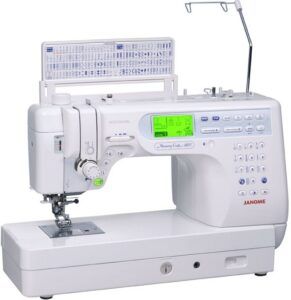 To wind the bobbin on this model, you just follow the diagram on top, put your thread through the bobbin and onto the pin, and engage bobbin winder and press button on front of machine that starts and stops bobbin as it has a separate motor for this.
To put the bobbin into machine just remove clear diagrammed cover, and pop it in, with thread coming off to the left and follow the diagrammed instructions.
To thread the machine follow the numbered guides down to the needle threader and use it to thread the needle.
Both bobbin winding and threading for this model are very easy and takes almost no time, plus the bobbin can be wound even while you're sewing.
There is also a dial for adjusting the thread tension on front of the machine just above needle area.
Feed Dogs
The Janome MC6600P has the 7 point feed dog system, that will allow your fabrics to move very smoothly while sewing.
You are able to drop the feed dogs with a button on front for free hand quilting.
This machine also has the Acu Feed system which makes it guide the fabrics evenly from both top and bottom at the same time, so there won't be any folds or puckering when sewing.
Lighting
On this machine the LCD screen can be brightened or dimmed depending on your background light, and what you prefer.
There are 2 very bright LED lights over the sewing area making it easy to see whet you're sewing.
Control Buttons For The MC6600P
On the front of the machine above the needle work area are the following buttons.
Start/stop button
Reverse stitch button
Auto thread lock button
Needle up/down button
Thread cutting button – always handy
Speed control slider
Button for adjusting light on screen
To right of screen
Mode button
Font button
Memory button
Twin needle button
Elongate stitches button
Bobbin winding button
Width button and length of stitchbutton
Edit button
Help button
The 9 buttons on the face to select your normal stitches:
Button to program machine to cut threads
An end of stitches, built into memory
Auto lock stitch button
Clear button and mirror image button
Memory button
Thread tension dial on front
Foot presser pressure dial on top with setting displayed on front
Accessories For The Janome MC6600P
Presser feet
Extra needles
2 screwdrivers
Seam ripper
Bobbins
Quilting bar
Fabric guide
Extension table
Foot control
Soft cover
Power cord
Knee lifter
Accessory box
Instruction manual
Quick reference stitch chart
Spool holders – large and small
Specifications For The Janome MC6600P
24 pounds – has carrying handle
1000 stitches per minute
7 mm maximum width stitch
5 mm maximum length stitch
19.4 inches long by 11.8 inches high by 8.7 inches deep
9 inch by 5 inch work space
2 sewing lights
7 point feed dog system and Acu Feed system
Warranty
The warranty on this machine is 25 years, which is on the mechanical parts, and 2 years on the electrical parts, and 1 year for the labor. Just to be sure, always check warranty that comes with machine.
Pros And Cons For The Janome MC6600P
Pros
Quiet running
Acu Feed system
Stitch quality is excellent
Built to last
One of the best machines for quilting
Many 5 star ratings for this model
Cons
Not overly travel friendly
Fairly expensive, but worth the price
No free arm ability
Is The Janome MC6600P Good For More Experienced Sewers?
This is a sewing machine that can be added to the Semi Industrial models, it comes with a full features package that will help any experienced sewer to work on many different projects with any type of materials, working with thin and delicate fabrics like silk or taffeta will be no problem for you, but at the time to work with thicker materials like denim or canvas you can trust this model will give you the stitching quality your projects need to be a professional one!
Can I Start My Home Based Sewing Business With The Janome MC6600P ?
When you're looking for a model to start your home based sewing business, you need first think about what kind of projects you will be working on, but in general, this model will help you to work with ease when you're planning to start a sewing business.
It comes with a good variety of features that will help you to work on many different projects, and it comes with the presser feet knee lifter that will help you to work faster on any project as you can handle with both hands at the time of stitching on the project, as you get used to the knee lifter, you'll gain speed to work on any project.
Can I Make Free Quilting Motion With The Janome MC6600P ?
Yes, it comes with the drop feed dog system and it also comes with the spring quilting presser foot, so it is well equipped to help you to start working on your quilts with ease.
As this model is not a lightweight model, this will help you to work with ease at the time to work on the free quilting motion on your quilts, small or big size.
The knee lifter feature, will help you to work better at the time to work on the quilting for your quilts.
Our Final Thoughts For the Janome MC6600P Review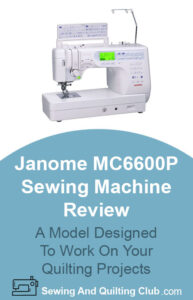 This is a great sewing machine for any sewer that's into quilting and with enough features to highlight any ones sewing and quilting artistry.
For a strong computerized sewing machine, that's very well-built, you need to look no further than this one to give you years of sewing and quilting pleasure.
We hope this review helps you to find the sewing machine that you are looking for, as this machine has many 5 star ratings, it would make a good investment into any quilters sewing room.
We wish you all the best on your sewing projects – Happy Sewing!