The Brother CS5055PRW Review, this computerized sewing machine has a good range of up to date features to enhance you're sewing and quilting projects.
This machine will sew denim, tweed, and many other thicker fabrics that you might have, even though it is not considered a heavy-duty sewing machine.
The machine is very easy to set up for beginners or the more experienced and does run quieter than many others.
It's light of weight at only 10.65 pounds and has the carrying handle so will be no problem taking to sewing classes.
The machine is strong enough for most of you're sewing needs, but if you were doing sewing as a profession, a larger model might be better to buy.
This machine is very low priced, for the many features that it has, and would make a welcome addition to any sewing room.
We will mention some of the features found on this model, to see if they match up for you're sewing projects.
Brother CS5055PRW Review
50 Built-In Stitches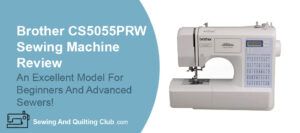 The machine comes with 50 built in stitches and 5 one-step buttonholes. There are decorative stitches, heirloom, some clothing, and quilting, plus you have a choice of 87 different stitch functions.
The stitch width is maximum 7 mm, and the maximum stitch length is 5 mm, plus the machine is able to sew up to 850 stitches per minute.
The stitches are displayed on the front of the machine and all numbered for your convenience.
With just the push of a few buttons, the stitches you chose will be displayed on the LCD screen, along with the recommended foot and length and width, which also can be adjusted on the screen.
If you're doing garment construction there are zigzag, overcasting, blind hem and stretch stitches.
It has a range of special quilting stitches such as the feather-stitch and some mock hand quilting stitches.
7 Presser Feet
Buttonhole foot
Zigzag foot
Zipper foot
Button sewing foot
Overcasting foot
Monogramming foot
Blind stitch foot
This machine has the quick change presser feet, by just pressing a black button, behind the foot will release it and then you can snap a new one in place, and each foot is lettered for easy referencing.
Just use the lever to raise and lower the presser foot when changing or sewing.
The Bobbin And Threading
The bobbin is easily threaded by following the diagrammed instructions on top of the machine, and as it does not have a separate motor for winding use the foot pedal.
To install the bobbin the machine has the quick top-loading system. Just drop the bobbin in with thread coming off counter clockwise and follow instruction on the clear cover and you don't need to pull up the thread.
To thread your machine follow the arrowed guides down to the needle and use the automatic threader, and the needle needs to be raised for threader to work properly.
Feed Dogs
The feed dogs on this machine are the 7 point system which means the fabric is gripped in 7 places as it moves, and makes for a very smooth sewing.
You can also drop the feed dogs with a switch on the back of the free arm to give you free motion sewing and quilting.
Lighting
It has a strong LED light that brightens up the work area for when you're sewing any darker fabrics.
Control Buttons.
There is not an abundance of working buttons on this machine, and is so easy to set up and use for the beginner sewer.
Above the needle is the reverse stitch button, to tie off you're sewing and back stitches in place.
Behind free arm you have the feed dog switch to raise and lower them.
On the front above the stitch chart are the buttons for the computer to pick out stitches and buttons for stitch length and width.
Also a dial on the top for thread tension.
Free Arm And Storage
The accessory storage drawer can be found below working area and just pulls out, also giving access to the free arm for sewing sleeves, shirts, pants or other hard to reach areas.
Accessories For The Brother CS5055PRW
Presser feet
Screwdriver
Needles – 3 in package
Twin needle
Extra spool pin
Ball point needle
Seam ripper
Cleaning brush
Large and small spool cap
Foot controller
Power cord
Instruction manual
Specifications For The Brother CS5055PRW
10.65 pound in weight
50 built in stitches
11.6 inches high by 16.26 inches long by 7 inches wide
850 stitches per minute
6.3 by 3.9 inch workspace
Warranty
There is a 25 year limited warranty on Brother sewing machines, which is 25 years on defective materials, and 2 years on the electrical components, and 1 year parts, labor from the date of purchase.
Pros And Cons For The Brother CS5055PRW Sewing Machine
Pros
Quick to set up and start sewing
Beginner friendly
Very reasonable priced
Can sew thicker fabrics
Smooth and quiet running
Good to take to sewing classes with
Lightweight
Cons
No automatic thread cutter
Being so light might shake while sewing
No presser feet for quilting
Is This Sewing Machine For Beginners ?
Brother is always thinking on the design and building so it is easy to set up and start sewing, and with sewing machines that are good for all sewers levels.
As a beginner, you will find how easy to start to sew your first projects with this model, just the right amount of features to help you to work on a good range of projects like garment construction, home decor, crafts and more!
Take a look to another Brother Sewing Machine good for beginners, the Brother XR3774
Can I Control The Speed On This Sewing Machine?
You need to control the speed on this model with the foot control.
Can I Sew Denim With This Sewing Machine?
This machine can sew denim and other thick materials with this sewing machine, there are special settings to work with thick materials.
Is This A Good Sewing Machine To Bring to My Sewing Classes ?
This is a lightweight model, with a build in handle and it will be a perfect sewing machine to bring to you're sewing classes, whether you're starting to learn to sew, this model will help you to learn the basics of sewing, to use different features and to work on different projects from beginners level to more advanced.
Is This Good As A Back Up Sewing Machine ?
Being a sewer for all my life, something I've learned is that a sewing machine can stop working from one moment to the next one, and most of the times it can happen when I'm working on a project I need to finish!
Whether you have a home use or an industrial sewing machine in you're sewing room to work on your projects, it's always a good idea to have a second machine just in case!
This Brother machine will be the perfect model to have in you're sewing room as a back up model just in case, with enough features that will help you to keep working on your projects in case your main sewing machine quits to work in the middle of a day!
This is a model that comes with a reasonable price tag, and this make it perfect to have it as a second sewing machine.
Is This Sewing Machine Good For Quilting ?
As a quilter myself, I find Brother machines work good at the time of working on piecing a new top any size, small, medium and big!
When is time to work on the free motion quilting, I can say Brother machines work pretty well and this model will help you to work on your quilts to make the free motion quilting, but I must add that this is not a big enough throat and you will need lots of experience to work on big quilts.
The Brother CS5055PRW comes with the features of drop feed dogs that will help you to work on the free motion quilting, but you will need to purchase the spring quilting foot.
Where To Purchase The Brother CS5055PRW Sewing Machine.
You won't have any problem to find the Brother sewing machine on the shelves of your specialty or big box store, but you can also order online.

Our Final Thoughts For The Brother CS5055PRW Sewing Machine
If you're looking for a sewing machine that's beginner friendly, portable, quite a few features, and best of all very low price, then this one might be what you're looking for.
It can do you're sewing projects as well as quilting and has enough stitches to keep any sewer going for a while.
So we would recommend this machine to any sewer as a good investment for you're sewing room.
Wishing you all the best on you're sewing projects – Happy Sewing!