Janome 740-DC is a sturdy sewing machine easy to set up and start sewing, beginners and advanced sewers give it good ratings.
It has a cast aluminum frame under the exterior, making it sturdy and light enough to move around easily, and it's a great machine for most of your projects.
Janome 740-DC Sewing Machine Review
Who Is The Janome 740-DC For?
This machine can be used by an experienced sewer or even a beginner.
It runs very smoothly, and is real easy to set up with its top loading bobbin system. It has an extra spool pin for when ever you wind the bobbin you want have to unthread the machine.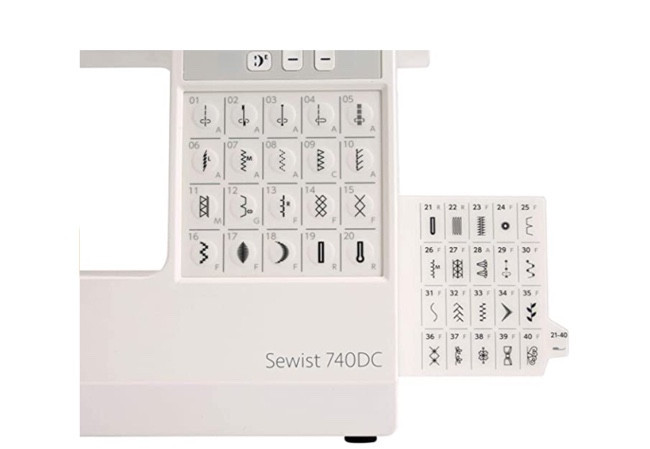 What Are The Features On The Janome 740-DC?
This machine comes with 40 stitches, which is enough for most of your projects.
There are 20 stitches that can be directly selected on the front of the machine, and the LCD screen will show the recommended foot, along with the stitch length and width which are both adjustable.
The other 20 stitches are displayed on a pull out chart on the right-hand side of the sewing machine.
The 740-DC also provides you with a choice of 3 styles of buttonholes.
If your looking for speed, this machine will sew at a top speed of 820 stitches per minute, and also has the speed control slider on the front as well as the foot controller.
This machine has a maximum width of 7 mm, and a maximum length of 5 mm.
The Feed Dogs On The Janome 740-DC
This machine has a 7 piece feed dog system, that works very well and the drop feed lever is at the back of the free arm.
How Many Presser Feet Come With The Janome 740-DC Sewing Machine?
The machine comes with 7 presser feet, standard, satin, zipper, overcast, blind hem, over edge, and the automatic buttonhole foot.
Presser feet on this model are the quick change type, by just pressing the lever behind the foot releases it and a new one snaps into place. The presser foot lifter can be raised 1/4 inch higher than the normal position.
Also, we should mention there is a presser foot dial on top of the sewing machine to adjust pressure, and you can find the recommended settings in the instruction manual.
What Needle and Thread Is Best For The Janome 740-DC?
This machine is capable of twin needle sewing, and there is a dial above the sewing area for adjusting the thread tension. The recommended needle for general sewing is 11/75 or 14/90, and you can find a chart with the recommended needle to use for the different fabrics.
On the face plate, there is a manual thread cutter when needed.
This machine also has the top loading bobbin system with a clear cover, so you can tell when thread is getting low, and placement of the bobbin printed on the cover making it very easy to set up and start sewing.
We should mention also that the machine has a built-in needle threader to make the threading easier.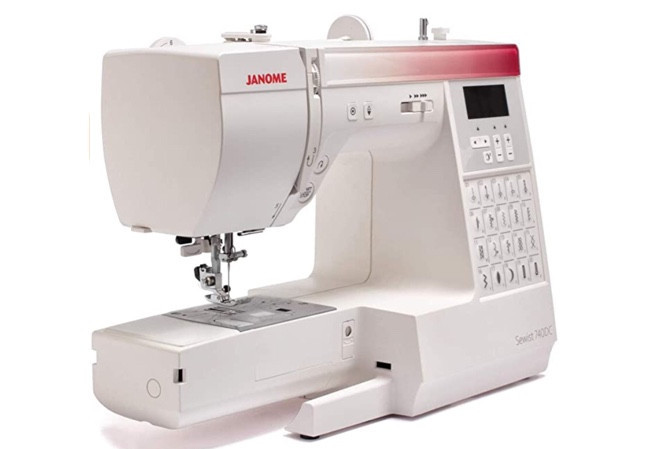 Free Arm
Free arm on this machine is easily accessed by just pulling off the extension table, which also acts as a storage container for your smaller accessories. You can then easily sew pants, cuffs, tubular fabrics, etc.
Buttons
The working buttons are conveniently located, just above the sewing area such as the needle up/down button, auto-lock button, reverse button, start/stop button, and the speed control slider.
The thread tension dial and presser foot pressure dial are also found just above the sewing area.
Is The Janome 740-DC Sewing Machine Portable?
This machine weights around 14 pounds, making it light enough to carry around, and has a flip up handle on the top.
Lighting
The light is located just above the sewing area, and is a big help when sewing darker fabrics.
What Accessories Come With The Janome 740-DC Sewing Machine?
7 presser feet
set of needles
4 plastic bobbins
Bar guide for quilting
Spool holder – has 2 large and 2 small
Seam ripper
Lint brush
Foot controller and power dord
Hard cover
Screwdriver
Extra spool pin
Janome 740-DC manual
What Is The Warranty For The Janome 740-DC Sewing Machine?
This machine has Janome's 25 year limited warranty which is 25 years against defective materials or workmanship, and 5 years on the electrics plus 1 year labor.
We recommend always checking the warranty when first purchasing.
Pros and Cons For The Janome 740-DC Sewing Machine
Pros
Very easy to set up and start sewing
Aluminum frame makes it very sturdy
Needle threader
Will sew thicker layers of fabric
Has easy to understand instruction manual
Not overly priced for a computerized machine
Cons
No automatic thread cutter
Some complains that light is not bright enough
Does It Come With A Carry Case Or A Cover?
It does come with a hard cover and it has a flip up handle on top.
IsThe Janome 740-DC Good For Quilting?
This is a great machine to do the piecing of any size top for a quilt, and it comes with the feed dog drop system, which is great at the time to work on the free motion quilting, but it doesn't come with the free motion quilting presser foot (affiliate) for it, or the walking presser feet, you will need to purchase them apart.
Is The Janome 740-DC Good For Sewing With Denim?
Janome designs their machines with the sewers needs in mind, this is a model designed for most of the projects with any type of fabric, if you're looking for a machine to work with denim in most of your projects, you might want to take a look to the Janome HD1000.
Where To Buy The Janome 740-DC Sewing Machine?
You can find this model on the specialty shops shelves, and with the sewing machine dealer in your area, but you also can purchase it online (affiliate link)
Check the Janome 740-DC latest price on Amazon.com (affiliate)
Our Final Thoughts For The Janome 740-DC Sewing Machine
As Janome is well-known for producing high quality sewing machines, this one is no exception, and will produce some excellent stitches,
You will find this machine is very easy to set up, and start sewing with, and the computer set up takes no time to get on to it.
Even a beginner sewer would find it easy, and it has a very good instruction manual to help with any problems.
So if you think the Janome 740-DC would be a good model for your sewing projects, you might want to take it for a test out.
Wishing you all the best on your sewing projects – Happy Sewing!
Thanks so much for sharing our blog on your Social Media!