The Janome 4120QDC Sewing Machine Review: This is a computerized model that comes with 120 stitches, and is very easy to use.
It will sew just about anything, from your every day projects, home decor, fashion, patchwork, and quilters will love this model as well.
Owner reviews of the Janome 4120QDC, are all recommending it, and being of a very high quality and always producing the best stitches.
The instruction manual is very detailed and the video on the DVD that comes with it will have you up and sewing in no time.
Janome 4120QDC Sewing Machine Review: It's Compact, Versatile And Advanced Model With The Best Features
The standard features found on this sewing machine are usually only found on the higher prices models.
120 built-in utility and decorative stitches
7 one-step buttonholes
3 alphanumeric fonts, Cyrillic characters also
7 Piece feed dog system
The drop feed
Built-in one hand needle threader
Built in thread cutter
Extra high presser foot lift
Maximum stitch width 7 mm
Maximum stitch length 5 mm
15 needle positions
Needle up/down button
Start/stop button
Manual thread tension dial
Has twin needle capabilities
Free arm
Easy reverse stitch button
A top loading bobbin that won't jam up
Automatic declutch bobbin winder
Extension table
Has a sliding adjustment for sewing speed
820 stitches per minute maximum speed
Stitch pattern memory
LCD control screen displaying you stitches
Stitch pattern memory
Mirror stitching
Presser foot pressure adjustment
Adjustable stitch length and width
6.8 inch work area and a weight of 14.3 pounds
120 Stitches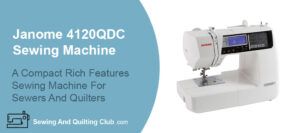 The machine has 120 stitch patterns and 7 styles of buttonholes.
The stitch patterns are put into 3 groups with mode 1 having the 10 basic stitches, and mode 2 for the utility stitches, while mode 3 is for the decorative stitches.
It also has Gothic style letters and numbers located in modes 4 to 6
There is a detachable reference chart for the stitches, and this chart can be displayed on top of the sewing machine on a pin that's inserted into a hole designed for it, and the chart can be folded down on the back when not needed.
On the LCD screen you can select your stitches by pushing the mode key and it shows the recommended stitch length and width, as well as the foot to use with that stitch.
The stitch width and length can also be fine-tuned to your preference with the stitch width key.
Also in mode 2 you can choose the buttonhole pattern you wish to use.
Top Loading Bobbin
The bobbin on the 4120QDC is by the easy top-loading system, and is jam proof.
You can remove the hook cover for the bobbin by just pushing a button on the plate, then your bobbin just drops into place with the thread unwinding counter clockwise, then pull the thread into the notch on the front, then to the left until thread goes into the notch on the side, then extend about 6 inches of thread to the back, install cover.
The cover also has a diagram of how thread from the bobbin goes and is see through, so you know when thread is getting low.
The bobbin and thread windings are clearly marked on the top of the machine for convenience.
Thread Cutter
An excellent feature on this machine is the thread cutter button, which when pressed can cut both the top and bottom threads.
LED Light
The light on this machine will illuminate your working space to make sewing easier on your eyesight.
Speed
The machine will sew up to 820 stitches per minute, and has a speed control slider on the front to control the speed.
Also, on the foot control just press down to start the machine sewing and the harder you press the faster it will sew.
There is a start/stop button on the front, but it cannot be used if the foot control is attached.
Snap-On Presser Feet
The presser feet on the Janome 4120QDC are the snap on type, to change them, lift the presser foot lever, and press the lever on the back of the foot holder and the foot will drop out, then move a new one in and drop the presser foot to lock the new foot in place.
Thread Tension
There is a tension control dial located on the front, that can be adjusted.
Setting number 4 is for general sewing, while higher numbered settings or for increased tension.
Foot Pressure Dial
For adjusting the foot pressure, there is a dial at the top back of the machine with 6 being used for heavier fabrics, and lower numbers for finer fabrics, and is very handy when doing quilts.
7-Feed Dogs
The feed dogs can be lowered by a drop feed lever located on the back of the free arm, and raised by moving the lever for up and then just turning the hand wheel at back of the sewing machine.
There is a 7 piece dog feed to move your fabric smoothly when sewing.
Twin Needle
This machine is also capable of twin needle sewing.
Accessory Storage
The extension table acts a space to help sewing bulky fabrics, and also has a place to store your accessories.
This can be easily removed for free arm sewing for pants, cuffs, shirts or more difficult sewing areas.
There is also an extra wide table for quilters and heavy sewers that can be attached.
Multiple Accessories
The Janome 4120QDC also has a large amount of accessories that comes with it.
8 Snap on presser feet
Zigzag foot
Zipper foot
Satin stitch foot
Automatic buttonhole foot
Blind hem foot
Overedge foot
1/4″ foot
Custom crafted zigzag foot
Accessories
2 spool holders, a large and a small
2 additional spool pins
Extra bobbins
Assorted set of needles
Screwdriver
Lint brush for cleaning
Seam ripper
Stitch chart
Large extension table
Hard cover
Instructional DVD
Manual with excellent diagrams
Power cable
Travel And Durability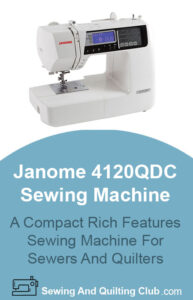 This model is another sewing machine well design by Janome, its made light to carry around the house with ease and also to carry it to your sewing classes and workshops.
It's light and with the right measures to travel with it very easily, you can plan your next vacations traveling on your RV without quitting your love for sewing and quilting.
Janome makes and designs sewing machine that will last in good conditions for a long time, when you buy a high quality sewing machine from them, you're buying a model that can easily last about 10 years, this way thinking on its price, its a good price to pay for a sewing machine that will stay in your sewing room working at its best making all kind of projects.
The Warranty
The Janome warranty is for 25 years, that's 25 years on the mechanical parts, and 2 years on the electrical parts, with 1 year for parts and labor.
Pros
Easy to use
Ideal machine for sewing and quilting
Runs Quiet
Stitches are of the best of quality
Good DVD and manual
Can do monogramming
Cons
There are few negatives to be found about this machine, maybe the manual tension adjustment, but some might consider that a plus.
Fabrics
This machine will sew through natural fibers, cotton, linen, wool,
Fine fabrics, satin, velvet
Knits
Synthetic fabrics, rayon, polyester
Upholstery
Leather and suede
Extra thick fabrics and multiple layers
Verdict
The Janome is a great choice for anyone that's looking for portable lightweight sewing and quilting machine.
With great quality stitching its good for beginners and the more experienced sewers, so you might want to take a look at this janome 412QDC sewing machine.
Check Today's Price on Amazon.com
Check Today's Price on Amazon Canada
Take a look to another great sewing machine to work on your quilts, the Brother cs6000i