The Juki HZL-F300 Sewing And Quilting Machine Review is an excellent model for all your sewing jobs, and any quilting projects, and can be used by anyone from a beginner to a seasoned sewer.
Juki HZL-F300 Sewing And Quilting Machine Review
With  106 stitch patterns this sewing machine will give you enough choices for your sewing projects, and with years of industrial sewing machine knowledge gone into its construction, it is designed to last.
You will find this computerized sewing machine easy to sew with for your quilting, home decor and garments construction, or just about any project you would like to try.
Juki Corporation is a well-known industry for making high quality industrial sewing machines, and you can find all type of sewing machine models for your needs, but they know also that there are many sewers around the globe who would love to own a high quality model to keep at home to work on many different sewing projects.
Juki HZL-F300 Sewing And Quilting Machine Features
106 stitches to chose from
LCD display, 33 mm by 66 mm window
16 high quality industrial buttonholes
8 inch by 12.5 inches work surface which is larger than most models
Threading can be done while seated
Automatic needle threading
Automatic thread cutting by push of a button, plus thread cutting by heel motion on the foot pedal
900 stitches per minute for high speed
80 stitches per minute at slow speed
Quilting foot and quilting guide
Powerful feed dogs
LED light
Quiet running
Needle stop
Free arm
Foot pressure adjustment
Automatic or manual thread tension control
106 Stitches 16 Buttonholes Styles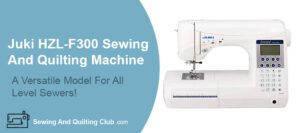 106 stitches, 3 lettering fonts and 16 buttonholes styles.
The LCD screen shows your stitch settings, and also recommends which presser foot to use.
The stitch patterns that you use most often can be selected by the direct selection mode button, and the stitch patterns are displayed under the cover on the top of the machine.
The keypad on this sewing machine is set up similar to your cell phone making it easy to chose lettering for your sewing.
Stitch length and width can also be easily adjusted and displayed.
Also by the press of a button you can back stitch.
Feed Dogs
This sewing machine has 7 point box feed system that eliminates any shifting or fabric shrinkage, giving you a much superior stitch when sewing light to heavy fabrics.
Also with the flip of a switch you can drop the feed dogs for free motion quilting or free hand embroidery.
16 Buttonholes Styles
The Juki HZL-F300 comes with 16 buttonholes styles, that are controlled by an electronic sensor giving you the perfect buttonhole every time on any fabric, and it is also possible to adjust the cutting width of buttonholes in 3 steps.
Top Loading Bobbin
The bobbin is top loading, and is clearly marked for threading with a clear window to see when your thread is getting low.
It has the ability for you to wind the bobbin even when you're sewing.
Easy Threading System
The sewing machine comes with a very easy needle threading system – just by pushing a lever.
There are also threading instructions printed on the machine, so you can't go wrong.
To cut the thread, there are 3 ways to do this:

By pushing a button on the front of the sewing machine
Automatically programmed cuts
By using the foot controlled by rocking your heel down on the back of the pedal, which will cut both threads.
There is also automatic and manual tension settings for the thread, and is located just under the top cover.
For the manual you just turn a dial to the tension you prefer, and there's also a button to press to position the needle up or down.
6 Snap-on Presser Feet
The Juki HZL-F300 comes with 6 presser feet
Standard
Overcasting
Blind hem
Auto buttonhole
Zipper
Manual Buttonhole
Changing the presser foot is easy by raising the foot with a lever, then push the release button just behind the presser foot, then align the new presser foot with the grove on the holder then lower the holder with the presser foot lever, and your new foot snaps into place.
The presser foot pressure can also be adjusted with a dial in the top cover with a pressure of 5 for normal sewing and lower number for lighter fabrics.
Sewing
This sewing machine has the ability to save up to 70 patterns in 10 memory folders which you can later bring up with just the touch of a button.
Multiple Accessories
6 presser feet
Hard shell cover
4 bobbins
Spool caps, small, medium, and large
Seam ripper
Package of needles
Screwdriver
Lint brush
Foot control
Instruction manual with good diagrams
Power cord
Specifications
This machine has a sewing speed of 900 stitches per minute and is easily adjustable down to 80 stitches per minute
Maximum stitch length of 5 mm
Maximum stitch width of 7 mm
2 – step presser foot lift
Needle HAx1 # 9 to # 16
It weights 21.6 pounds
17.5 inches long
11.4 inches high
8.2 inches thick
Sewing area on throat is 8 inches
Storage Area
On the front of the machine you can remove the auxiliary bed where the storage compartment is located.
This will also give you the ability to sew sleeves, pants legs, shirts, or other hard to sew items on its free arm
You will also see a drop feed knob that can lower the feed dogs for free motion sewing or attaching buttons, and any quilting projects.
2 LED Lights
This sewing machine comes with 2 LED lights that are efficient enough to provide good lighting to your work area.
Pros
Large workspace
Good feed mechanism
Consistent stitch quality
This sewing machine is good to sew light and thick materials
Cons
Heavy to move around the house or to take to your sewing classes and workshops
Doesn't include many extras
Warranty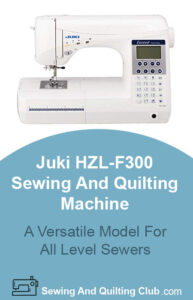 The warranty for this sewing machine is 5 years against any mechanical defects and 2 years against any electrical problems, and a 90-day adjustment on defects in the material or workmanship.
There are many optional accessories that can be purchased separately for this machine, such as an advanced Quilters Kit, a Creative Kit, and a Heavy Users Kit.
Conclusion
So for power and reliability when sewing the Juki HZL-F300 Sewing and Quilting machine will give you years of professional results.
This computerized sewing machine is easy to operate, and has many videos on the internet showing all the features you can use, as well as diagrammed filled user manual.
If you're looking for a sewing and quilting sewing machine, then give this one a try.
Check Today's Price on Amazon.com
Check Today's Price on Amazon Canada
If you want to take a look to another Sewing and Quilting Machine, take a look on the Janome 4120QDC