The Janome 2030QDC Sewing Machine review, Janome is one of the better brands in the sewing market today, and this model is no exception.
When you're looking for a sewing machine you're must likely looking for one that will meet your sewing needs. You might be into quilting, sewing, or embroidering, or all the three, so it's something to keep in mind when shopping for a machine, and oh yes, also what you can afford as some machines can be a crazy high price while others much more reasonable.
So if you want to discover what makes the Janome 2030QDC tick, then read on.
The Janome 2030QDC Sewing Machine Review
This is a computerized model with many features only found on the more expensive models.
30 Built-In Stitches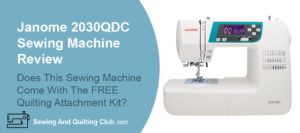 The machine comes with 30 built-in stitches, from basic straight, utility, zigzag, and decorative stitches. Whether you are a beginner or an advanced sewer, this model will help you to work with ease making a new outfit or just simply hemming a pair of pants, or sewing up a new quilt.
It has the reverse stitch button handily located on the front for easy access.
On the LCD display screen, it is very easy to navigate with the push of a few buttons. The stitches are printed on the front of the machine close by the display screen for a handy reference guide, and all numbered.
You can also change the length and width of the stitch on the display screen. The machine also has 3 one-step buttonholes.
The maximum stitch length is 5 mm and the maximum stitch width is 7 mm.
5 Presser Feet
With this model you get 5 presser feet, – but take note – the Janome 2030QDC-B is the latest model and comes with extra bonuses thus the B model.
Satin stitch foot
Zipper foot
Automatic buttonhole foot
Over-edge foot
Blind hem foot
Bonuses
Walking foot with quilt guide
Open toe darning foot
B2 foot
1/4 inch foot
Seam guide
Extension table
Quilting kit
The presser feet on this model are the quick change type and just snap into place, and it has the extra high presser foot option for sewing thicker fabrics.
Drop-In Bobbin System And Built-In Needle Threading
To wind the bobbin follow the directions on top of the machine, and to load the bobbin it has the top drop in by removing the clear plastic cover. It's a jam proof bobbin system so will work very well.
To thread the machine you follow the numbered arrow guides imprinted on the machine down to the automatic needle threader, and with the needle in the high position full the needle threader handle down, and follow the directions in manual if it's your first time, and then you're ready to sew.
The tension of the thread on this machine can be manually adjusted for sewing, and can affect the needle thread or bobbin thread or both by a dial on the front face of the machine.
7 Piece Feed Dogs
There is a 7 piece feed dog system on this machine that will feed the fabrics evenly while sewing or quilting. On the back of the machine is a button to lower or raise the feed dogs for free hand quilting or sewing.
Lighting
The machine comes with a strong LED light that give a good light to the work area.
Free Arm and Storage Area
On the front of the machine at the bottom is the accessory storage area which can be pulled off, given access to the free arm for sewing sleeves, pant legs, waistbands, or other difficult to sew garments.
Wide Table And Specifications
The machine has the wide table that slides into place around the free arm, and the working space, is 6.5 inches by 4.5 inches, which is good for doing quilts.
At 12.3 pounds the machine is light enough to be easily portable to sewing classes and workshops, and has a carrying handle. The machine has a cast metal frame under the covering, and is built to last.
It will sew at speed of up to 820 stitches per minute, and has a speed control slider on the front to set at a speed that you prefer.
Accessories
Bobbins
Spool pin felt
Needle set
Additional spool pin
5 presser feet
Seam ripper
A Key screwdriver
Lint brush
Small and large spool holder
Spool stand
Cover
Foot control
Power cord
Instruction manual
Bonus Accessories
Quilting kit and extension table that includes: extra presser feet as mentioned before.
Working Buttons
On this machine the touch buttons are laid out very conveniently for you on the front.
Start/stop button is just above the working area, so you have the ability to use it or the foot control.
It has the reverse button next, to tie up any stitches, and on the display screen there is a button named auto-lock that also ties the stitch up underneath, so you might not have to use the reverse stitch.
Also on the display screen is the needle up and down feature, and then beside it is the speed control, and the buttons for the stitch display are next and very easy to use.
Janome Warranty
It has the 25-year limited warranty from date of purchase, 25 years on the mechanical parts, and then electrical parts for 2 years, and 1 year for labor.
It also says it's a 17-year unlimited warranty for Canadians, so you may want to check this out when buying.
Pros And Cons
Pros
Very easy to set up
Built to last
Light weight – Easy to take to sewing classes
Can sew thick materials – It has a strong motor
LCD screen is easy to navigate
A pleasure to sew with, all the controls at your fingertips
Perfect for quilt retreats
Cons
There could be tension problems with the thread, takes practice getting it right
Is The Janome 2030QDC For Beginner Sewers?
This model has all the features a beginner sewer wants to have in a sewing machine to start sewing, no matter if you're interested to simple hemming a pair of pants or if you want to sew up a new outfit, or learning to make a new quilt. As this model is so easy to set up and to start sewing, it will help any beginner to learn the skills!
Is The Janome 2030QDC Portable?
This Janome model has a lightweight that will help you to carry it around the house or carrying it to your sewing classes and workshops with no problem at all, it comes with a built-in handle to make it easier for you!
Can I Work On The Free Motion Quilting With The Janome 2030QDC?
Yes, this model has the drop feed dogs features that will help you to set it up in no time and start the free motion quilting on your new quilt, it comes with the bonus accessories, so you dont need to buy the special quilting feet at all.
Can I Sew Thick Textiles With This Sewing Machine?
This is not a Heavy Duty sewing machine, if you're planning to work with thick textiles on your projects, you might want to take a look to the Janome HD3000 Heavy Duty Sewing Machine
What Type Of Fabric Can This Sewing Machine Sew?
This is a versatile model that will help you to sew on many different types of cloths, from thin materials like cotton and silk, to sew on denim and corduroy, but you won't have any problem at all when sewing on knits and wool.
Closing Toughts On The Janome 2030QDC Sewing Machine
After reviewing this machine, we would highly recommend it as it is so easy to set up and work with, and has the features of many higher priced sewing machines.
It's a good machine for beginners or the more experienced sewers, and being built to last is actually a great investment for any sewer.
Most owners of this sewing and quilting machine love to work with it, and is highly recommended.
So if you're looking for a machine to fit your sewing needs, then this one could be it, and is worth the time to look at and give it a test run.
Wishing you all the best on your sewing projects – Happy sewing!