When you love to sew and make quilts, you want to have in your sewing room a sewing machine with all the features to work with ease on your projects, the Sparrow 30S has become the favorite for many sewers and quilters as it's a unit easy to set up and start sewing, let's take a look to our Ever Sewn Sparrow 30S Review.
The EverSewen Sparrow 30S is a computerized model with many helpful features.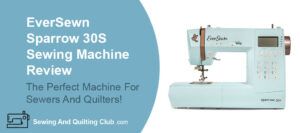 These sewing machines are designed to be easy to use for anyone starting out in sewing, or even the more experienced looking for an extra sewing machine to add to their sewing room.
The EverSewn models are not very expensive, and a bargain for all the features found in them. These sewing machine are based from a company in Chicago, Illinois, and made in Taiwan.
Our EverSewn Sparrow 30S Review
We will go through the features found on this sewing machine, and you can see if they are a match for your sewing projects.
How Many Stitches Available?
The Sparrow 30S has 310 stitch patterns built-in and 2 full alphabets 84 decorative stitches, 32 utility, and more.
The stitch chart can be mounted on top of the machine for easy reference and stitches are numbered for easy access on the computer screen.
Below the LCD screen are buttons to adjust the length and width of the stitches.
What Is The Length And Width Of The Stitches?
The maximum stitch width is 7 mm and the maximum stitch length is 4.5 mm.
How Fast The Sparrow 30S Can Sew?
The machine will sew at a speed of 850 stitches per minute maximum, and speed can be adjusted on the front of the machine to your own preference.
Another nice feature is the memory function, so you can save stitch combinations that you like to use often.
It also has an auto-lock button to sew locking stitches when needed or at the end of a stitch pattern and then automatically stop, as well as the reverse button to sew stitches in reverse for reinforcement.
Easy Drop-In Bobbin and Automatic Threading
To thread the bobbin is much the same as most sewing machines, first follow the guides on top and over to the bobbin on the spindle, then through one of the holes on the bobbin, and push the spindle to the right, then you will see an indicator on the screen that it's ready to be threaded.
You have a choice of using the on/off button or the foot pedal and when the bobbin is full it will stop automatically plus when you're ready to sew move the bobbin winder to the left.
This machine is top loading for the bobbin and the needle and presser foot need to be up.
Just drop in bobbin with thread coming off counterclockwise and follow the thread guides.
To thread down to the needle follow the arrows on the machine down to the needle, and you can use the needle threader and also leave enough thread to pull back under the presser foot with the needle thread and bobbin thread.
This model also comes with a thread tension adjuster, and can be adjusted for different fabrics.
How Many Presser Feet Come With The Sparrow 30S?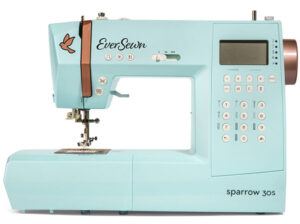 The Sparrow 30S comes with 9 presser feet to help you to work on different projects!
All purpose foot
Zipper foot
Walking foot
Satin stitch foot
Overcasting foot
Buttonhole foot
1/4 inch quilting foot
Blind hem foot
Button sewing foot
There is also an adjuster for presser foot pressure with this model. To change the presser feet use the lever behind the foot to release it, and put another in place.
Does It Come With Drop Feed Dogs?
The feed dogs on this machine can be raised or lowered by a switch at the back of the free arm to give free motion sewing when needed.
Does It Have A Free Arm?
For the use of the free arm just remove the accessory tray, and you can sew sleeves, pants, cuffs, etc.
How Many Control Buttons Does This Sewing Machine Have?
This machine has many up to date features, with the start/stop button just above the sewing area within easy reach of the fingers.
Thread cutter button next that cuts top and bottom thread.
Reverse button – for reinforcing stitches.
Out-lock button – for locking stitches.
Needle up/down button.
Presser foot tension dial – to adjust for different fabrics.
Thread tension dial.
Below the computer screen are the buttons for selection stitches such as utility, decorative, block letters, scrip letters and more.
Stitch width and length buttons.
Mirror button.
Twin needle button.
Elongation button-patterns 33 to 45 can be made longer by 5 times.
Edit button.
Memory button.
Speed limit lever.
Clear button.
Direct pattern selection button.
This machine has enough buttons for any sewist to find sewing a pleasure to do.
Lighting
With its LED lighting there is a good view of the working area and really nice when working with darker fabrics.
The Sparrow 30S Comes With Multiple Accessories
9 presser feet
Brush – Seam ripper
Spool pin felt
Spool holder
Edge/quilting guide
3 bobbins
Screwdriver
L Shaped screwdriver
Package of needles
Auxiliary spool pin
Soft cover
Extension table
Foot control
Power card
What Are The Specifications For The Sparrow 30S?
310 stitching patterns
850 stitches per minute maximum speed
7 mm maximum stitch width
4.5 mm maximum stitch length
16.5 inches long by 10.5 inches high by 6.5 inches wide
18.6 pounds in weight
Warranty
The warranty on the Sparrow 30S is 10 year limited on the mechanical parts, one year on electrical components and 1 year labor from the date of purchase.
Always advisable to check warranty when purchasing.
What Are The Pros And Cons For The Sparrow 30S?
Pros
Has a large amount of stitches to chose from.
Easy to set up and start sewing.
Selection stitches on the LCD display screen is easy.
Large variety of features to make sewing easier.
Not very expensive.
Cons
If you're new to sewing it might take a while to get used to the many features.
What Kind Of Fabric Can The Sparrow 30S Handle?
This sewing machine can handle well many types of fabrics to help you to work on your projects, from delicate fabrics as silk and cotton to thicker fabrics such as denim and courduroy.
Is It A Good Sewing Machine For A Beginner?
The Sparrow 30S is a great model easy to set up and start sewing that will help any beginner to learn the basic of sewing, it's easy to switch from one feature to another to work on different projects, I think any beginner will love to start working on his/her projects with this unit.
Is It A Portable Sewing Machine?
It has the right size and weight to be easy to carry around and it will be an excellent sewing machine to bring to your sewing classes and retreats.
Where To Buy The Sparrow 30S
You can find the Sparrow 30S on the specialty stores shelves and with the sewing machine dealer in your area.

Closing Thoughts For The EverSewn Sparrow 30S Review
You will usually only find this many features on the more expensive sewing machines, plus it has more positives than negatives to it.
Any sewer or quilter will find this machine to be very useful in any ones sewing room.
It's also light enough at 18.6 pounds to be taken to sewing classes, so if you're looking for a high performance sewing machine, then give this one a test run.
Wishing you all the best on your sewing projects – Happy Sewing.
You can read also:
How To Choose A Sewing Machine