The Brother GX37 Review, this is a lightweight, reliable and easy to use sewing machine, it comes with many handy sewing features. This is a great machine for anyone starting out to learn the skills of sewing, and also weighing just a little over 10 pounds, it can be taken to sewing classes or retreats.
It would also be a handy sewing machine to make a few face mast for your families protection while out in the community, and is also ideal for mending clothes or other sewing projects you might have around the home.
To find out if this sewing machine is right for you, we will mention the features it has to see if they are a match for the sewing projects you are doing.
Who Is The Brother GX37 Sewing Machine For?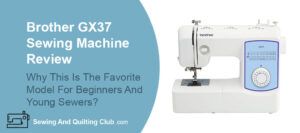 This is a compact lighweight mechanical sewing machine that comes with enough features that will help to anyone interested to learn to sew with a basic model they would love to have at home.
This is also a sewing machine that will be great for any young sewer who is interested to start making some easy projects or crafts.
The Brother GX37 Review
In a hurry? You can check today's price on Amazon here.
How Many Built-IN Stitches Does The GX37 Have?
The GX37 comes with 37 built-in stitches, which is enough for most projects around the home.
There are straight stitches for sewing seams, zigzag stitches, satin stitch for buttonholes, and decorative blind hem stitches for finishing the edges of a project, decorative and feather stitching plus many more.
The stitches are on the face of the machine and numbered for easy referencing, and the stitch selection dial is just below them.
When using the stitch selection dial, always raise the needle by the hand wheel first as there is a mark on the hand wheel for pointing up.
What Is The Stitching High Speed On The GX37?
The GX37 will sew at a speed of 850 stitches per minute, and the speed on this machine can be controlled by the foot pedal with some practice.
The maximum stitch length is 5 mm and the maximum stitch width is 7 mm, and both can be adjusted by dials on the top of the machine.
The GX37 also has the reverse sewing lever located for easy reaching, just above the sewing area, and used to reinforce and tying off stitches.
Bobbing and Threading
Bobbins for this machine are designed for the GX37, so bobbins from other models will not work properly.
To thread the bobbin is easy to set up by following the guides and putting the thread though the hole on the bobbin and then bobbin on the winder shaft which aligns with a spring, and leave 3 or 4 inches of thread exposed.
Move the bobbin winder shaft to the right and holding exposed thread wind the thread a few times using the foot controller, then cut exposed thread and finish winding the bobbin.
The machine is a top loading system for the bobbin, just raise the needle and presser foot, remove cover, and drop in the bobbin with the thread coming off counter clockwise, then follow the guides and have the thread come out from the cover and to the back of the machine.
To thread down to the needle also follow the numbered guides down to the needle, and use the needle threader to thread the needle, then you are ready to sew the projects you have.
This machine also has the thread tension dial which you might need to adjust when changing fabrics or thread.
It's best to test out the stitches on a scrap piece of fabric before sewing or adjusting thread tension.
Does This Machine Have The Free Arm?
Yes, and is easily accessed by removing the accessory tray by pulling it to the left, giving access to the free arm for sewing pants, cuffs, sleeves and other hard to sew areas.
Does This Machine Have Strong Lights?
As with most modern sewing machines, this one comes with an LED light giving a bright work area for your sewing, and very helpful when sewing darker fabrics.
How Many Presser Feet Come With The Brother GX?
This machine comes with a few presser feet, and more can be added for a price. Each presser foot is lettered for ID
Zigzag foot – (J)
Zipper (I)
Buttonhole foot (A)
Button sewing foot (M)
Blind stitch foot
Narrow hemmer foot
The instruction manual give the recommended foot for the stitch you wish to use.
Are Presser Feet The Snap-On Type?
Presser feet are easily changed by just pressing the button behind the foot releasing it, then lowering the presser foot lever onto the shank of a new one till it snaps in place.
Feed Dogs
The feed dogs system on this machine is the 7 point system giving your fabrics a smooth movement while sewing.
Control Buttons.
There is not an abundant amount of buttons on this model.
Just the stitch pattern dial
Reverse sewing lever
Stitch length and width dials
Thread tension dial adjuster.
On this machine's instruction manual you can also find the recommended thread size to use for the needle size.
Accessories Included.
6 presser feet
Accessory pouch
Seam ripper
Cleaning brush
Eyelet punch
Oval screwdriver
Darning plate
Needle set
Twin needle
4 bobbins
Extra spool pin
Ball point needle
Soft cover
Foot control
Power cord
Instructional DVD
Operating manual
Instruction manual for this machine is also on the internet.
What Are The Specifications For The Brother GX37?
37 built-in stitches
7 mm maximum stitch width
5 mm maximum stitch length
10.4 pounds in weight
16.26 inches long by 12.48 inches high by 7.01 inches wide.
6 presser feet
850 stitches per minute.
What Is The Warranty For The Brother GX37?
This machine has the Brother 25 year warranty limited, for the first year the whole machine is warranted, then for 5 year the circuit board is covered (which this model does not have), and the exterior is covered for 25 years.
Brother will repair parts, but you will have to pay any shipping cost, and is always best to check the warranty when first purchasing.
Read The Brother GX37 Manual here.
What Are The Pros And Cons For The Brother GX37?
Pros
Machine is easy to set up and use
Very portable for sewing classes or retreats.
Quality stitches
Built to last
Excellent for beginner sewers
One of the best positives is the price – extremely affordable!
Cons
No start/stop button
No automatic thread cutter
No needle stop position
FAQ For The Brother GX37 Review
Why To Buy The Brother GX37 Sewing Machine?
When you're looking to learn to sew but you're not sure if sewing is for you, you might be looking for a good quality machine with enough features to work on different projects without the need to break your bank account.
This is a good small mechanical model, designed and built with Brother Corporation quality with beginners in mind. It has enough features to work on different projects, easy to set up and start sewing and it comes with a really affordable price.
What Projects Can I Make With The Brother GX37?
This lightweight compact sewing machine comes with enough features to help you to work on a good number of projects for your home decoration, and for garment construction.
You won't have any problem at any time to sew a good number of face mask, or a new easy to sew project such as making a new tote bag or a simple dress.
Can I Make Quilts With The Brother GX37?
This sewing machine will help you to work on the piecing of any size top for a new quilt, but at the same time is best to think about the free motion quilting, it is important to know this is not a model designed for quilters, however, it comes with a darning plate that can be used to cover the feed dogs so you can work on free motion sewing or quilting.
When thinking about working on the free motion quilting, it will be better to work on small quilts only on this model, and you will need to buy separate the free motion quilting foot from this brand.
Where To Buy The Brother GX37 Sewing Machine?
You can find the Brother GX37 on the specialty stores shelves or with the sewing machine dealer in your ares or you can also check today's price online.

Read also:
Best Sewing Machine For Beginners
Our Final Thoughts On the Brother GX37
The Brother GX37 is a lightweight, portable and easy to use sewing machine that will help you to work on any project!
If you're looking for a long-lasting reliable sewing machine that would be great for the beginner or intermediate sewer, and at a very reasonable price, then we would suggest having a look at this one.
With the right amount of stitches and features, and being light and portable, this machine would fit well into any sewing room to do your home sewing projects, or even as a gift to someone starting their sewing crafts.
We might mention that any more advanced sewer would most likely prefer more features on a sewing machine, but for many the low price and the number of stitches and features on the Brother GX37 make it a very attractive buy.
Wishing you all the best on your sewing projects, happy sewing!