Check List To Start Sewing will give you a guide to some steps to follow when starting with your new hobby and get skilled.
Sewing is a hobby, many are just starting at, learning the skills every sewer must learn to make easy projects, to master the art of garment constructions.
When you're a beginner at sewing, you might want to start making some projects you might have on your to do list, but it's always better to know in advance what to do first and how to learn the basic sewing skills, then as you get skilled, you can make any project you want to make.
Check List To Start Sewing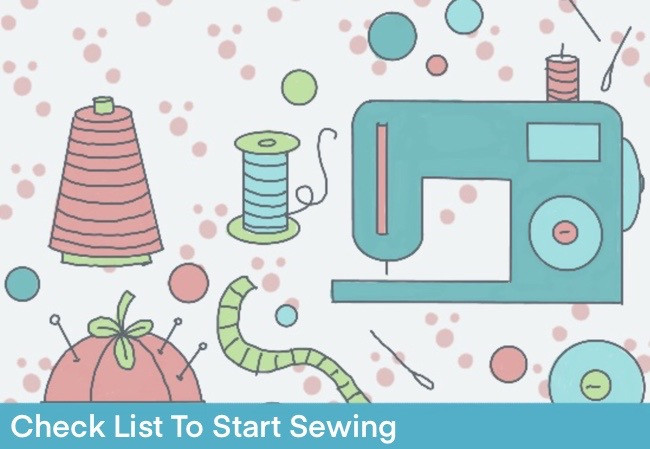 1. Get A Sewing Machine And Basic Sewing Tools
Whether you get a borrowed sewing machine from your mom, or a friend who loves to sew, or if you buy an affordable one, or you also can buy a second hand sewing machine. Getting your first sewing machine, doesn't mean you need to break the bank to buy a machine that comes with all the updated features, a basic sewing machine will help you to start sewing and make your first projects with it.
The sames goes with the sewing tools, if your mom or a good friend of yours loves to sew, they might have an extra pair of scissors, a measuring tape and some needles and pins you can borrow from them, this way you can give sewing a try out to know if this will be the right new hobby for you.
2. Get A Sewing Space At Your House
Some sewing projects can be done in a few minutes or a couple of hours, while other projects will require more time to work on them until you get them done, if you need to use the kitchen or the dining table for your new hobby, this means you will need to get everything set up and taking off from the place, every time you want to do some sewing.
If you can get a place where to keep your sewing machine, a work table and a place to keep your sewing tools and the fabric you will be working with in one place, that will be easier for you to sit down to keep working on your projects.
Whether you can get a place for your sewing or if you need to use the kitchen table, that will be all right, but you need to get organized to get everything set up and clean the space when you finish your sewing, with less work and in just a couple of minutes, by doing this, it will help you to stay motivated to keep working on your sewing projects.
3. Find A Sewing Mentor
Sewing is a skill that can be learned by anyone who wants to do it, but you need to be realistic, when you're a beginner, there will be many things to learn about cloth constructions and how to sew many different projects.
When you start sewing, you might have a wish list of sewing projects to make, some will be easy projects to make, and some will require from you to have some skills.
Making a napkin is an easy sewing project that any beginner can do, but making a new dress or a new coat, will require from you to have some knowledge on what type of fabric to use, how to use a sewing pattern and the sewing steps to follow, if you can find a sewing mentor, he or she will help you to start sewing some easy projects at the beginning and then you can start making some other projects that requires more sewing skills.
Soon you'll be making any sewing project you have on your to do list, and you will get as skilled as a professional dressmaker, but it requires time and work.
4. Start With The Basic Sewing Knowledge
How to set up and thread your sewing machine, how to do straight stitching and reinforce the stitching, how to make a buttonhole, all these skills are basic and you need to start with the basic of sewing, to have a good foundation on how to do the different steps that any sewing project have.
Take your time and be patient, to learn how to make a new dress, takes time. Many people quit sewing because they can get frustrated because some projects didn't finish as they should be, been there and done that, but when you have patience to learn the sewing skill you need, every project will be easier to make and you will understand how to do it.
When I started sewing, I was pretty young, maybe10 or 11 years old, my mom found a dressmaker willing to teach me, the first day the dressmaker taught me how to make a miniature blouse, stitched by hand and on paper! And she kept me working on making different pieces of clothing on paper and by hand stitching, after a few weeks working that way, she told me I could buy some fabric to make a pajama, she told me how to cut it and how to sew it on my own sewing machine, it was a success, the second piece I made with her was a dress for myself, and from there, I was able to do many different sewing projects.
5. Learn Different Sewing Techniques
Sewing is not about making new garments, there are many different sewing techniques:
Mending
Refashioning clothing
And the purpose of doing this is, to learn more about how a piece of garment is done, when you turn any piece of clothing inside out, you can see how each seam is done, and how the piece is made.
Learning more about the different types of fabric that are used to make a piece of clothing and what type of seam is done for its construction, will help you to learn more about how to sew a new garment.
Start with easy to do mending or refashioning a garment, from there you always can start working on more skilled sewing tasks, as changing a zipper, or make a smaller size.
6. It's Time To Start With Patterns
When you have learned enough sewing skills, you might feel more secure as you have done a few small projects well, and you feel skilled enough to try a new project on your own.
Sewing patterns are a great way that can help you to make a new garment, start with simple and easy to make paper patterns, learn about the sewing terms that you can find printed on these patterns and make your first project, continue with more easy to make easy projects, and try a higher level once you feel more confident of your sewing.
If you find a paper pattern with a higher skill level, always look for some help from your mentor, or you also can watch a video on how to make a similar garment.
7. Start Making Pattern Alterations
As you keep sewing, you will notice that you get more skilled, and you might want to try to use a paper pattern to make different garments, maybe you want to change the neck, making the same pattern but with or without the collar, making long or short sleeves.
From here, you will be feeling that you are starting to master your sewing, you feel more confident to make different garments and you can do the changes on a paper pattern to adjust your body shape perfectly.
8. Start Drafting Your Own Garment Patterns
Starting to draft your own paper pattern is a more skilled level any sewer can achieve, from sewing a picture of a piece of clothing you want to make, to draft the paper pattern from scratch. With this also comes that you will have now a good idea to the sewing steps you need to follow and give each piece a professional finish.
Wrapping Up
Learning to sew doesn't happen in one day, but anyone who is interested on starting to make your new garments, can do it. start with the basics, take your time to learn more and get more skills, find a good mentor, and keep sewing, soon you will feel confident enough to do any sewing project you want to make.
Related Posts:
Thanks so much for reading my blog today!