14 Sewing Things To Know For Beginners that will help you to know in advance, what is your new hobby about.

When starting to sew, many beginners might have in their mind that making a new garment, is something that will be easy and it will take a few minutes to get it done, and it will fit perfectly.
As a beginner sewer myself, I have to start with some easy to make projects, and I was lucky to have a good teacher, and I must say here, that I had to have lots of patience, as the teacher didn't allow me to make my first project, until I made a few projects by hand and on my sewing machine, made of paper.
Today, things are different, and you have the chance to learn from home, and you might not have been told to make a few projects on paper first, but today I would like to share 14 things that will help you to understand more, what is your new hobby of sewing.
Sewing Things To Know For Beginners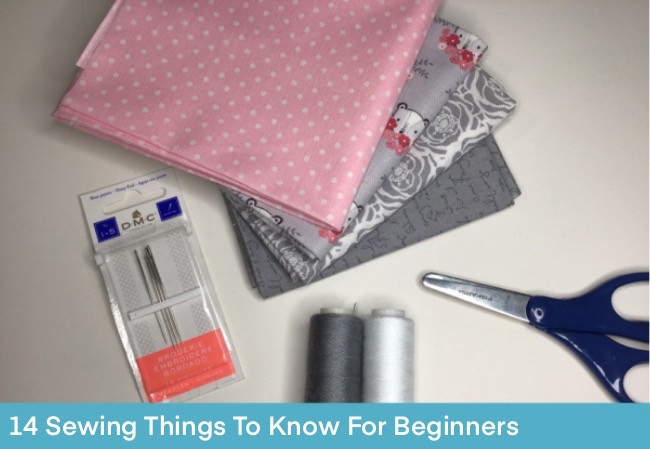 1. There Is A Needle Type For Every Fabric Type
When working on a new sewing project, you need to know in advance, what type of fabric you'll be working with, so it will help you to know, what type of needle you need to have in your sewing machine.
Every type of sewing machine needles are designed to help you to get better stitching on your projects, and it will also protect your machine to work as it should be.
When working on a new project, pay attention to what type of fabric you'll be using and get the right needle for that type of fabric, at the stores, you can find needle packages that comes with different colors to help you to know what type of needle each are.
2. How Often You Should Change Your Sewing Machine Needle?
One mistake some sewers used to do, its not to change the needle as often as it should be done, as a rule it should be changed for every new sewing project, or every 8 to 10 hours of sewing.
3. Don't Be Scared About The Fabric
There is something about starting to cut a new fabric, that will make some sewers to be afraid to cut the fabric, and that can happen not only to beginners, some advanced sewers used to be afraid also to start cutting a new fabric, but its just fabric, and if something goes wrong, well, its only fabric.
Most sewing projects you might be doing, will be normal sewing projects, and you can buy some extra fabric, just in case, this will give you some more confidence to make that first cut on any new fabric.
4. Every Sewer Makes Some Mistakes
Sewing is something where every sewer will make some mistakes, and this is normal, from cutting the fabric the wrong way, to not to have the perfect seam allowance, to any other mistakes that can happen when you love to sew.
Beginners and more advanced sewers will do more than one mistake, and you will learn this way how to do better on your sewing projects, you always can write down what mistakes happened when working on a project and how did you fix it, this way if you face a similar problem on another project, it will be easier for you to avoid doing the same mistake, and your sewing will be easier and better.
5. Every Sewing Project Takes Its Time
As a sewer, you'll be making many different sewing projects, and each one of them has its own skill level, and some will be finished in a few minutes, while others might require a few hours of sewing, or even a few days to get it done.
Don't push yourself to work hard on a project that will take a few hours or days to get finished.
6. Sewing Patterns Need To Be Adjusted To Your Body
When working on your sewing projects with a pattern you bought at the store, keep in mind to check your own measures and adjust the pattern, as you keep working on your projects, you will know what measures need to be checked on each pattern.
7. Sewing Machine Maintenance
Sewing machines are designed and built to work well for many hours, and your machine will last a few years, but it needs to get cleaned and oiled from time to time, the best way to keep your machine in the best conditions is to read your machine maintenance book, and you also can keep a diary to keep track how often you clean it and if it needs to be oiled or not.
8. Take A Break
Some sewing projects are easy to make, but some are a real challenge for beginners and even for the most advanced sewer, for this reason, take a break, don't sew for long hours and get so tired, it will work better if you take a break from time to time, when working on big sewing projects.
9. Sewing Is More Than Just Learning To Use A Sewing Machine
Sewing machines are not robots, where you put the fabric and they will do all the job, sewing is more than learning to work on your sewing machine, you need to learn some about making or reading a sewing pattern, learning about different types of fabrics, and how to construct a new garment.
Every beginner and medium level sewer, will learn more about each sewing project, you too, you will learn more sewing, cutting, tracing patterns, and finishing a garment, as you work on every sewing project you make.
10. Pining Your Sewing Projects Is Important
As you keep sewing, you will get more confident, and you will get to the point of skipping pining your projects, but as a sewer myself, I must say I also did that, and one moment when I started pining my projects again, I could notice the vantage of taking my time to pin the different parts when working on a sewing project.
I must add here that also spending time basting together, the different parts of a project, will help you to know in advance if the parts are set up the right way, and you will spending less time sewing those parts together in your sewing machine.
11. Test Everything
When working on a sewing project, test everything, pin or baste the different parts and test them. But also test everything like what type of thread should be used on the type of fabric you'll be working with, you always can test the thread on a scrap of fabric.
12. Pressing Is Important
You, as many other people around the world don't like to press their cloths, but when you're a sewer, you should have an iron and an ironing board in the sewing room, and take your time to press everything, and after every stitching you do, it will help the garment to get better constructed.
13. Grainline Is Important
Cutting garment's part the grainline will help the garment to look the right way,
Beginners will tend to set up all the garment pattern parts on the fabric, just the way they fit better on the fabric, but there is a reason why on every pattern part there is an arrow printed, to show how each piece should be placed on the fabric, the arrow means, it should be placed that way to go with the grainline on the fabric, this will help you to cut all the garment parts the right way.
14. Enjoy Your Sewing Journey
Sewing is not a race, every sewer should learn at their own pace, don't compare yourself as a sewist with your friends or other people that also do sewing.
When working on a project, take your time, go on your own pace, its not a race, and you will get it done, and it will be perfect.
Wrapping Up
Sewing is one of the best hobbies anyone can have, whether you make your new garments, home decoration items, or just because you like to create something new with a pretty fabric.
Your new hobby will help you to create anything you want to, and you will get skilled as you keep working on more projects, soon you will understand how a garment is done and how to trace a new pattern, take your time, learn from your mistakes, and keep at it, you will get better at it with every new project you make!
Related posts:
Thanks for reading my blog!