The Brother HC1850 Computerized Sewing Machine Review that comes with many features to make your sewing more enjoyable.
This is not a high priced model and would be an excellent buy for beginner sewers, as well as those with more experience.
The Brother sewing machines are known for being made of good quality, and the Brother HC1850 fits into that category.
Brother HC1850 Computerized Sewing Machine Review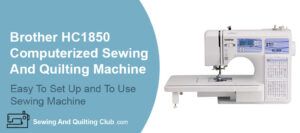 Brother is a well-known corporation around the globe for their high quality sewing machines that help beginners and more seasoned sewers to work on different projects as a hobby or as a business.
The HC1850 is a model easy to set up and it will help any beginner to start sewing from day one!
If you're a sewer who loves to have everything in a unit to work on different projects like garment construction, home decor and quilting, this model is for you.
A very affordable sewing machine, packed with the features you love to work with, this is a model to have in your sewing room and it will last for many years.
Brother HC1850 Features at a Glance
130 Built in stitches
170 stitch functions
Quilting functions
8 sewing feet
Sewing speed is adjustable
1 built-in monogramming font
LCD display
Top Loading quick set drop-in bobbin
Needle threader
Foot controller
LED light for working area
25 year limited warranty
Power cord
Detachable wide table
Flip stitch chart on front of the machine
Light weight – 10.14 pounds
850 stitches per minute
Built in carrying handle
The Brother HC1850 Review Detailed
This model is designed to help sewers to set up in a moment and start sewing on, it's easy to set up, thread the sewing machine, set up the stitch you'll be working with, and you can start sewing your next project
As you get your new sewing machine, you'll find in the box a DVD that will give you directions on how to get started, the directions are easy to follow and your machine will be ready to use in a minute.
When you get the Brother HC1850 out of the box, follow the instructions to plug in, and turn the power button ON, a LED light will bright the sewing space, wind a bobbin, thread the needle and you'll be ready to start sewing with it.
130 Built-in Stitches
It has 130 built-in stitches, which you will find is good for the beginner sewer, and also for the more experienced sewer.
There are 42 garment stitches, 14 quilting stitches, 94 decorative stitches, 12 heirloom stitches and 8 automatic buttonhole styles of stitches.
You can bring up the stitches on the lite LED screen with just the push of a button and select from any stitch, that's displayed on the flip chart on front of the machine.
It also has a built-in font for monogramming, and has the monogramming foot included with 55 alphanumeric stitches for the basic monogramming.
There is also a button on the front to press when you want to do a back stitch.
After stitch selection, there are also buttons to change the width and length of the stitches just to right of the LED screen.
Presser Foot
The Brother HC1850 computerized sewing and quilting machine, comes with 8 different feet.
Zigzag foot
Overcasting foot
Monogramming foot
Zipper foot
Blind stitch foot
Buttonhole foot
Quilting foot
Button sewing foot
Threading Your Sewing Machine
To thread this machine, you just follow the diagram on the top, down to the needle, and with its advanced needle threader you will be ready to sew in minutes.
To wind the thread on your bobbin is much the same, and just follow the diagrams on top, and you will be ready to sew in minutes.
You will also find on this sewing machine at the top a dial to set for the thread tension.
Top Loading Bobbin
The bobbin on this sewing machine is top loading, with a clear window to see when your thread is getting low.
There is a diagram on the window to show how the thread goes.
Feed Dogs
On the back of the machine is the feed dog position switch, allowing you to lower and raise the feed dogs.
Having them lowered is ideal for free motion quilters.
Light
The sewing machine comes with LD lighting to brighten up your sewing area.
Storage
There is a vinyl storage bag stored in the front end of the sewing machine, containing all the accessories for your sewing needs.
The machine also comes with an extendable table to give you a larger surface, and helps to keep your sewing or quilting straight when working on these projects.
Sewing Speed
On the front of the sewing machine to the left of the display window, there's a sliding lever you can adjust for 3 different speeds – low, medium, and high.
Once you select a speed then no matter how hard you press on the foot controller, your machine will only run at your selected speed range.
Also, just below the speed lever are 3 buttons you push, the top one is for raising the needle next is the back stitch button, then next is the automatic start, with each conveniently located to make your sewing go easy.
Accessories Included
Wide table for your larger sewing projects
Foot control for your sewing speed
Seam ripper
Screw driver
Cleaning brush
Extra spool pin
3 spool caps
3 bobbins plus 1 in the machine
Vinyl pouch for accessories
8 presser feet, one being the spring-loaded quilting foot
Double needle for hemming
The Bother HC1850 Dimensions
The machine is 16.3 inches long by 12.5 inches high, and 7 inches wide.
It weighs 10.14 pounds, so is lite enough to be easily carried to any projects, and has a built in handle.
The power to run it is 120 V and is designed for the North American market.
Its top sewing speed is 850 stitches per minute, and has the adjustable lower speeds.
Warranty
The Brother HC1850 comes with the 25-year limited warranty, and free technical support for the life of the product.
Always keep your receipt of purchase should anything go wrong.
Pros
130 stitches
Lite and easy to carry
Strong LED light
8 different sewing feet
Has good quilting abilities
Easy to set up
25-year warranty
Cons
Not ideal for the seasoned quilter
Needle threader not perfect
Is The Brother HC1850 Good For Quilting?
This model is good for a quilter beginner as it is easy to use and it will help the quilter to get familiar to start piecing a top and to make the first steps of free motion quilting on mini and small quilts.
This sewing and quilting machine comes with the Quilting Foot and it also has the drop feed dogs feature that will help quilters to work on the free motion quilting with ease.
The quilting foot can also be used to work on raw applications to add some textile look to any quilt.
However, it doesn't come with the walking foot, you'll need to purchase it separetly if you want to work on the quilting with this foot.
Is The Brother HC1850 Portable?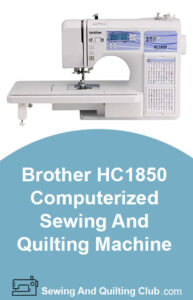 It's a lite model any sewer or quilter can carry with ease around the house or to the sewing and quilting classes.
It comes with a built-in handle that makes it easy to carry.
Closing
The Brother HC1850 is an excellent sewing machine, if you're starting out with sewing and quilting projects.
It is very affordable, and with only a few faults is well worth buying, so you might want to take a look at it or give it a test run, and it has all the features of a more expensive sewing machine.
Check Today's Price on Amazon.com
Check Today's Price on Amazon Canada
If you're looking for a sewing and quilting machine to work on the free motion quilting on big quilts, you can take a look to this Quilting machine