When you start to make quilts, the Best Rulers For Quilting will help you to make perfect and precise measurements before you cut any fabric.
As a quilter, you'll learn that by making perfect cuts on your fabric it will be the easiest way to work on sewing a quilt top and enjoy the moment as you work on your next quilt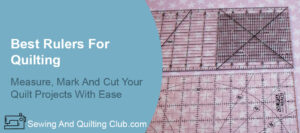 The sewing room of anyone who loves to make quilts won't be that happy place where you want to spend the whole day working on your next project without at least one quilting ruler.
Most of the quilting rulers are well-designed to help quilters to work with ease and efficiency, you might want to try one or two to find your favorite.
Best Rulers For Quilting
Aretza Quilting Ruler
This ruler will make easier the work to cut all those pieces of fabric you need to do to make your next quilt, with two patented 2 color grid lines, you won't have any problem at the time to work with light or dark fabrics.
This ruler will be a great tool to have in your sewing room for sewers and quilters as it has a great variety of measurements.
Well designed to help all level of quilters to make the perfect cut on any type of fabric, reversible use, double colored grid, thick laser cut that will help you to make the perfect cuts with the rotary cutter.
Check Today's Price on Amazon.com

Check Today's Price on Amazon Canada
Fiskars 6 x 24 Inch Acrilic Ruler
Fiskars is a brand well-known for its high quality scissors, the same high quality you will find on its well-designed rulers for quilting.
A good size of 6 x 24 inch ruler to have in the sewing room, it will help you to make any cut size for your next quilt.
Easy to handle and will give you good stability at the time to make those perfect cuts to make your work easier at the time to sew the quilt top.
You can make straight cuts for making strips or squares, but it has also the 30, 45 and 60 degree lines to help you to cut all types of triangles or cuts to make any type of patchwork stars
Made 3 mm thick for lasting durability
Check Today's Price on Amazon.com

Check Today's Price on Amazon Canada
Omnigrid Square Rulers Pack
As you keep working on making quilts, you'll known the value of having a square ruler that will help you to square all the blocks as you work to make the next quilt top.
Having accurate square blocks will help you to work with ease as you sew to make the top of any quilt.
Omnigrid offers you a value pack of 4 patchwork rulers of 2.5, 4.5, 6.5 and 9.5 inch square rulers, with the 90 degree lines to help you to square any block.
Check Today's Price On Amazon.com

Check Today's Price On Amazon Canada
What To Look For When Buying A Quilting Ruler
A good quilting ruler needs to be clear so you can easily see the fabric under the ruler while cutting the fabric. As the ruler is made of clear acrylic, it will help you to line up the fabric.
A ruler should not slip while making a cut, some rulers have some little circles that grab the fabric to prevent it to sliding around.
A ruler should be accurate – You'll be using the quilting ruler to cut from some tiny pieces of fabric to any bigger size, but each piece needs to be so accurate to make easier your work as you sew all those pieces of fabric to make a new quilt.
Basic Quilting Rulers
As a seasoned quilter, I've tried some different quilting rulers as I've been working on different quilts, lately you can find on the market all kind of size and shapes that will make your work as a quilter easier.
Starting with your new hobby to make quilts, it's a learning curve that every new quilter will try to work with a few different quilting rulers until you find one as your favorite or you might want to have one different ruler for the different shapes of blocks your quilt has.
Today you can find Quilting rules:
24 x 5 inches or 24 x 6 inches – These are the most well-known quilting rulers and most of the brands you can find on the market have accurate rulers that will help you to work better as you cut your fabric to make every quilt. I must say, these rulers are my favorites and I've been working with this type of ruler for many years.
Square Quilting Rulers – These rulers will make your work easier as they will help you to square any block before you make the quilt top. You can find the squares rulers from small size to 10 x 10 or even 12 x 12 inches
Small Quilting Rulers – You always can get one of these to help you to trace the 1/4″ seam on small pieces of fabric, or to trace straight lines on a small piece of fabric. A small ruler will always be handy to carry in your tote bag when you go to your quilting classes or workshops.
Quilting Rulers Frequently Asked Questions
Do I Need A Quilting Ruler To Make A Quilt?
It will help you to make accurate cuts on all the pieces of fabric that you need to make a quilt from.
How To Storage A Quilting Ruler?
Some quilting rulers have a hole on a corner so you can keep them on a hook or nail on a wall.
You can also look for a quilting rulers rack made of wood to storage the rulers on a table or on a desk.
How To Clean A Quilting Ruler?
I will suggest you to clean your ruler by using warm water with a few drops of a mild dish washing soap, use a soft cloth to rub gently, dry up the ruler with a soft cloth.
Dust your rulers occasionally with a soft cloth to keep the rulers in good conditions.
Closing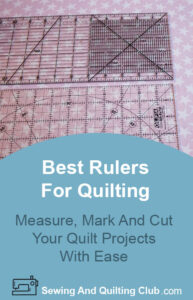 Quilting rulers will make your work easier and better, you'll be using them almost everyday as you work on your next quilt.
Measure, mark and cut fabrics for your next project will be done in no time when you have one or a few quilting rulers in the sewing room
I still remember those days before having a quilting ruler and I had to cut all those pieces of fabric with the help of a pair of scissors, it could take me a few days to finish this step before I could start sewing the first block to make a quilt.
Today, we all have the best quilting tools to make easier our job as quilters.
Having the right quilting tools and a good Quilting machine will help you to make the most amazing quilts!
How many quilting rulers do you have?