Best Tips For Buying A Used Sewing Machine can be in your plans when you want to start sewing without the need to put a lot of money on it.
There are many sewers who are looking to upgrade their sewing machine and they might want to find a buyer for their current models, you might be lucky to find a good deal and get a model with all the features you want to work on your projects. But also you need to take your time to find out more about the model you're just about to buy.
Taking your time to pay attention to a checklist when buying a used sewing machine will save you a headache and will help you to find a good used model to bring to your sewing machine work place.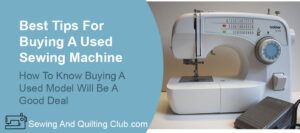 In the past, I've been sewing with new and used machines, I have no complaints at all from one or the other, they worked great every time I sew with them and they last for many years in my sewing room.
Today I will share some tips that help me to get a good deal always!
Buying A Used Sewing Machine
Best Used Sewing Machines To Buy
We all know old sewing machines were build with solid metal pieces and this is why you can still find some old models still working like day 1, but when thinking to buy an old sewing machine, you need to keep in mind most of these models have only straight stitching, if you plan to work on sewing projects only with straight stitching, then looking for an old sewing machine must be on top of your list.
If you're looking to work on different sewing projects that will require different features on the sewing machine, you might be inclined to look for a recent model, then your best bet might be to look for a well-known sewing machine for its quality:
Brother – Designed and build to last for many years and it's easy to find parts, prices are affordable.
Juki – Prices of these sewing machine tend to be higher than the rest but the reason for it is they are designed and built to work for many hours keeping always a great stitching quality and performance, it's hard to find one of their machines for sale as owners are happy with them, if you find one it s because the owner might want to have a model with updated features.
Bernina – Designed and built with high quality, these machines will last for years, and with many hours of sewing.
Janome – Some of these machines are still built with all metal parts, for these reason they have a higher price tag but they will last for many hours of stitching.
Is Buying A Singer Used Sewing Machine A Good Idea?
It's well-known by sewers around the world, Singer sewing machines are not the best to bring to your sewing machine room when we talk about the newest models. There are some reviews that talk about these machines saying they won't last for many hours of stitching.
So, if you're looking to buy a used Singer sewing machine, my tip here will be to take a look to what model it is, if you are looking to buy a first model like the Featherweight, these machines will be still working great today, but if you're looking to buy a recent model from someone, it's better to get an expert opinion and give it a test run and try all its features before you pay for it.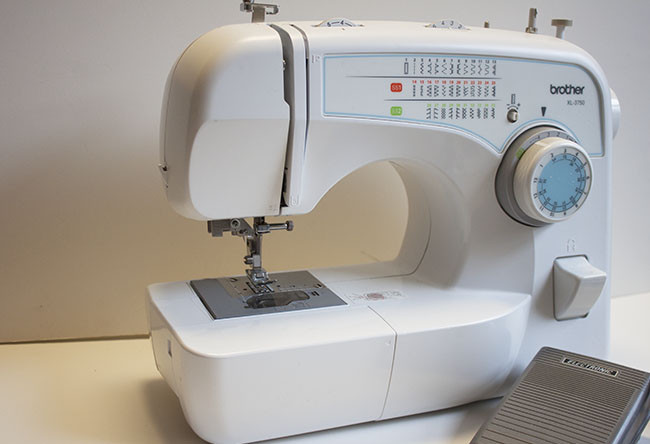 Where To Buy Used Sewing Machines
Buying a used sewing machine from a shop might be the safest idea, as they take the time to look to buy machines that work still good and they take their time to take a look inside of each machine to know how well they will work or if they need to be refurbished before they can be sold, to keep their clients happy with each sale.
When visiting a sewing machine shop in your area, you always can ask if they have some used models for sale and take your time to have a talk with the seller about each machine, from my experience they are always nice and they like to talk about the models they have in the shop, and they will show you how they work with different types of fabric.
You can also ask them if they will allow you to give each machine a test run to see how comfortable you feel while sewing with these machines.
Refurbished Sewing Machines
Many times when buying a refurbished sewing machine, you will be getting a good deal, as they are cleaned and checked for any worn parts, plus you will be buying an excellent machine at a lower price then its actual value.
When To Buy A Used Sewing Machine?
When you are getting interested in starting sewing, you might be thinking about getting a used sewing machine as a start to see if you really like sewing or not without the need to put a lot of money on it.
Another good reason to buy a used sewing machine is when you get the offer from a friend or from someone from your sewing circle that is interested to upgrade his/her current sewing machine, this might be a good opportunity to buy a machine you know on a good price tag.
What To Do When You Buy A Used Sewing Machine?
When you buy a used sewing machine from a friend or from a family member, you won't have any problem to ask them to show you how it works and ask for a test run.
When you know the person who has been working on it, you might have the idea about how the machine has been treated, I don't want to be rude, but it's best to say, all sewers are not the same, there are sewers who take care of their machines as the instruction book says and these machines will be at its best all the time.
If you get the offer to buy a used sewing machine from someone you know, and the machine has not been neglected, you might get a good offer and this can be a great opportunity for you to buy a good sewing machine or to upgrade for a better one.
If you don't feel comfortable with the sewing machine you get offered then it is always better to say no and avoid future problems.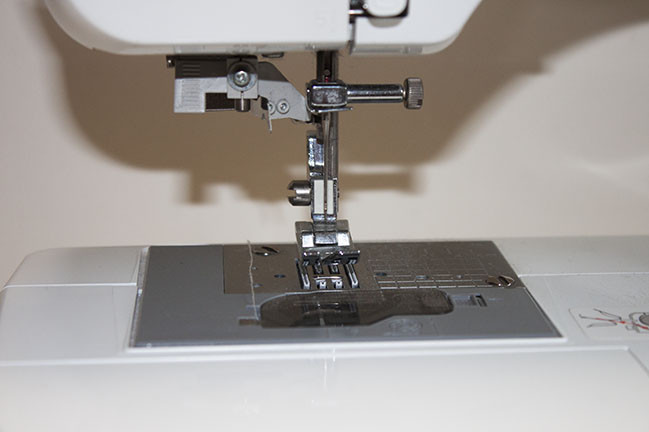 What To Do When You Bought A Used Sewing Machine?
If you buy a used sewing machine from a friend or from a dealer, you might have no problem at all to bring the machine home and start sewing.
But in case you got a good deal and you don't know what shape is the machine, when you get at home, don't plug in the machine and start sewing, if the machine has not been used for some time, it can get broken.
The first thing you should do is to take the machine out of its case and put it on a table, without plugging it in, with your hand move gently the hand wheel and see if it moves, if it does look as if the needle also moves, in case the hand wheel is stuck, put back the machine in its case and take it to the expert, they will know what to do and how to clean and oil the machine to make it to work again.
In case the hand wheel moves, keep that way and pay attention to the sounds it makes, if you hear it works smooth, take your time to clean the machine with a soft fabric and if it needs it, oil it and keep moving the hand wheel gently. You can thread the bobbin and the machine and see how it stitches as you move the hand wheel, if you see everything works good, you can plug in the machine and give it a test run.
Note: When you're not sure if the machine is good to start sewing with it, it's always better to have a second opinion from an expert or from someone who knows how sewing machines work.
Buying A Used Sewing Machine Closing Thoughts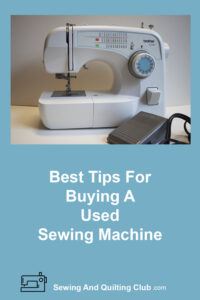 When you love to sew you might want the best sewing machine in your sewing room, but some times that is not possible as some machines prices are high, but once in a while you might get a good deal and you might buy it!
In the past I have bought a couple of sewing machines and they worked great for many hours of sewing on different projects, I was very happy to see how well these old machines worked and didn't have any complaints at all, I kept them for a few years and I gave them to some friends who were interested to start sewing and they had no complaints at all either.
The most important point here is to take your time to look at the used sewing machines and get to know all you can about it if you can talk to the owner, in case you don't, take your time to check every part of the machine and see how it works or ask for a second opinion.
In many cases, when you don't want to put a good amount of money on a sewing machine, buying a used one is a good option.
Sewing machines are designed and build to last for many years and hours of use, when you buy a well know brand you know you're getting a high quality machine.
Happy Sewing!
You can also read
Best Brother Sewing Machines – In case you want to buy a used Brother sewing machine, you can take a look to what are the best models to have in the sewing room.