When you love to sew, you want to find the best sewing machine that can last for many years and with the right features to work on many different projects, you know you need to spend some money on it, but it's always a good idea to set a limit, today I share why I think the Jacome HD300 is the Best Sewing Machine For Under US $500
Why the Jacome HD3000 is the Best Sewing Machine For Under $500
Built strong and tough to last for many years, with the essential features to work on many different sewing projects, garment construction, home decor, and outdoor items, you'll be working with confidence with this model as you know it is designed to work on light and heavy textiles.
This sewing machine is easy to use, portable, and you can work on it for repairing clothes, sewing simple projects, the Jacome HD3000 is designed to provide the reliability and functionality you need.
Jacome HD3000 Overview
Stable design weighing 24.4 pounds
18 built-in stitches
1 step automatic button-hole
Solid metal frame
Auto-needle threader
860 Stitches per minute
4 mm stitch length
6.5 mm stitch width
Free arm
Dimentions – 16 x 11.3 x 7.2 inches
Warranty – 25 years – limited
Adjustable presser foot pressure
Snap – on presser foot
7 included presser foot
Reverse stitch button
Push-pull bobbin winding
Drop feed dogs button on the back of the machine
Overall Performance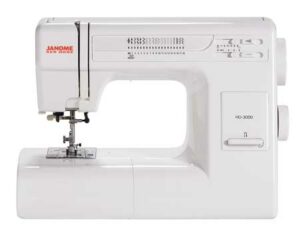 The Jacome HD3000 is a well-made sewing machine that will perform excellent on all your sewing projects, it's a real workhorse. This sewing machine has a great performance record so you can compare to other models from different known brands.
You can work with this model with all types of textiles with no problem at all including denim, canvas, and other thick textiles, as it is built with a heavy-duty metal frame and sturdy construction.
You can work on it with the trust that it will work great even when you sew on its maximum speed. The Janome HD3000 has a 1.0 amp motor that will help you to work with ease even with thick materials such as denim, canvas and some other outdoor textiles.
But at the time to work on light textiles, you don't need to worry as it's also designed to work flawless even with thin fabrics.
It's not a computerized sewing machine, but you won't miss this feature as the Jacome HD3000 is made to work with ease on all your sewing projects you have in mind to work on.
It's a mechanical sewing machine that you can trust on and it will last at its best for many years.
Ease Of Use
At the time to talk about how easy it is to work on the Jacome HD3000, you can relax as it's designed to be easy to use for the beginners, they will have no problems to learn the sewing skills with this model and grow with it.
But don't think this is a model made only for beginners, more experienced sewers also point this model as the one to have in the sewing room as it's efficient to work with on many different sewing projects.
It's one of the easiest model to unbox, and you won't have any problems to read the manual and to set it up to start sewing with it.
Stitch Dial Selector With 18 Built-In Stitches
If you are like me, you might like to have a stitch dial selector instead of a computerized screen to select the stitch you want to work with, this model has a large and easy to read dial, where you can select everything, the different stitches types and the thickness of the stitches.
Easy Needle Threader
You won't be spending tons of time trying to thread the needle on this model, it comes with a built-in needle threader and the needles is threaded front to back.
Thread Trimmer
You won't need to spend time looking for a pair of scissors, as it comes with a thread trimmer.
Great Winding Bobbin System
This model comes with a fantastic automatic winding bobbin system that will wind the thread neat and evenly for you
Big Storage Compartment
When you love to sew, you need to get a few accessories to work on different sewing projects, you might love the big storage compartment on this model, you'll get all your accessories in one place.
Hard Case
Jacome include a hard case with this model, you can keep your sewing machine covered to protect it from dust and lint, this cover is designed to allow the machine handle to come out, so you can carry your sewing machine covered, this is not the ideal way to carry the unit to your sewing classes and workshops, but I'm sure you can take the measures to protect your sewing machine every time you need to carry it with you.
Light Bulb
It's bright enough for the sewing area, and you won't have any problem at sewing time to work with dark fabrics.
A Few Features
It's not a rich features sewing machine, but Jacome has built a trustable model built with the essential features beginners and more experienced sewers want to have in a model to work on different sewing projects.
It might not have all those hundreds of different stitches other models can do, but it works well on the essential features it has.
Positives
Easy to use
Runs smoothly and quiet
Has excellent stitch quality
Fairly light to carry to sewing classes, workshops and trips
Negatives
No extension table
No Spring Quilting Foot
Best Sewing Machine For Under $500
After reading a few reviews about the Jacome HD3000 and talking with a couple of friends who have this model and who allowed me to test it, I can say I find this sewing machine is solidly well-built with the essential features beginners and more experienced sewers need to work on many different sewing projects with success.
If you need a workhorse with the basic features and stitches to work on different sewing projects, look no more, as this sewing machine will last on its best for many years and it's also under the US $500 price limit.
Check Today's Price On Amazon.com
Check Today's Price On Amazon Canada
You can check also which sewing machine I recommend for under US $200