The iron has come a long way since my early days of seeing my mom heat the old steel iron on the wood burning cook stove, and using a wooden ironing board, today I will share the 11 Best Iron For Sewing And Quilting for 2019
Today technology has taken over to make life a little easier in the ironing business.
You can find an iron in every house today, as there are dozens of different models on the market where you can pick one for you, but the point is not every iron on the market will work the best for a sewer or for a quilter.
People who love to sew or to make quilts have different needs at the time to work with an iron, it needs to smooth out all wrinkles and give perfect creases.
The 11 Best Iron For Sewing And Quilting
Best Iron For Sewing And Quilting
I have created a list of irons that sewers and quilters have in their sewing room.
1. This iron was made thinking on sewers and quilters, it uses i touch technology, which means that you simply touch the handle, and the feet that it rest on will retract into the iron, and you are ready to iron.
Once your hand is removed from the handle the feet descend preventing any burning of your fabric.
It has 1800 watts of power with horizontal or vertical burst of steam, and an automatic shut-off, with the tank holding 12,7 ounces of water, and is filled from the side.
The iron will glide over your fabrics, and comes with a 12-foot cord so that you are not always looking for a plug right next to your ironing. Check today's price on Amazon
---
 2. This is another excellent iron with 1700 watts of power, and will give you professionally quality results to all your fabrics.
It has a stainless steel sole plate with 400 micro holes for an even steam spray, and the sole plate is rounded at the back for an easy and smooth back and forth while ironing.
It will iron out wrinkles very easily with it's powerful burst of steam, and when held upright you can touch a button giving an extra long burst of vertical steam.
There is also an anti drip system on this iron to prevent leaking or spitting at low heat settings.
This iron also has a cleaning system to flush out mineral deposits that can build up over time giving the iron a long life span.
For safety, it has a 3 way automatic shut-off so it will turn itself off after 8 minutes of being left unused in the upright position, and 30 seconds in the horizontal position or if it is tipped over.
It also comes with a 12.7 ounce water tank, and an 8-foot electric cord. Check today's price on Amazon
---
 3. This iron will work in any direction with it's dual curved tips on the sole plate, which is made out of anodized aluminum that is scratch proof.
It has an anti-calcium system to prevent the build up of minerals for a longer lasting iron.
Also, comes with the anti-drip system which prevents water from spitting out during ironing, and if the temperature of the sole plate is low the steam will automatically stop, and if horizontally water will not leak out.
It has a button to give your fabrics an extra spray of steam for hard to get out wrinkles.
When the iron is left in the upright position it will automatically shut off after 10 minutes, and if tipped over or not moving it will turn off in 60 seconds.
It has a 1700 watts of power, and a 10 ounce water tank, with a 10-foot cord.
The average sole plate is about 25cm, and this one is 28 cm long to get your ironing done a little faster. Check today's price on Amazon
---
 4. This professional steam iron has a heavy-duty sole plate of stainless steel, and will deliver 30% more steam to get rid of wrinkles in no time.
This one also comes with the automatic clean system to remove any mineral deposits that can build up over time, so that the iron will keep working like a new one.
It has variable controls for the steam and the temperature making it easy for you to adjust both for your own preference on what ever fabric you are ironing.
As a safety factor this iron will shut off if not in use for 30 seconds on it's side or sole plate, and 8 minutes when the heel is at rest.
The iron can also be used to give touch ups to clothes or curtains right on the hanger with it's vertical steam feature.
This iron is also designed with a handle that will fit your hand for added comfort while ironing. Check today's price on Amazon
---
 5. This iron has a sole plate made using Durilium technology that will glide over your fabrics to be ironed.
The steam holes on the sole plate are on the sides, the tip, and center for an even distribution of steam when ironing, and the water tank will hold 270ml, and also has the anti drip function.
With it's self-cleaning feature this iron should last, giving it a long life span.
A safety feature of this iron is if it is left alone it will automatically shut off in 30 seconds when flat or on it's side, and when upright it shuts down in 8 minutes with a blinking warning light also provided.
You will find this iron very easy to use with it extra wide water filling cover, and easy to read heat dial with a temperature indicator light.
With it's 1600 watts it is also able to steam curtains or clothes that are hanging vertically
For an iron with all these features, and a low price tag, this is a good buy. Check today's price on Amazon
---
 6. This 1700 watt steam iron has a Titanium infused sole plate with over 300 holes in it for the steam to make your fabrics wrinkle free.
It has a temperature control button, and you can adjust the steam also, plus another button for a blast of steam.
The handle on this one is very comfortable, and comes with a 10-foot cord.
So if your looking for a professional steam iron, this one has all the new technology at a very reasonable price.
---
 7. This iron is 1500 watts, and will heat up very quickly.
With it's Durathon nonstick sole plate that will last a long time, and a superior stream of steam wrinkles are easy to remove from any fabric.
It also has the 3 way shutoff for safety, and an adjustable steam control with the ability to blast steam out when vertical for doing curtains or any hanging garments.
Also, comes with the anti drip, and self-cleaning features.
For the price this is an excellent iron to purchase with all it's features. Check today's price on Amazon
---
 8. This 1800 watt iron comes with a digital LCD screen on it's top with 9 preset modes. You can select the type of fabric from nylon, silk, wool, cotton, etc. so that you know that you will have the right heat temperature every time.
The sole plate is composed of double ceramic, scratch resistant that's harder than stainless steel for an even heat on the sole plate.
With it's safety features it will automatically shut off if not in motion after 30 seconds when on it's flat, and 8 minutes when left standing vertical.
It also has the self-cleaning system for a long life span, and when the temperature of the iron is low there will be no water drips on your ironing.
So for a very reasonable priced iron with all the technology, then this is a great buy. Check price on Amazon
---
 9. This iron is German engineered, and designed to last with it's 1700 watts of power.
A stainless steel sole plate will glide easily over all fabrics, and the positioning and size of the steam holes give maximum amount of steam when required.
It has the variable temperature control to set for different fabrics, and a steam control also, along with the anti drip feature, and the self-cleaning to prevent mineral build up.
There is the automatic 3 way shut off for a safety factor, 30 seconds if the iron is on it's side or on the flat, and 8 minutes if left vertically.
Also, has the vertical steam ability for curtains or hanging clothes.
So for a quality iron that is built to last, and at a very reasonable price then check this iron out. Check today's price on Amazon
---
 10. One of the best mini irons on the market, when sewing you might like to keep working on small sewing projects for home decor, making children clothing or quilting, then you would like to have in the sewing room a small iron to work with.
If your into traveling then this mini steam iron is small enough to pack along with you, and only 3.1 inches high by 2.9 inches wide, and at 5.3 inches in length, and a 7.5 foot power cord.
Its 1.4 ounce water tank takes 15 seconds to heat up with a measuring cup provided, and has a one touch steam control, and 3 temperature settings for your different fabrics.
It is designed with dual voltage 100 and 240 volts for overseas travel, and comes with a travel bag for easy packing.
The handle on this iron is designed not to slip in your hand, for an improved grip.
So if you do a lot of traveling and require a small iron, then give this mini steam iron a try, and for the price and a 2-year warranty it's a bargain. Check today's price on Amazon
---
 11. You might know Maytag brand for the washers and dryers, but the brand has worked in the last years to come out with a trust-able iron that works better and avoid the often leaking problems sewers and public in general have with other well-known iron brands.
This brand has also thought to keep a reasonable price for the iron, the Maytag Seep Heat Steam Iron is on the market now and it may become one of the favorites to have in the sewing room!
The Maytag M400 features a stainless steel iron sole plate, which it makes this iron to last long in time even if you often work with it.
This iron heats fast and keeps the correct temperature, and it will help you to remove all creases, the steel plate also prevents heat loss and it doesn't stick to fabrics. Check today's price on Amazon
---
What is the best iron to have in the Sewing Room?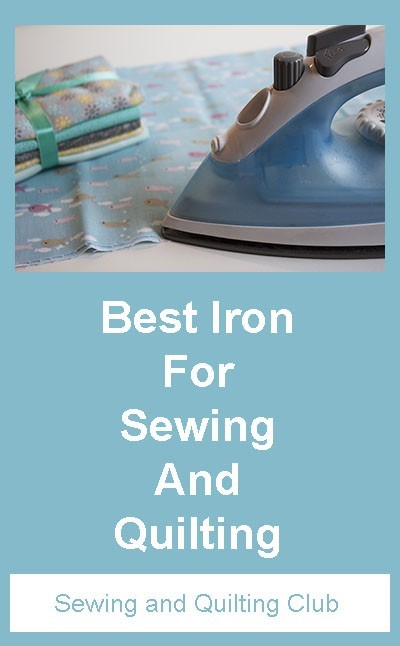 Whether you have or not a sewing room but you love to sew, you need to have an iron on your work place.
A good iron will help you to press any fabric before you start making some cuts with the scissors, or the rotary cutter, by pressing the fabric it will help you to lay it flat on the table and any measure and cut you make on, it will come up perfect and it will help you to get better results at the end.
As you keep working on the sewing project, you'll keep pressing the piece to flatten the seams.
I will recommend to you to take sometime to write down a list of your sewing projects and by doing that you'll know more about why it is important to have a good reliable iron in the sewing room everyday.
Do you need a regular iron, a light or heavy iron or an iron I can pack in my bag for travel?
When starting on the wonderful new hobby of sewing, first thing you'll notice every sewer do is to sew on any seam on a sewing project and press it, for this reason there's no doubt you need an iron in the sewing room and you might need even two.
The first thing you need to ask yourself will be if you want to work on making garments for yourself, for your family and even for starting a business, then you'll need a good iron to often use as you keep working on any sewing project, no matter if the project is a new tablecloth or a night dress.
If you're new to sewing, you might have in your mind to attend to a sewing class or workshop, then you'll need a small iron (second iron to have in the sewing room) so you can pack it easily in the bag and take it to the sewing school.
When you start making quilts, you'll find yourself working with lots of small pieces of fabric, this is another reason to have a small iron in your workplace. But as you work on making the quilt to finish the top, it will be easier for you to work on a regular size iron.
You don't need to buy both irons at the same time, start with a regular size iron and if you sign up to a sewing class or if you start working on making a quilt, then you can buy the small iron.
Closing
If your out iron shopping then I hope this article will help you to pick out some of the better irons on the market today.