When you're looking for a model that's easy to set up and start sewing and light enough to carry to your sewing classes or on a trip, you might want to take a look to the Baby Lock Zest Sewing Machine Review, we will tell you why we think this is a unit you might want to bring to your sewing room.
The Baby Lock Zest is the perfect sewing machine for beginners, and if you want to take it to sewing classes, its light enough to move easily. And if you want to take it on your travels, then this basic mechanical sewing machine is the one, as it's very reliable and made to last.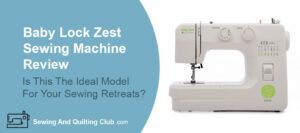 It doesn't have a huge variety of features but just enough to give your smaller sewing projects their finishing touches.
This is not a high priced sewing machine, and almost any sewer could afford to have this one in their sewing room, just for a spare.
Who Is The Baby Lock Zest For?
When you decide to give sewing a try, you want to find a nice and reliable sewing machine that is good for beginners, the Baby Lock Zest is a nice model for everyone who is looking to learn to sew. It comes with enough features to help you to work on your first easy peojects, but it's also a good model to take with you to sewing classes and on a trip.
Baby Lock Zest Sewing Machine Review
Below we will run through the features that you can find on this model.
15 Built-In Stitches
The Baby Lock Zest comes with 15 built-in stitches, and includes the four-step buttonhole.
There are straight, zigzag, and stretch stitches, and they can be selected by the selector knob on the front of the machine.
The stitches are displayed on the front and each is lettered for convenience.
You can also select the stitch length with the second knob going from 1 to 4, as the maximum stitch length is 4 mm, and the maximum stitch width is 5 mm.
On the stitch display are a row of green stitches which are the stretch stitches, and on the length dial move it to SS then using the selector dial pick out the lettered stitch you want to use.
The machine has a reverse stitch button just below the stitch display, and when you press it and push the fast pedal so it will tie off the stitch.
Bobbin And Threading
To thread the bobbin follow guides on top, and put thread into bobbin and push winder to the right to engage it.
Then pull the hand wheel at the end of the sewing machine to the right to disengage the needle and wind the bobbin to full and it will stop, then cut the thread and install bobbin in the machine, and also push hand wheel back to the left to sew.
To load the bobbin you first have to remove the accessory drawer pulling it out from the end of the machine, then open the bobbin door and put the bobbin in the bobbin case with thread coming off the right or clockwise then insert into case until you hear it click into place.
You have to turn the hand wheel one full turn to bring thread up then bring both threads to the back of the machine.
To thread the machine follow the numbers down to number 4 and into the guides, then thread the needle from front to back.
There is a hand thread cutter at the back above the needle area.
The machine also has the thread tensioner adjustment on the front and this dial goes from 0 to 9 with 3 to 5 being the adjustment for most sewing.
Feed Dogs
For the feed dogs on this machine a cover plate is provided to cover them for free motion quilting or sewing, and the feed dogs give a smooth flow of the fabric when sewing.
Lighting
The lighting on this model shines directly down onto the needle working area.
Free Arm
With the removable of the accessory tray you have access to the free arm for sewing cuffs, sleeves, pants and other hard to sew parts of your projects.
Operating Dials.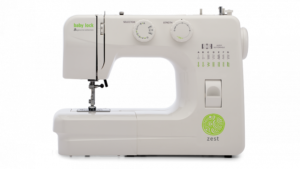 This sewing machine has 2 dials on the front
One for selecting stitches
A second one for adjusting stitch length.
Reverse stitch button – below stitch chart and by pressing it and push foot pedal it ties off the stitch.
Thread adjust dial on front.
As you can see there is not many buttons to operate to start sewing.
Presser Feet
There are 4 presser feet with this model.
Blind hem foot
Sliding buttonhole foot
Zigzag foot
Zipper foot
To change the presser feet, just press the latch behind the foot, and it drops off, then snap a new one on.
Accessories For The Baby Lock Zest
3 Bobbins
Darning plate
Needle package
Seam ripper
Presser feet
Spool cap
Foot Pedal
Power cord
Instruction Manual
Screwdriver
Specifications For The Baby Lock Zest
15 Built-in stitches
5 mm maximum stitches width
4 mm maximum stitch length
12.5 inches high by 15.5 inches long by 5.75 inches wide
13 pounds in weight
Pros And Con
Pros
Ideal for any beginner sewer
Has free arm and accessory drawer
Features are conveniently situated
Lightweight – easy to take to sewing classes or even on trips
Great for basic sewing projects
Low priced
Cons
No automatic thread cutter
No automatic threader
Is The Baby Lock Zest Good For Beginners?
This is an easy to set up model and easy to switch from one feature to another, this is a mechanical sewing machine that any beginner will love to learn to sew with it.
It comes with the basic features that will help any beginner to start sewing their first easy projects.
What Type Of Projects Can I Make With The Baby Lock Zest?
This is a mechanical model, it's one of the smallest from the Baby Lock Sewing Machines, it will help you to sew small and easy projects. It might not be the ideal sewing machine to bring to the sewing room if you want to work on big projects or if you want to use thick materials such as denim or canvas.
Is The Baby Lock Zest Good For A Back Up Sewing Machine?
If you're intermediate or an advanced sewer and you own one of the top line models, you might be looking for a smaller sewing machine to have it in the sewing room as a back up unit.
This model will be ideal for you to take it to your sewing classes or retreat when you don't want to travel with your main and expensive sewing machine, after all, it might be a top unit and it's better to keep it in one place.
Can I Make Quilts With The Baby Lock Zest?
This is a small unit, and you need to keep in mind it will help you to work on the piecing of any top for a quilt, but at the time of thinking on doing the free motion quilting, it will work OK on small or medium size quilts, but I won't recommend it for a big quilting project.
This model has not the drop feed dogs system, it comes with a darning plate that will help you to work on the free motion quilting, but it doesn't come with the spring quilting foot, you need to purchase it apart.
If you're looking for a model to make big quilts, you might want to take a look to the Baby Lock Jubilant Review here!
Where To Purchase The Baby Lock Zest?
You can find this model on the selves of specialty stores or with the sewing machine dealer in your area, but you can also find it online, you can check today's price on Amazon.
Baby Lock Zest Sewing Machine Review – Our Final Thoughts
For an entry level sewing machine, the features are conveniently located and the pros for this machine outweighs the cons.
As an extra sewing machine to have in your sewing room, this one is ideal and with its low price tag is excellent for any beginner sewer.
It's built strong enough to give years of sewing for your smaller sewing projects.
If this sewing machine fits into what you are looking for then take it out for a test run, and it would even make a good gift for any young sewer.
We wish you all the best on your sewing projects – Happy sewing.