When looking for a model with all the features you need for your sewing and quilting projects, you might want to find a unit that works great on different projects to make, so let's take a look to the Baby Lock Presto II Sewing Machine Review
The Baby Lock Presto II is a computerized quilting and sewing machine with enough features to make all your sewing projects easier.
There are many stitching options and alphabet styles to bring out your creative sewing abilities on this machine.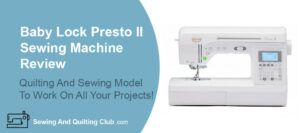 The bright LCD screen which is 2 1/2 inches by 1.3 inches lets you chose the stitches you want and even add specialty stitches for any unique creations that you can come up with, plus with its memory key you can save any stitch pattern.
The keys for the computer screen are touch sensitive, and can be adjusted for the pressure you use on them. You will find the sewing machines from Baby Lock to be a good quality and give you years of sewing.
Baby Lock Presto II Sewing Machine Review
Below we will mention some of the features found on this model.
100 Built-In Stitches to chose from.
This machine comes with 100 built-in stitches to chose from, you will have no problem to find a stitch for any project you want to make with this model.
You will find a variety of utility stitches, zigzag stitches, decorative, stretch, quilt stitches, applique, and patchwork and many more for all your sewing needs.
The maximum stitch width is 7 mm and the maximum stitch length is 5 mm and both can be adjusted by the keys under the computer screen.
The Presto II will sew up to 850 stitches per minute, and has a quick reference stitch chart under the top cover with each stitch numbered.
Just below the LCD screen there is the character stitch key, and a decorative stitch key, a utility stitch key and a preset utility stitch/saved pattern that will retrieve a saved pattern.
Bobbin and Threading
To wind the bobbin on this model follow the diagram on top, and have the thread come off the bottom of the spool then follow the dotted lines to the bobbin wrapping thread around it 3 or 4 times, and cut the thread on the cutter and lock bobbin then press foot pedal and bobbin will stop when full.
The Presto II has the top loading system for the bobbin, just remove the cover and drop the bobbin in with thread coming off counterclockwise then follow the guide and cut the thread, close the cover and it's ready to sew.
To do the threading, just follow the numbered arrows down to number 8, and then use the advanced needle threader which is very easy to use, and can be done with one hand.
The machine also has the automatic thread cutter on a conveniently located button, and also below the LCD screen.
There Are 7 Presser Feet Included.
Zigzag foot
Monogramming foot
Overcasting foot
Zipper foot
Blind stitch foot
Button fitting foot
Buttonhole foot
Each foot is lettered and are very easy to change with the snap on and button release method.
When a stitch is selected the LCD screen will show which presser foot is recommended. You can also adjust the amount of pressure on the presser foot with a dial on the top back of the sewing machine, and it goes from 1 to 4 with 3 being the standard pressure.
Feed Dogs
The feed dogs on this model move the fabric very smoothly while sewing, and can be lowered with a switch at the back, giving free movement for quilting or sewing.
Free Arm
By removing the flat bed attachment with the accessory tray will give access to the free arm for sewing cuffs, sleeves, pants, etc., and it just pulls off the end of the machine.
Control Buttons
Start/stop button, located just above the needle area, it changes color with green meaning it's ready to sew, and red means unable to sew, and orange for when winding the bobbin, or when the bobbin winding shaft is moved to the right.
Reverse stitch button – will sew reinforcement stitches at the beginning and end of a run.
Reinforcement stitch button – used to sew a single stitch repeatedly then tie off.
Needle position button – to raise and lower needle and pressing it twice sews one stitch.
Thread cutter button – cuts the upper and bobbin thread when you finish sewing – a very good feature to have.
Sewing speed controller – to adjust your sewing speed, and foot controller will only reach the preset speed you set it at.
These buttons are all handily located for easy use.
The operating keys for the LCD screen are all located just below the display, and clearly marked for what each one does, and if a reference is needed, check the diagrammed instruction manual, which is always best to go over anyway to get familiar with the sewing machine.
Also, not forget the hand wheel which is at the back, and presser foot pressure dial on the top, and feed dog switch at the back.
Lighting
The Presto II has a strong light for the sewing area, and the LCD screen is very bright for easy viewing.
Accessories Supplied With The Presto II
7 presser feet
Soft cover case
Needle set
Twin needle
Screwdrivers
4 bobbins class 15 type
Spool caps
Seam ripper
Eyelet punch
Horizontal spool pin
Thread spool insert
Spool net
Lint brush
Foot pedal
Power cord
Instruction manual
Specifications For The Baby Lock Presto II
100 built-in stitches
850 stitches per minute
7 mm maximum stitch width
5 mm maximum stitch length
18 pounds and has carrying handle
8.3 inch workspace
Warranty
The machine has a 25-year limited manufacturers warranty with 10 years on parts, 5 years on circuit board, 5 years on electrical, and 1 year labor plus always check the warranty when purchasing.
The Pros And Cons For The Baby Lock Presto II
Pros
Is an excellent quilting and sewing machine
Has the free arm
All the modern up to date features
Easy to set up
Good size workspace
Cons
Has a small learning curve, so not best for beginner sewers
Price can be high for some sewers
It doesn't come with the quilting feet you need to work on your quilts
What Type Of Projects Can I Make With The Baby Lock Presto II?
This is a sewing and quilting machine, you can work with it on any project you want to make, garment construction, home decor, crafts and quilts.
Can I Make Quilts With The Baby Lock Presto II?
Yes, this sewing machine will help you to make any size of top quilt with ease, and it comes with the drop feed dogs system that will help you to work on the free motion on your quilts, however you need to consider it doesn't come with the darning feet, you will need to buy that extra.
Is The Baby Lock Presto II Good For Beginners?
This is a computerized model and it comes with a good number of features, it might take some time to learn to work with so is better for intermediate and advanced sewers, it's also a sewing machine that can sew fast, for these reasons we would suggest the Baby Lock Joy for beginners
Where To Buy The Baby Lock Presto II
You can find this model on the shelves of any specialty store or with the sewing machine dealer in your area, you can call them to take a look and have a test run. If you are interested to check its price online, take a look on Amazon.
Baby Lock Presto II Sewing Machine Review – Our Final Thoughts
This is actually an excellent machine for your quilting and sewing projects, and is built to last for many years.
With all the modern features, it makes sewing a pleasure and is not to heavy to move around plus it would make a great addition to any sewing room.
So if this machine matches up to what you are searching for, then give it a test run.
Wishing you all the best on your sewing projects, happy sewing!